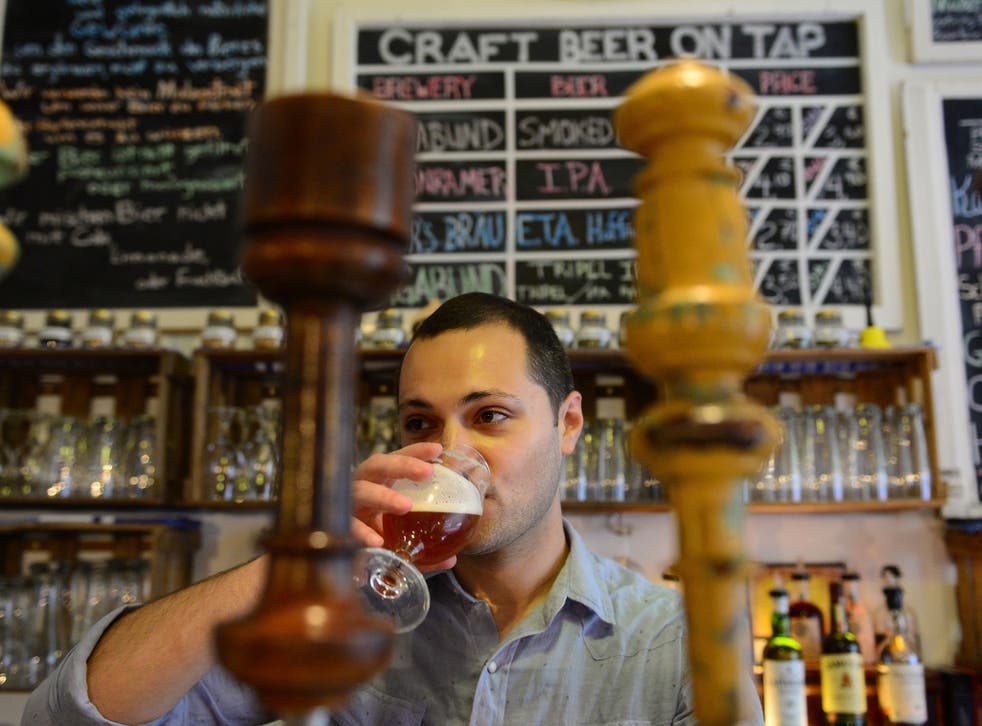 Cheers! Britain gets a real thirst for 'hipster' beers
Thirty small, local, independent breweries opened in London last year, almost double the number of just two years ago, according to research
They may still be associated more with hipsters and big beards but craft beers – with names like Punk, Dead Pony, and Magic Hat No. 9 – are moving into the mainstream.
Thirty small, local, independent breweries opened in London last year, almost double the number of just two years ago, according to research.
Hundreds of micro-breweries have set up across the UK as drinkers lap up the hoppy, fruity, American-style beers – most of which have sprung up since 2002, following the introduction of beer duty relief for small brewers. The frenetic pace shows no sign of slowing. Edinburgh-based Bellfield Brewery will open the country's first gluten-free craft brewery in the summer. It was founded by a group of friends with coeliac disease – caused by an adverse reaction to gluten.
Meanwhile, in Bradford, brewing returned to the city centre for the first time in almost 60 years this month after Bradford Brewery restored the disused Shaw's Moisture Meters building.
But London is still the craft beer capital – with the hipster parts in the east remaining the epicentre. "London is the hub of the craft beer industry," said Roy Maugham, tax partner at the financial firm UHY Hacker Young, which conducted the research. "Especially in trendy areas such as Shoreditch and Hackney, the growing appetite for craft beer products is encouraging start-ups."
It is not surprising that craft beers are most popular in London, given their expense, Mr Maugham said. "Craft beer is beginning to be seen as part of the luxury food and drinks sector. The fact that craft beer is usually locally sourced is a key part of the attraction, but local sourcing and small batch production comes with premium pricing."
Sales jumped by 8 per cent to 1.55 million barrels in 2013 and are expected to have risen again in 2014, according to the Society of Independent Brewers (SIBA). The industry is estimated to employ around 5,500 people.
The flurry of new craft breweries is in contrast to the traditional sector, where pubs have been closing at a rate of 31 a week. They are being hit by austerity cuts as well as rising rents, fierce price competition from supermarkets.
The Campaign for Real Ale (Camra) will call on the Chancellor today to cut beer duty for a third time in next month's Budget. It estimates 1,047 additional pubs would have closed if the Government had not scrapped the beer duty escalator – which saw prices rising at a rate of 2 per cent above inflation – and cut beer duty in 2013 and 2014.
A further cut would aid the industry's recovery, the group argues. Without the cuts, pub beer prices would be 16p higher and 750 million fewer pints would have been sold last year, Camra said.
But Professor Sir Ian Gilmore, chair of the Alcohol Health Alliance UK, said: "It's deplorable to suggest depriving the public purse by cutting duty at a time when revenue from alcohol sales does not cover even half the cost of alcohol-related harm to our society. Camra ignores the fact that half of beer sold is bought in supermarkets and off-licences at rock-bottom prices. It is these that cause most harm."
Join our new commenting forum
Join thought-provoking conversations, follow other Independent readers and see their replies