How Nik Sharma turned his career as a scientist into a successful chef
After moving from India to America and studying molecular biology, he realised his love of cooking was missing from his life. Now he's released his first cookbook, and still even uses the same lab notebooks for every culinary experiment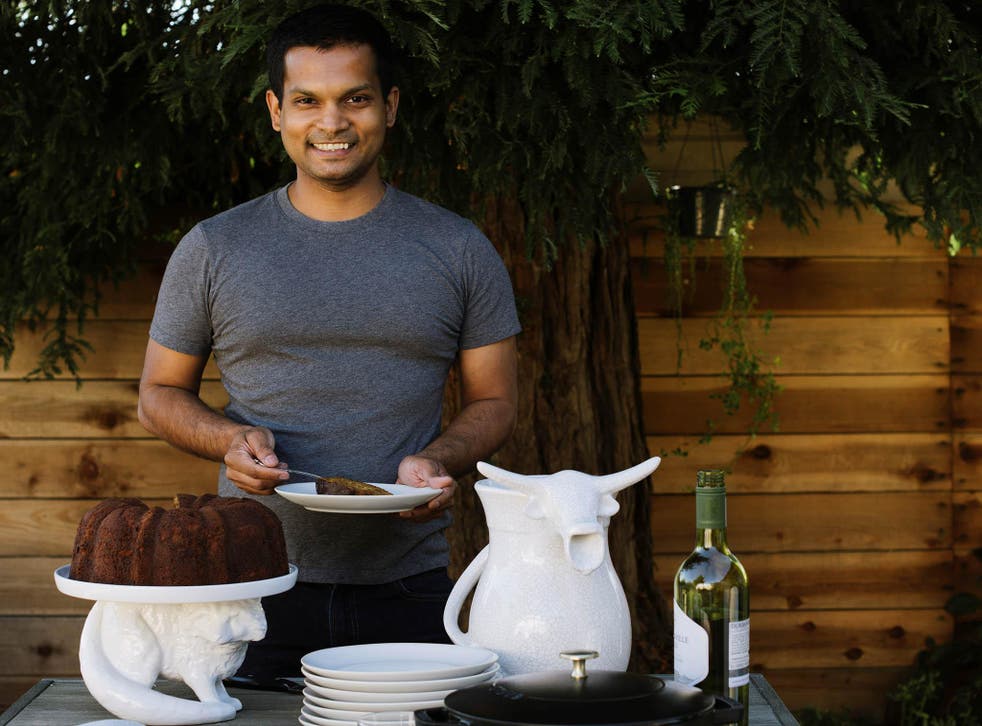 It's his hands that you notice first: cracking an egg, gently wrapping a prawn in a grape leaf or dusting icing sugar over a cake. In a world of food photography in love with over head shots and pristine backdrops, both the food and photographs of Nik Sharma – the author of Season: Big Flavours, Beautiful Food – feel refreshingly different.
Sharma calls these photos "instructional" and designed to show in pictures what's often hard to describe in words. Take for example his recipe for turkey-mushroom pies, inspired by ones he'd pick up from a local bakery on his way home from school when he was growing up in India. Watch and learn as you see his hands in a series of photos, cutting the pastry, filling it, folding it and sealing it with the tines of a fork.
Born to a Roman Catholic mother from Goa and a Hindu father from Uttar Pradesh in Northern India, Sharma describes his family's home as "progressive". But for a child who questioned his sexuality from the age of 11 or 12, India was not. Until this September, homosexuality was illegal under Section 377 – a law imposed in the 19th century – and punishable by life in prison. "I didn't even know if I should exist," he says describing what he felt growing up in India.
He decided to leave and went to the United States for his graduate degree in molecular biology. It was a decision that he knew was permanent. "I was on that plane and out," he says. He landed in Cincinnati, Ohio with all of his belongings in two suitcases, including a pressure cooker. He came out, built a life in the US and eventually moved to Washington, DC where he worked for the department of medicine at Georgetown University, running pharmaceutical studies.
While he was successful in his career, Sharma says in the introduction to Season that he knew "something was missing". He found himself reading cooking blogs during breaks at work and and cooking as soon as he walked through the door at night. It became clear that what was missing was his love of food and cooking.
He started a blog called A Brown Table, charting his exploration of flavours and ingredients both familiar and new and taught himself photography. Sharma recreated dishes from his childhood but also tried out new recipes inspired by ingredients he discovered in America like crème fraiche, brussels sprouts, kale and avocados (he still misses Indian mangoes but uses tinned instead). He met his now husband, Michael, and the two moved to California.
But the questioning "what if" mind of a scientist never left him. "I'm constantly observing how people behave and how food behaves," he says. He'll happily talk about solvents, how to extract pectin, the process of fermentation, or why certain spices work so well together.
"Salt and pepper is something so simple and then you add cardamom to it or cumin and it changes. Then you add cardamom and cumin together. Cumin is warm and cardamom is cool – put those together and how does it work?" Even today, he meticulously documents every recipe, every culinary experiment in the same lab notebooks he used as a scientist.
Each section in Season starts with something quite simple and then builds on it with the hopes that readers will start with an easy dish, gain confidence and then feel able to tackle something more complex. It's an approach born of practicality too he says. "I don't think people need to start out big," he says. "It's a waste of your money and you might not like what you make so get comfortable with one ingredient, really explore that ingredient in 100 different ways and then add layers and play around. That's the best way to learn how to cook."
His hope is that seeing his hands make a dish will inspire home cooks and make them feel comfortable with flavours and cooking methods that might feel foreign. For him, the acid test for a recipe is quite simple. "Would I see myself cooking this? If I can convince myself, then maybe I can convince others," he says.
Sharma may have the skills of a scientist but he says he's basically a lazy cook. He wants to peel away at unnecessary complexity without compromising on flavour. "There are things where you can use a blender and call it a day," he says. Ultimately, it's all about getting people to cook and try something new whether it's his Curry leaf popcorn chicken or Apple masala chai cake. "I feel like wow – even if 10 people do that, I've encouraged 10 people to do something new."
Curry leaf popcorn chicken
Serves 4
My husband, Michael, grew up on a farm in the Deep South, and he taught me to love fried chicken. But I learned to make this dish from our dear friend Raina Pearce, who always shakes the chicken (or even shrimp) in small batches in resealable plastic bags to get a uniform coating of flour. Her method has never failed me.
Seeds from 4 green cardamom pods
2 tsp coriander seeds
2 tsp cumin seeds 
12 black peppercorns
480 ml buttermilk
2 to 3 serrano chillies, seeded, if desired
6 spring onions (white and green parts)
30 curry leaves, preferably fresh
4 garlic cloves, peeled
1½ tsp cayenne pepper
1 2.5 cm piece fresh ginger, peeled and chopped
60 ml fresh lime juice
1 Tbsp plus 1 tsp fine sea salt
910 g boneless, skinless chicken breast
280g all-purpose flour
1 tsp baking powder
½ tsp baking soda
720 ml neutral-tasting oil 
4 green Thai chillies, seeded, if desired
Heat a small, dry skillet over medium-high heat. Add the cardamom, coriander, cumin seeds and the peppercorns, and toast for 30 to 45 seconds, swirling the mixture occasionally until the seeds release their aroma and start to brown. Divide the toasted spice mixture in half. Transfer one half of this mixture to a spice grinder and pulse to a fine powder. (You can prepare the spices up to 1 week in advance and store in an airtight container in a cool, dark place.)
In a blender, combine the remaining toasted spice mixture with the buttermilk, serrano chillies, scallions, 15 of the curry leaves, the garlic, 1 tsp of the cayenne, the ginger, lime juice and 1 Tbsp of the salt. Pulse until completely smooth and transfer to a large resealable plastic bag. Pat the chicken breasts dry with paper towels. Trim excess fat from the chicken, and cut the flesh into 2.5 cm cubes. Add to the marinade. Seal the bag and shake to coat evenly. Refrigerate for 4 hours.
Meanwhile, prepare the dredging mixture. In a large resealable plastic bag, combine the remaining half of the ground spice mixture with the flour, baking powder, baking soda, remaining ½ tsp cayenne and remaining 1 tsp salt, shaking vigorously to blend. Finely chop 10 of the remaining curry leaves and add them to the dredging mixture. Seal the bag and shake again to mix well.
Once the chicken has marinated, use tongs to lift out half the chicken pieces, shaking off the excess batter and transfer to the bag with the dredging mixture. Seal the bag and shake to coat evenly. Transfer the chicken pieces to a wire rack. Repeat with the remaining chicken.
In a medium Dutch oven, heat the oil over medium-high heat to 180°C. Fry the chicken in batches, turning occasionally, until golden brown and cooked through, 4 to 5 minutes. Using a slotted spoon or a spider, transfer the chicken to paper towels to drain.
After the chicken is cooked, prepare the garnish. Cut the Thai chillies in half, lengthwise. In the hot oil left in the pot, deep-fry the chillies and remaining 5 curry leaves until crispy, 30 to 40 seconds. Drain on paper towels. Put the chicken on a serving plate, garnish with the chillies and fried curry leaves and serve hot with the maple-vinegar sauce or hot sauce.
'Season: Big Flavours, Beautiful Food' by Nik Sharma. Published by Chronicle Books, £26, is out now
Join our new commenting forum
Join thought-provoking conversations, follow other Independent readers and see their replies