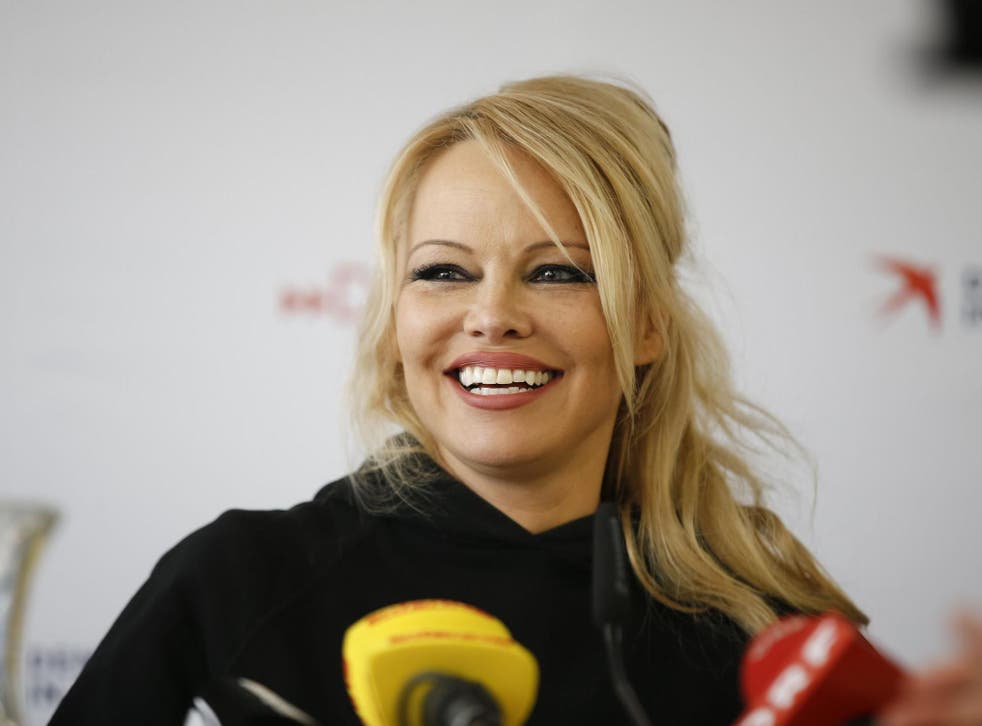 Pamela Anderson gets foie gras taken off the menu at Playboy Club London
Foie gras is 'downright vile', Anderson wrote in open letter to Mayfair club
Pamela Anderson has successfully managed to have foie gras removed from the menu at Playboy Club London after writing an open letter to the venue's director.
The actor-turned-activist published an open letter online addressed to Steve Hight, venue director at Playboy Club London.
In the letter, the former Baywatch star condemned the inclusion of foie gras on the club's menu, saying the product was "cruelly produced".
"There's nothing sexy about foie gras – which means 'fatty liver'. In fact, it's downright vile," the animal rights campaigner wrote.
"It's produced by ramming metal tubes down the throats of gentle geese and ducks in order to force-feed them until their livers swell up, pressing against their lungs and making it hard for them to breathe."
Anderson added that serving "this abhorrent pâté" is "not in keeping with the Playboy brand", recommending that the club consider offering vegan faux gras as an alternative.
Foie gras is the liver of a duck or goose fattened by force feeding the bird with corn through a tube.
Following the publication of the letter, Playboy Club London said it has taken the food off its menu and "pledged never to serve it again".
Anderson, who is vegan, has a history of campaigning to have foie gras discredited.
"Over the past few years, she has written to London department store Fortnum and Mason urging it to ditch the vile, vile pâté and called on the French National Assembly to ban the force-feeding of geese and ducks," Dawn Carr, director of vegan corporate projects at Peta, said in October 2018.
"Consumers have the power to take a stand against foie gras by refusing to buy this 'torture in a tin' and instead choosing one of the many healthy and cruelty-free vegan vile pâtés available."
In February, a bill which would ban the sale of foie gras in New York City restaurants was proposed.
The bill was put forward by New York City councilwoman Carlina Rivera, who described the proposed legislation as "common sense".
"[Foie gras] is not part of the diet of everyday New Yorkers," Ms Rivera said.
"Less than one per cent of all New York City restaurants serve it. This is truly a luxury item."
Support free-thinking journalism and attend Independent events
In 2012, California formally banned the sale and production of foie gras in the state.
If Californians are caught selling foie gras, they can face fines of up to $1,000 (£799).
Foie gras is illegal to produce in the UK under animal welfare laws, the RSPCA states.
The food product is produced predominantly in France, Hungary, Bulgaria, Spain and Belgium.
Register for free to continue reading
Registration is a free and easy way to support our truly independent journalism
By registering, you will also enjoy limited access to Premium articles, exclusive newsletters, commenting, and virtual events with our leading journalists
Already have an account? sign in
Register for free to continue reading
Registration is a free and easy way to support our truly independent journalism
By registering, you will also enjoy limited access to Premium articles, exclusive newsletters, commenting, and virtual events with our leading journalists
Already have an account? sign in
Join our new commenting forum
Join thought-provoking conversations, follow other Independent readers and see their replies