The Independent's journalism is supported by our readers. When you purchase through links on our site, we may earn commission.
Lifestyle features
'They said a pig would never work': The cult of Percy Pig and how a chewy sweet became a national treasure
When Percy Pig sweets were first launched, M&S customers turned their snouts up at them. Now they sell millions every year. So how did they go from hard sell to checkout cash cow? Natasha Preskey finds out
Wednesday 24 February 2021 06:00 GMT
Comments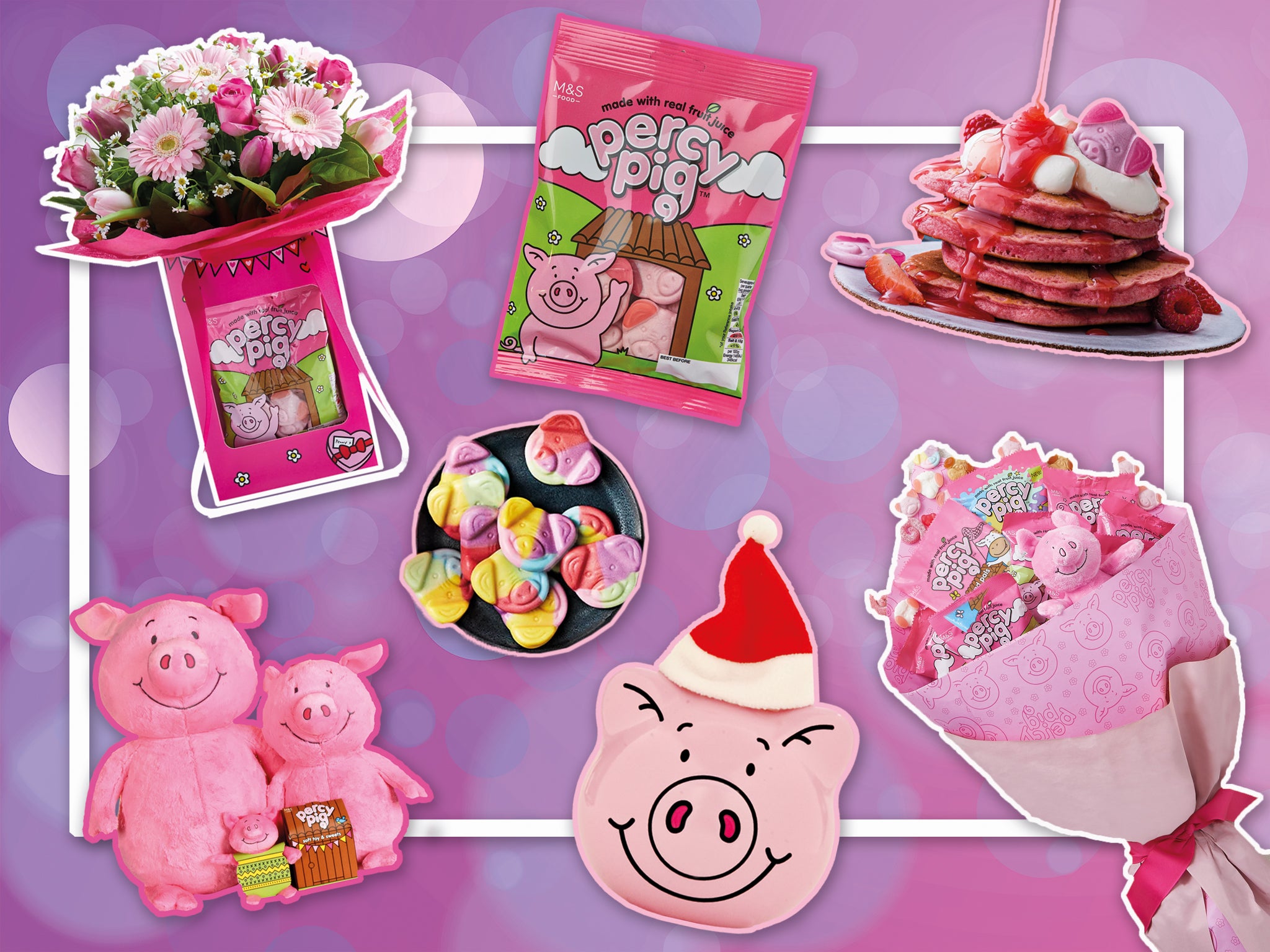 In the time it's taken you to read the headline and these first few words, Marks & Spencer has sold 50 Percy Pig sweets. Now, make that 60. The British high street retailer sells approximately 10 Percy Pig sweets every second of the day, every day of the year. A staggering total of 400 million sweets (16 million bags) each year. 
The sweets are no longer just sold in bags either – they've been turned into everything from money boxes to dessert sauces, a swiss roll, ice cream and juice cartons. M&S has even suggested recipes for Percy Pig trifle, a Percy Pig pizza and Percy pudding nachos online. There is a Percy for every season: bright pink pancakes for Shrove Tuesday, a £30 floral bouquet with accompanying Percies for Valentine's, Easter Eggs and advent calendars. There is even a Percy Pig bed linen set. 
And he is no longer the only character in the Percy range. In 2002, he was given a host of farmyard friends. Then, in 2013, he became a husband to Penny. He's also a father and, as of 2018, an adult son. A globetrotting edition features animals Percy met on his travels around the world. As the sweet approaches its 30th birthday, it's clear it is a resounding success. But it wasn't always that way. There was a time when the British public turned their snouts up at Percy. 
When Percy Pigs first went on sale in 50 M&S stores in 1992 with its berry and grape flavour, many customers were baffled by the product. Why were they shaped like a pig? Were they bacon flavoured? And why did Percy look so happy about being eaten? "As you can imagine, you go into M&S and you see pigs being sold in bags – and people have no idea what they are," Bill Davies, an M&S senior buyer at the time, tells The Independent. "There were people saying, 'What are they, pork flavoured or what?'" He says initial sales were "a real struggle". 
To overcome the initial weirdness factor that was prohibiting customers from putting the product into their basket, M&S decided to start giving out tasting samples. After that, sales slowly began to creep up until, eventually, they went "ballistic", says Davies. 
But customer caution wasn't the only initial hitch on Percy's journey to success. In fact, before Percy even made it to stores, the design was almost shelved as one of the first batches of sweets looked "deformed", Julia Catton, Percy's creator, tells The Independent from her kitchen (with a Percy Pig carrier bag and a jar of Percy Pigs in full view).
The sweets, which include a separate gelatinous layer in a darker shade of pink for Percy's ears, are created face down in a starch mould, a process Davies recalls being "hugely technically challenging". On the first attempt, Percy didn't look quite how they'd envisaged. "They looked like they had pockmarks all over their faces, and they looked really, really disfigured," explains Catton. "We thought, 'We can't launch something that looks so deformed'."
And it wasn't just the creators who had their misgivings about this new porky venture. Years later, Davis says he found out that the managing director of the German supplier who helped launch Percy never believed in the design, and had said a pig would "never work". 
Fortunately, these early teething problems were soon just obstacles in the road, and the initial design was agreed upon. Davies says his children even helped him sift through the "hundreds of thousands" of samples at home, sorting them into suitable and undesirable Percies (and took on the task of eating them all when they were done). Finally, Percy was ready to be placed into the hands of M&S's discerning customers.
Fast forward 29 years, and Percy's success is ever-growing. In 2020, most of us might have been focusing on getting through the pandemic but, for Percy, it was the biggest year yet, with 20 Percy product launches between September and Christmas alone. Sales of the sweets rose 40 per cent in 2020 and, to keep up with demand, M&S now produces over a million sweets each day. 
Percy has spawned a string of social media appreciation groups (his Facebook page has over 200,000 followers), one fan has the pig tattooed on his leg and unofficial merchandise themed around the character ranges from soaps to tote bags to earrings (and even a greetings card that reads "Percy Pig in the streets, sex pig in the sheets"...). M&S also regularly posts about the life and times of Percy on TikTok, in what some have called "terrifying" videos of massive plush versions of the character.
Why, though, has Percy become the cult figure that he has? What takes a character from gummy sweet to British cultural emblem? In 2008, a bag of miniature Percies made British Vogue's 2008 hot list, ranking at number 11 in the magazine's 40 hottest people and trends to watch.
Davies points to a combination of factors, including Percy's moreishness, the fact that the sweets avoid being sickly and their "unique" texture, which he describes as being "slightly soft but not too soft". He also references the fact that they're not bad for you, "as sweets go" – although a National Food Strategy report last year accused Percy's packaging, which points out that the sweets contain real fruit juice, of "false virtue". A single bag contains two thirds of your daily recommended sugar intake.
In 2019, M&S declared that all Percy Pig varieties would always be vegetarian, helping the brand stand out in the crowded confectionery market.
Catton says that the success of the sweets is that they appeal to both children and adults, which has helped elevate them above other brands. "All the other fruity sweets at the time were either aimed at very small children, like jelly tots, or were things like wine gums, which had very serious and adult type packaging," she says. "I think it bridged a gap."
When Catton's children were younger, they would sometimes approach people buying Percies in M&S and tell them their mother had created the sweets. In fact, she herself admits to occasionally chatting to people in stores after spotting them picking up a bag of Percies.
"Whenever anybody talks to me about Percy and they find out I've invented Percy Pig, they get so excited, and they're so emotional about it," she says. "I go in and I see people picking them off the shelf, and I have occasionally started a conversation with them. It's just nice to know why people love something that you've created."
For many people in their 20s and 30s, Percy brings them back to their own childhoods. "He's the perfect way to raise a smile on a long journey or to perk up a friend who needs a lift," says the sweets' brand manager Meaghan Hempenstall. "He's so much more than an illustration to many, he's more like an old friend".
Percy Pig is no longer just a checkout treat with a snout, he's a PR machine and a cultural phenomenon. Give him another 29 years and he'll have a burgeoning music career, an independent political party and a cosmetics range, you mark our words.
Join our commenting forum
Join thought-provoking conversations, follow other Independent readers and see their replies