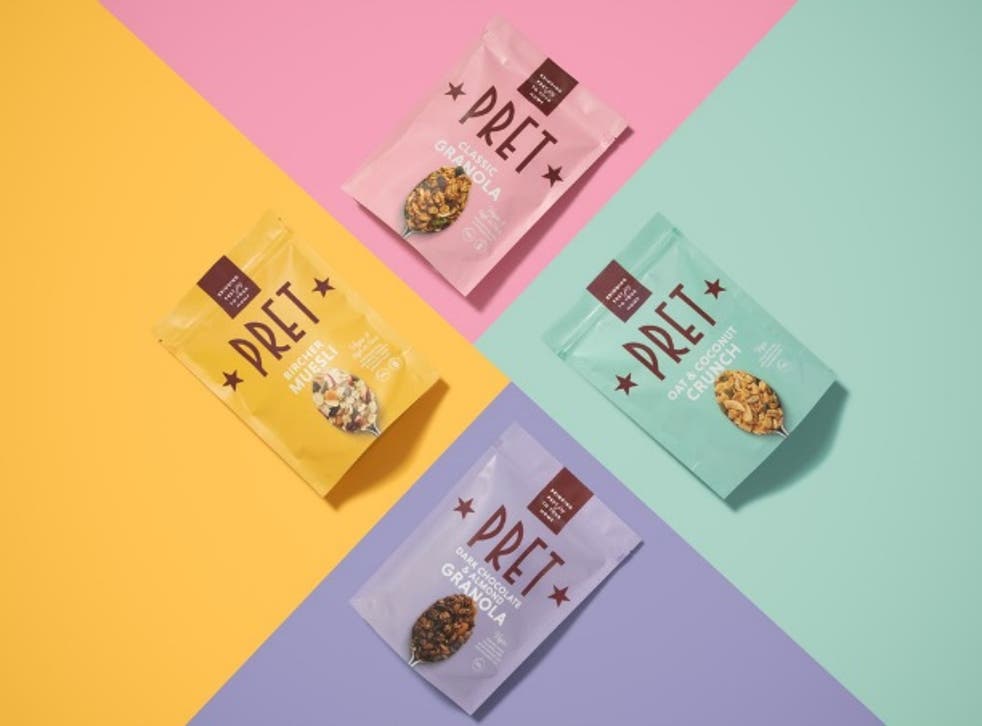 Pret launches granola in supermarkets
The four different flavours are available in Tesco supermarkets nationwide
Pret has released new vegan granolas available to buy nationwide in over 700 Tesco supermarkets.
The high street food chain has launched four flavours: Original Granola, Dark Chocolate & Almond Granola, Bircher Muesli and Coconut Crunch Granola.
They are similar to the granola found on items you buy in shops and featured on the packaging are recipes for customers to recreate some of their favourite in-store Pret items at home.
Pret's Original Granola is very much like the topping on breakfast bowls such as the Five Berry Yoghurt Bowl and the Sunshine Bowl.
Additionally, the shop's popular Bircher Muesli Bowl can be easily recreated at home using the new Bircher Muesli. Simply soak the muesli in apple juice overnight, and add Greek yoghurt in the morning.
Meanwhile, the Dark Chocolate and Almond flavour granola is inspired by Pret's vegan dark chocolate and almond butter cookie and features cacao toasted oats, whole and sliced almonds and vegan dark chocolate curls.
The Coconut Crunch is a brand new flavour created by Pret's chefs. The toasted coconut and crunchy texture "makes it the perfect topping for any tropical flavoured smoothie bowl".
The move comes as part of the expansion of Pret's breakfast-at-home offering, which includes the release of its frozen bake-at-home croissant range last month. It also follows the success of last summer's coffee-at-home range.
UK managing director of Pret A Manger, Clare Clough, said: "Our Pret breakfast bowls are some of our best-loved items in-shop, and we've been thrilled to see customers showing how they've been recreating these products at home over the past year.
"With the launch of our first ever granola range, we're hoping to bring the joy of Pret into more homes across the country – a delicious addition to our growing breakfast-at-home offer as we head into summer and look for more refreshing ways to start our day, and continue to give customers more options for how, when and where they can enjoy our recipes."
Join our new commenting forum
Join thought-provoking conversations, follow other Independent readers and see their replies