The Independent's journalism is supported by our readers. When you purchase through links on our site, we may earn commission.
Wines of the week
7 spring red wines to drink now
Springtime isn't all about fresh and light whites. There are plenty of reds suitable for now too, says Terry Kirby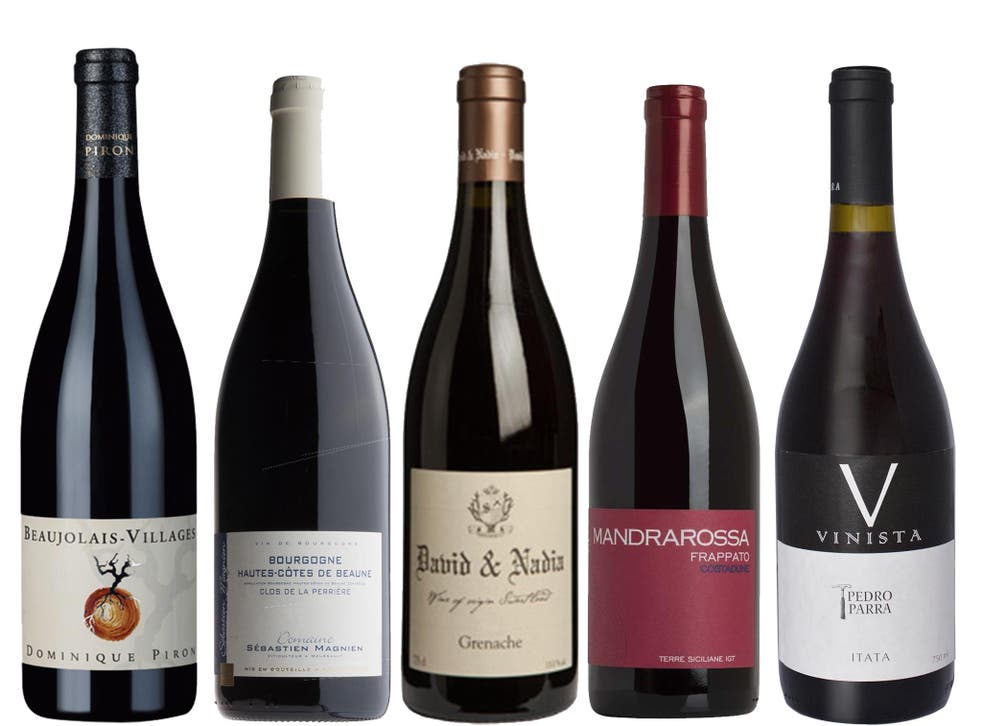 The blossom is pretty full-on now and the birds seem to be singing more than ever in the cleaner air. We have had some really warm and sunny days this April, which hopefully we have been able to enjoy, whether it is during our daily exercise and/or if we are fortunate enough to have a garden; it's barely compensation for the times we live in, I know.
But eating and drinking as well as we can is both a distraction and a necessity at this time. And so now it means finding lighter foods on our supermarket runs: finally leaving behind casseroles, heavy roasts and root vegetables for grilled and pan-fried foods, with more lovely, green spring vegetables in the mix.
Last week I recommended some great sauvignon blancs for fish and spring foods, so now it's time for some medium-bodied reds for these lighter foods, mostly from companies that are still, thankfully, delivering during the current crisis, although some are now imposing minimum orders for understandable reasons.
Two grapes come to mind of course when we are talking about lighter, juicier wines, with brighter cherry and raspberry fruit flavours, albeit tinged with some darker, earthy notes: gamay, which is pretty much contained in the Beaujolais region area of Burgundy; and pinot noir, which has spread from Burgundy around the world.
I'll return to pinot from elsewhere in a few weeks, but for now, here is a classic burgundy, the Domaine Sebastien Magnien Bourgogne Hautes Cotes de Beaune, Clos de la Perriere, 2017 (£22.50 bbr.com), from a highly regarded producer and made with grapes from one of the best sites in the Cotes de Beaune, this is packed with vibrant cherry fruits, some darker earthy undertones and a good structure. Yes, it's a bit of a special occasion price, but we are still going to need special occasions to get us all through this, aren't we?
Moving over to Beaujolais, the P'tit Grobis, Nicolas Chemarin, Beaujolais-Villages 2018 (£13.20 tanners-wines.co.uk) comes from a generic Beaujolais Villages vineyard, rather than a more prestigious single village appellation, but 60-year-old vines give highly distinctive, intense but mineral and vibrant black-cherry flavours. Lovely with grilled, spiced chicken breast or tomato-based pasta sauces. Slighty darker fruit notes characteristic of wines from the Morgan appellation are present in the Dominique Piron Beaujolais Villages (2017 £11.99 waitrose,com; 2018 £12.99 laithwaites.com; in stock from 1 May), made with grapes drawn from adjacent vineyards; a real bargain wine from an excellent producer, full of supple, silky, fresh flavours.
In Sicily, the frappato grape produces excellent, light, juicy raspberry flavoured wines, such as the cheerfully vibrant, palate tingling Frappato, Terre Sicilia, Mandrarossa 2018 (£58.50 for six minimum order, thewinesociety.com) which has just a lovely touch of earth to balance the sweetness; a wine that would benefit from a little chilling before you drink it with lighter pasta dishes or grilled rare tuna and worth stocking up on for the summer. In mainland Italy, the La Togata Rosso di Montalcino 2017 (£20.95 davywine.co.uk) is full of classy, crunchy cherry fruit flavours, laced with subtle hints of tobacco and tar and some peppery spice; all characteristic of the sangiovese grape. Intense and satisfying. A great bottle for a herby roast chicken for a family lockdown Sunday lunch.
Over in Chile, the obscure and neglected pais grape has been triumphantly reinvented and is now clearly part of that family of grapes that produce crunchy, succulent, vibrant wines. The exceptionally good Vinista Pedro Parra 2018 (£21.00 vagabondwines.co.uk) shows what the grape is capable off: old vines grown on granite soil; aromatic on the nose and singing and dancing on the palate; with gorgeous flavours of black cherry, tar and chocolate.
The grenache grape is more often associated with delivering rich, plummy, dark-fruit flavours in fullish wines, but the brilliant South African David & Nadia, Grenache, Swartland, 2018 (£22.95 masterofmalt.com, £120 for six, minimum order, justerinis.com), from a husband and wife winemaking team, defies expectation with bright, juicy cherry, pomegranate and strawberry flavours, with some sweet spicy notes and a long finish, suggesting some controlled power under a medium body. Utterly beguiling.
Register for free to continue reading
Registration is a free and easy way to support our truly independent journalism
By registering, you will also enjoy limited access to Premium articles, exclusive newsletters, commenting, and virtual events with our leading journalists
Already have an account? sign in
Register for free to continue reading
Registration is a free and easy way to support our truly independent journalism
By registering, you will also enjoy limited access to Premium articles, exclusive newsletters, commenting, and virtual events with our leading journalists
Already have an account? sign in
Join our new commenting forum
Join thought-provoking conversations, follow other Independent readers and see their replies