Restaurant review
Soutine: Cafe Rouge, but business class
Ed Cumming visits the latest outpost from restaurateurs Corbin & King, which like all of them feels likes its been here for 50 years, but unusually, with this one it looks like the clientele have been too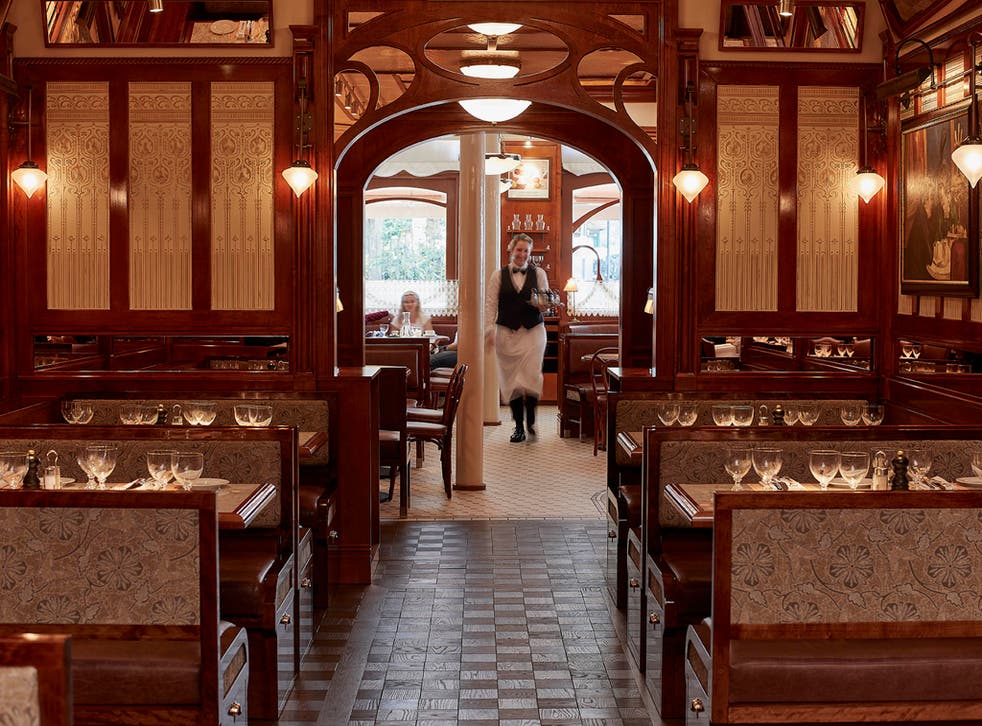 "I'm in London for three nights and you've brought me to Cafe Rouge," said one of my companions as we took our table at Soutine last Friday. It's true that the menu is about as threatening as Pizza Express. Chicken liver parfait, prawn cocktail, nicoise salad, croque monsieur, coq au riesling. Grandma, it's going to be fine.
Still, show some respect, man. In the first place, I'd had to call their PR to get a table and she laid on a bottle of champagne, although we paid full whack for the meal. Little peek behind the curtain for you there. When there's free Pommery about, don't start shouting about "Cafe Rouge". Grow up.
Second, this is the new Corbin & King, the duo behind The Wolseley et al. Only a handful of male double acts have provided London metropolitan elite with more pleasure. Brydon & Coogan, Bergkamp & Henry, Farrow & Ball. That's about it. To read the list of C&K restaurants is to remember dozens of fabulous meals.
Sausage and schnitzel at Fischer's, sausage and schnitzel at The Delaunay, the prix-fixe steak hache at Brasserie Zedel. The Ivy! Caprice! Kedgeree at the Wolseley! In Lucian Freud and AA Gill's canteen you could sit between Lord Browne and Katie Price at 8am without the threat of a government investigation. What our new prime minister would give for a haven like that now.
At worst, Corbin & King meals have always been competent. At their best, they have been the kind you remember forever, elevated by attention to detail, service and a commitment to actual hospitality, which means that whatever your age or budget, you feel like you're meant to be there.
As restaurateurs, their genius has been knowing what diners have always known, that the food is never the most important part of the meal.
There have been bumps in the road. At the end of 2017 they sold a majority stake in the business to Minor Hotels, a Thai-based firm, for £58m, with the idea of an Ivyish rollout of their concept around the world. Longtime fans might prefer to forget that a "Cafe Wolseley" is open at Bicester Village. This week it was announced that Bellanger, their outpost on Upper Street in Islington, will close. It's proof that Upper Street is a long, thin black hole where nothing good can survive. If Chris and Jez couldn't make something of that cursed gaff, nobody could.
They continue to expand, sticking to the same "executive brasserie" playbook that has worked so well in the past. Perhaps they are longing to open a high-concept Icelandic-Haitian small-plates place, but Soutine isn't it. The restaurant is based around a specific character, an interior design trick they've used before, which makes it easier to give the room a bit of individuality.
In this case that person is a real historical figure, the minor French-Russian expressionist Chaim Soutine, who liked to paint chefs. There are a few Russian touches on the menu: a herring here, a beetroot there. The room smells of rich mahogany, the walls are chocker with paintings and posters, apparently including some from Jeremy King's private collection, and the staircase is decorated with a large mural showing St John's Wood at the turn of the last century. It will be over the top for some tastes, but I thought it was gorgeous. Did I mention the champagne?
Like all the Corbin & King restaurants, it feels like it has been there for 50 years. What's unusual in this case is that the clientele do, too. I can't remember an older room. Our party of 30-somethings, geriatric by Hackney or Peckham standards, lowered the average age by at least 10 years. I imagine some of the tables had arrived in while it was still a Carluccio's and simply sat there, nursing glasses of white wine and gently gumming creme brulees, watching out for the sharp bits, while the place was refurbished around them.
Appropriately for a restaurant in the shadow of Lord's, the food is played with a completely straight bat. I took the opportunity to go for a meal I'd long dreamt of but for which I never plucked up the cardiological courage: steak tartare, steak frites and creme brulee, a trio I call "cow three-ways". It was all excellent.
The starter-sized tartare coming with a perfect little starter-sized quail egg yolk nested. The chips sat crunchily in their upward-facing pot. The meat was peppered and rare and came with a dish of silky bearnaise. The others had confit duck and lentils, snails gleaming in persillade, little pots of dark sweet onion soup crowned in melting gruyere.
They made happy noises, although nobody leapt up in surprise. Towards the end a waiter came and charmed the pants off everyone talking about the tarte fine aux pommes.
At last I replied to the friend who had cast the aspersions at the start of the meal. "Cafe Rouge, but business class," I conceded.
Whether you enjoy Soutine will depend on whether you think that sounds appealing or not.
Personally, I would return to the other C&K restaurants – Zedel or the Wolseley or the Delaunay first – but it hardly matters. The august denizens of St John's Wood are already seated, and they will not be budging.
Should you go? Yes.
Would I go back? No.
Could you take your parents? They're already there.
Join our new commenting forum
Join thought-provoking conversations, follow other Independent readers and see their replies