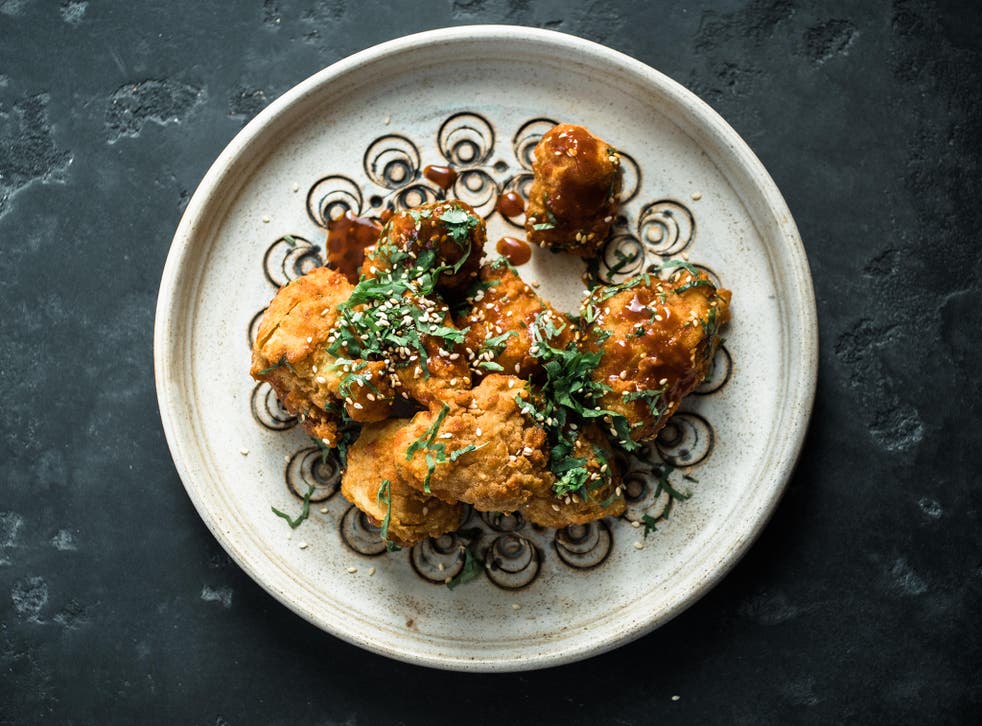 3 sustainable recipes that make vegetables the star of the show
You'll never have vegetables as just a side dish again
Rob Howell has been making a name for vegetables, sustainability and zero waste at his Bristol restaurant Root since 2017. Based in the city's buzzing shipping container district, Howell describes Root as a "domestic kitchen" – with just induction hobs, a fryer, a chargrill and an old oven. So the news that he's bringing out a cookbook of the same name with the same philosophy at its heart will be exciting news for the diehard fans – or simply home cooks wanting to bring a bit more green into the kitchen.
Picky-eaters, don't turn your noses up just yet. Like the restaurant, Howell is clear that this is not a vegan or vegetarian cookbook. "We opened with the mission of creating a vegetable-led restaurant," he explains in the intro, "that would include on the menu a little fish, game and meat but with the explicit and stated aim of cooking vegetables brilliantly and making them the star of our new culinary show."
Many of the dishes happen to be vegan, or can be made vegan with some simple adjustments, but the main aim of the book is to convince us that vegetables aren't just for side dishes: they can be the main event, too.
Selecting just three recipes out of over 100 glorious feasts for family and friends was hard (the desserts are not to be missed), but let these tasters at least begin to change your mind about the humble veg.
Read more:
Buttermilk-fried celeriac with Korean-style sauce
Serves 5
Forget fried chicken, this celeriac is all you will need to satisfy your KFC cravings. The sauce is easy to make and demands just a few specialist ingredients, though nothing you can't find in a large supermarket, and will help transform all sorts of dishes. It also keeps very well.
Ingredients
For the sauce
150g gochujang paste
100ml dark soy sauce
50g light brown soft sugar
25ml mirin
75ml rice wine vinegar
2 garlic cloves
50ml sesame oil
50g stem ginger and
1tbsp syrup
For the fried celeriac
1 celeriac
1l cooking oil, for frying, plus 1tsp for rubbing the celeriac
200g buttermilk (or oat milk for a vegan version) dredge (see below)
2tsp chopped coriander
2tbsp sesame seeds, toasted
Sea salt
Method
For the sauce simply place all the ingredients into a food processor and blend until smooth. Add a little water if needed to reach a nice, saucy consistency. Keep in the fridge in a sealed container until needed.
Heat the oven to 200°C/180°C fan/Gas Mark 6.
Rub the celeriac with the teaspoon of oil and then rub over a good amount of sea salt and wrap the celeriac tightly in foil. Cover with a further 4 layers of foil – this helps the celeriac almost steam itself and leaves it with an amazing texture. Bake for about 1½ hours (the exact time will depend on the size of your celeriac), until tender when pierced with a sharp knife. Then, remove it from the oven and leave it to cool in the foil for 2 hours or so.
Remove the foil and then, using a knife, remove the celeriac skin, taking as little flesh away as possible. Using your hands, tear the celeriac flesh into small chunks – different sizes is best, so you end up with some nice, small crispy bits alongside some lovely large pieces.
Pour the cooking oil into a deep pan until two-thirds full and heat the oil to 180°C on a cooking thermometer or until a cube of day-old bread turns golden in 60 seconds (or preheat a deep-fat fryer to 180°C).
Get 2 mixing bowls: put the buttermilk (or oat milk) in one of them and the dredge in the other. Using your hands, place the celeriac pieces into the buttermilk or oat milk first, then into the dredge. Make sure the celeriac pieces have a good coating on them. Fry the pieces in batches, for about 3 minutes per batch, until golden and crisp. Set aside each batch to drain on kitchen paper, while you fry the next. Once all the pieces are fried and drained, place them in a clean mixing bowl, season them slightly with salt and coat them in the sauce. Finish with a sprinkling of chopped coriander and toasted sesame seeds.
Dredge
Our chef Josh Gibbons brought this fantastic recipe with him when he joined us and it's been used with most things imaginable ever since. In the book I've used it with the celeriac dish on page 26 and the chicken recipe on page 210, but don't stop there and be free to use it as you wish.
Ingredients
400g strong white bread flour or gluten-free flour
40g corn flour
2g baking powder
6g garlic powder
8g onion powder
10g white pepper
6g smoked paprika
5g cayenne pepper
3g ground turmeric
Method
Combine the ingredients in a large bowl, then transfer to an airtight container and store in a dry place. The dredge will keep for 6 months or more.
Cod brandade with sourdough toast
Serves 6
Not only is brandade an amazing dish but it is also a fantastic way to use up trimmings and odds and ends – a great example of the whole fish philosophy in practice. In the restaurant, when portioning fish, there are always parts that don't quite make the cut so we like to save all of those parts for later use. I've suggested cod here but the recipe would work just as well with any white fish, so try to get into the habit of remembering to ask your fishmonger for off cuts – they go a long way.
Ingredients
3 large Maris Piper potatoes, peeled and cut into 4cm pieces
500g boneless cod offcuts
500ml whole milk
3 garlic cloves, 2 crushed, 1 minced
2 bay leaves
5 peppercorns
2 thyme sprigs
150ml first-press rapeseed oil
2 large or 4 small shallots, diced
1tsp paprika
1tsp curry powder
1tbsp lemon juice
1tbsp chopped chives
1tbsp chopped parsley
1tsp Dijon mustard
Slices of sourdough bread, toasted, to serve
Salt and freshly ground black pepper
Method
Place the potatoes in a medium saucepan and place under running water until the water runs clear (this drains off the starch). Cover the potatoes with water and place the pan on a medium heat. Bring to a simmer and cook for about 15 minutes, until the potatoes are soft. Drain and leave in the colander to dry.
While the potatoes are cooking, place the fish and milk in a saucepan with the crushed garlic, and the bay, peppercorns and thyme. Place over a medium heat and bring to a simmer (about 5 minutes). As soon as the mixture starts to simmer, remove from the heat and cover the pan, leaving the fish to poach in the residual heat for about 6 minutes, until cooked through. Drain and reserve the poaching liquid and set this and the fish aside.
Heat the oil in a saucepan over a medium heat. When hot, add the shallots, the minced garlic, and the paprika, curry powder and a good seasoning of salt. Cook on a low–medium heat for 5 minutes to almost confit the shallots and cook out the spices.
Tip the potatoes into a large mixing bowl and crush using a masher or your hands. Add the shallots, along with their cooking oil, and the fish. Add a little of the poaching liquid to loosen the mixture to a nice, spreadable consistency, then mix in the lemon juice, chopped herbs and the mustard. Check the seasoning and serve hot with toasted sourdough.
Caramel cream with poached pears and ginger crumble
Serves 8
This one is a proper autumnal dessert. The slight spice from the crumble matched with the pears and the caramel cream is comfort food at its very best. The poached pears and crumble will both keep well for a couple of weeks and can be used for a number of dishes or just to snack on when the mood takes you.
Ingredients
For the ginger crumble
150g unsalted butter
1tsp ground ginger
250g plain flour, sifted
50g light muscovado sugar
100g caster sugar
For the poached pears
350ml white wine
250g caster sugar
1tsp vanilla seeds (scraped from ½ vanilla pod)
1 star anise
1 bay leaf
Zest and juice of 1 lemon
4 pears, peeled
For the caramel cream
150g caster sugar
600ml double cream
3 sheets of platinum-grade gelatine, soaked in water for 5 minutes
175ml whole milk
1 pinch of sea salt
Method
Preheat the oven to 180°C/160°C/Gas Mark 4.
Make the crumble mixture. In a mixing bowl, using your fingertips rub together the butter, ground ginger and flour until it resembles breadcrumbs. Then add both sugars and mix through. Place the crumble on to a lined baking tray and bake for 15–20 minutes, giving it an occasional stir during cooking, until evenly coloured and cooked through. Remove from the oven and leave to cool. When cooled, crush into pieces, as you wish, and set aside. (You can do this in advance and keep in an airtight container until needed, if you like.)
For the poached pears, place all the ingredients, apart from the pears, in a saucepan with 350ml water over a medium heat. Bring to the boil, then reduce the heat to a low simmer. Add the pears and cook for 5–15 minutes – the exact time will depend how ripe they are – until tender to the point of a knife, but giving a little resistance. Scoop out the pears into a suitable container and pour over the poaching liquid. Allow to cool, then cover with cling film and refrigerate until ready to serve – you can serve them the day of poaching, but they are better the following day.
For the caramel cream, place the sugar in a large saucepan over a low heat. Allow to melt until you have a good, golden brown (or a little darker) caramel. Little by little, whisk in the cream, taking care as it may bubble up and spit at the start. Whisk well between each addition to prevent lumps, then once you have added all the cream, squeeze out the gelatine and add it to the pan along with the salt. Whisk to combine, then remove from the heat, pour in the milk and whisk again to combine. Pass the caramel through a sieve into a bowl and leave to cool slightly. Pour the caramel equally into your serving bowls and place in the fridge to set for at least 2–3 hours, but ideally overnight.
To serve, remove the pears from their soaking liquid (you can re-use the liquid for poaching another batch of pears, or other fruit such as plums, apricots or rhubarb) and quarter and core them. Top each bowl of cream with equal amounts of the pear quarters and finish with a good amount of ginger crumble.
'Root' by Rob Howell (Bloomsbury Absolute, £26) is out now. Photography by Alexander J Collins.
Join our new commenting forum
Join thought-provoking conversations, follow other Independent readers and see their replies