The Independent's journalism is supported by our readers. When you purchase through links on our site, we may earn commission.
Wines of the week
9 Californian wines for US Independence Day
With its Mediterranean-style climate, the state is best known for its zinfandel grapes planted by Italian immigrants. Raise a glass to the land of the free with one of Terry Kirby's selection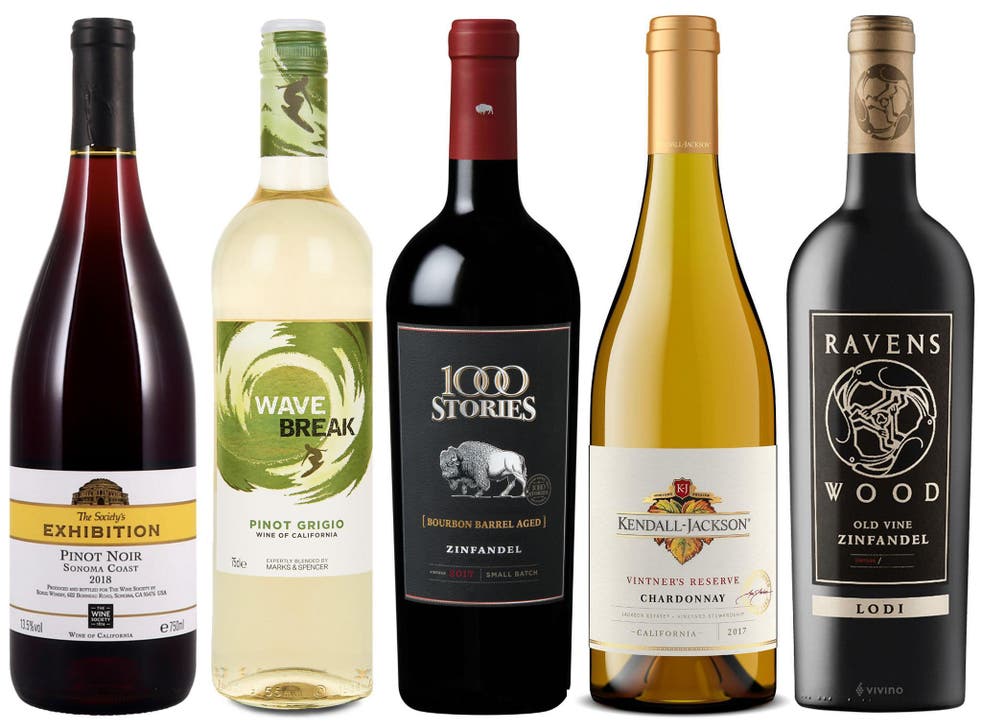 The United States may not have had a lot to celebrate recently: the deadly toll of the pandemic, the sheer awfulness of its president and the terrible death of George Floyd. So the marking of Independence Day might be a little muted this year.
For a variety of reasons, American wines never seem to have been as popular here as some other New World wines – Waitrose lists only 28 US wines compared to 74 for South America – some of which might be due to the fact that, by comparison to elsewhere, its best wines can be on the pricey side. But, if you shop around, there is much to celebrate about American wines and this date is as good an excuse as any.
Earlier this year I looked at wines from Washington and Oregon, so here are some excellent wines from the state which is the biggest producer: California, accounting for around 85 per cent of all US wine. California has, of course, a largely Mediterranean-style climate, but some hilly areas are cooled by sea breezes and fogs, so it is home to a variety of red wines that thrive in both hot and cooler climates – from big and beefy cabernets to silky pinot noirs.
But the grape which California likes to call its own is zinfandel, which is largely only grown elsewhere in the world in southern Italy, where it makes fulsome, medium bodied reds, shot through with fresh acidity, which can make them taste a little wild when young.
In California, zinfandel can be a little on the sweetish and high alcohol side, but when the winemaker gets it right, usually with older vines and a little bottle age, it can be excellent, bursting with ripe fruit flavour.
The first vines in the Sonoma region, to the north of San Francisco, were planted by Italian settlers and the Ravenswood Lodi Old Vines Zinfandel 2017 (£13.99 simplywinesdirect.uk) is pretty much benchmark zin, with full-on flavours of plums, blackberries, cassis and hints of coffee and mocha. But for something a bit special and different, try the exceptional, big flavours of the 1000 Stories Zinfandel California 2017 (£16.99 or £14.99 if bought as part of mixed six-bottle purchase, majestic.co.uk; £15.00 sainsburys.co.uk). From the Mendocino area towards the northern part of the state, it is aged not in new French oak barrels, but in former bourbon whisky barrels, which slightly restrains the fruit and imparts rich, smoky caramel and vanilla flavours, with lots of spice in the background. Beware the high 14.5 per cent ABV; if there was one wine I had to choose this summer for a barbecued rump steak on a warm evening in the garden, this would probably be it.
By comparison the Angeline Cabernet Sauvignon 2017 (£14.99 secretcellar.co.uk), made with grapes drawn from across California, might seem a bit muted, but it's a lovely, mellow, smooth, full-bodied wine with balanced, plush brambly and red fruits and some very restrained oak. Again, a great wine for steak or richer vegetable dishes and more dinner table than barbecue in style.
And so to pinot noir, which is grown in the cooler areas and can vary between the brighter, cherry flavoured with a touch of earth style, or a slightly darker and richer version. For the former, the Exhibition Sonoma Coast Pinot Noir 2018 (£16.00 thewinesociety.com), from the Wine's Society's own label, is light and juicy with vibrant red fruits and some very subtle smoky, earthy and spicy notes; drink cellar cool or chilled, with lighter meats and tuna steak. The fuller style is displayed to excellent form on the wonderfully moreish La Crema Monterey 2017 (£22.95 slurp.co.uk; winedirect.co.uk) from the windy Monterey hills, which has beguiling flavours of plums, black cherries, mocha, some hints of pomegranate and spicy undertones, retaining a lovely freshness throughout.
When it comes to whites, California is really mostly all about chardonnay. The Kendall Jackson Vintner's Reserve 2017 (£15.49 robertsandspeight.co.uk; £16.79 drinksdirect.co.uk), also from Monterey, is pretty much the benchmark here – very popular in the States and deservedly so: well made, classic, oaky, buttery, citrus and tropical fruit-inflected chardonnay delivering a big, rounded mouthful.
Only slightly less fullsome is the Edna Valley Chardonnay 2018 (£15.99 or £13.99 if bought as part of a mixed six-bottle purchase, majestic.co.uk). Both these wines are ideal with substantial fish dishes, particularly when smoked, like haddock or salmon or with creamy sauces, but also great with vegetable dishes or roast chicken. When it comes to other whites, there is plenty of sauvignon blanc and some pinot grigio produced, although not a lot finds it way to our domestic shelves, mainly, I suspect, because the competition from New Zealand and Italy is so strong.
But one of those Waitrose wines is the crisp and zesty Barefoot Sauvignon Blanc (£6.89 waitrosecellar.com), which is full of forceful tropical fruit flavours, while the Wave Break Pinot Grigio (£7.00 M&S stores only) is a surprisingly full bodied, aromatic and fruity take on pinot grigio; both bargain fridge-door whites and perfect for summer sipping.
Register for free to continue reading
Registration is a free and easy way to support our truly independent journalism
By registering, you will also enjoy limited access to Premium articles, exclusive newsletters, commenting, and virtual events with our leading journalists
Already have an account? sign in
Register for free to continue reading
Registration is a free and easy way to support our truly independent journalism
By registering, you will also enjoy limited access to Premium articles, exclusive newsletters, commenting, and virtual events with our leading journalists
Already have an account? sign in
Join our new commenting forum
Join thought-provoking conversations, follow other Independent readers and see their replies