Hongmi: The Chinese smartphone that sold 100,000 units in 90 seconds

Show all 4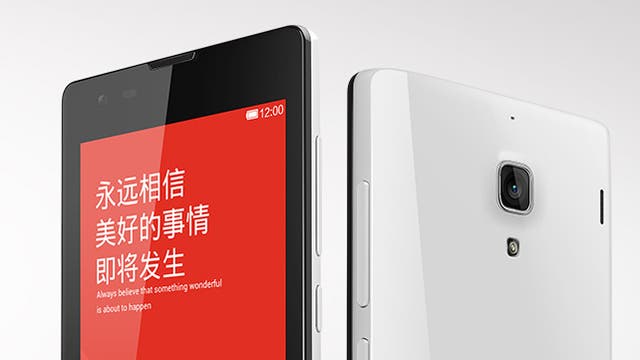 Hongmi: The Chinese smartphone that sold 100,000 units in 90 seconds
Xiaomi, the company who created the Hongmi, say they are like Apple, Amazon and Google combined
Reports published this month by Gartner revealed that for the first time more smartphones are being sold than feature phones globally. The Hongmi, a Chinese smartphone that sold 100,000 units in 90 seconds, is a perfect example of this trend, showing how the global shift is thanks in no small part to the fast-growing Asian markets.
Xiaomi, the company who made the phone, announced the news via their Sina Weibo account, following it up by mentioning that a further 7.45 million devices had been reserved. Xiamoi tends to only build as many devices as they believe they will sell in a given year, meaning that they often deliver their phones over a longer period of time.
It's not hard to see why the Hongmi (it means Red Rice) sold out so blisteringly quickly. For a start it costs just 799 RMB (£83) and whilst the price is budget, the hardware is extremely respectable.
The smartphone comes with a 4.7-inch screen with a resolution of 720 x 1280 (that's approximately 312 ppi) and packs a quad-core 1.5GHz processor. Whilst there is only 1GB of RAM and 4GB of internal memory, the total memory can be expanded up to 32GB with a microSD card.
There's also a rear-facing 8-megapixel camera and a 1.3-megapixel lens on the front, as well as all the usual gryos and accelerometer sensors. But for those considering shipping over a handset for use in the UK, the Hongmi only supports TD-SCDMA 3G meaning it can't be used outside of China.
The Hongmi isn't the only success story from Xiaomi; their flagship model, the Mi 2S, is China's most popular selling phone (it's little brother, the Mi 2 shifting 7.19m units in 2012 as reported by TechCrunch) and the handset has been outperforming the likes of the HTC one and equalling Samsung's S4 in a series of tests by Chinese benchmarking company Antutu.
TechCrunch points out that again, the real kicker is the price: the Mi 2S costs just 1699 RMB (that's £177), a snap compared to the Samsung S4, which retails in the UK Sim-free for around £550. So how does Xiaomi manage to sell such impressive phones at these prices?
The answer can be found in Xiaomi's business model, and their impressive range of web services. In an interview with Reuters, the company's founder and CEO Lei Jun explained:
"The mobile phone itself is only the carrier. Microsoft used to sell Windows in a box with a CD in it. Does that make Microsoft a paper-box company? The CD is only the carrier. People don't understand this; they can't understand what type of company Xiaomi is."
Jun notes that Xiaomi is already China's third largest ecommerce company – not bad for a company that also sells the nation's most popular phones – and that their revenue from web services alone is $3.2 million a month, predicted to rise to around $21 to $24m a month by the end of next year.
As well as ecommerce, Xiaomi has its own games center and pushes a home-built and heavily-modified take on the Android OS called MIUI (pronounced 'Me You I'). Whilst Apple makes profits from high margins on its products, Xiaomi wants to put its phones in as many hands as possible to attract revenue from its internet services.
"Xiaomi selling mobile phones is like Amazon selling Kindles," says Jun, "so you can understand why we sell them so cheap." Jun also thinks that comparing the company to Apple isn't at all right:
"Xiaomi and Apple are two completely different things […] If people really want to compare Xiaomi to a foreign company then you could say it looks a bit like Apple, but it's really more like Amazon with some elements of Google. So take these three companies together."
Despite Jun's confidence, Xiaomi still only accounts for 5 per cent of the Chinese smartphone market (Apple has 4.8 per cent whilst the clear market leader is Samsung with 17.6 per cent). The company estimates that it will sell 20 million devices in 2013 (doublings its 2012 sales), but even with this rapid growth Xiaomi still has some way to go before it's on the scale of Apple, Amazon, or Google. Still, with neither Apple nor Google selling phones at the rate Xiaomi does, perhaps it won't be long until the Chinese company catches up.
Join our new commenting forum
Join thought-provoking conversations, follow other Independent readers and see their replies