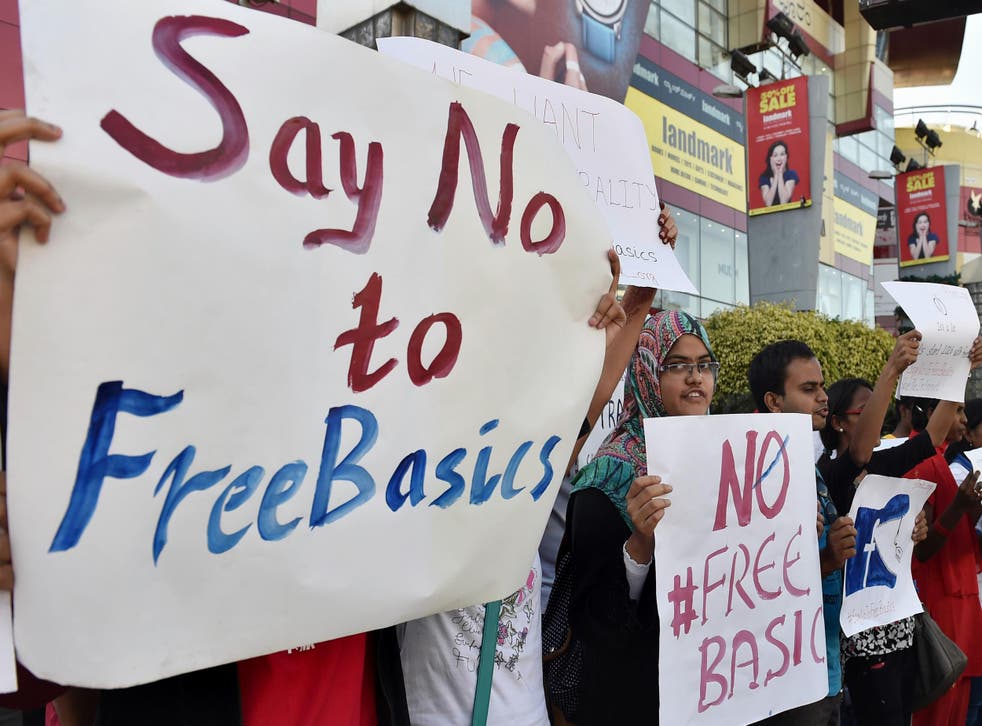 Facebook's controversial Free Basics service blocked in India over net neutrality concerns
India's telecoms regulator said their ruling would ensure that consumers get 'unhindered and non-discriminatory access to the internet'
Free Basics, Facebook's service which offers limited internet service for free to poorer people in developing countries, has been blocked in India, over concerns that it could violate the principles of net neutrality.
The service, which offers users free access to certain online messaging, job-finding, weather forecasting and news services, was temporarily closed by regulators in India at the end of 2015.
Some have praised the humanitarian goals of the service, but many people in India have opposed it, claiming that by controlling and dictating what internet services users can access, Facebook is going against net neutrality - the idea that internet service providers should treat all users and data the same.
In giving priority to major websites and services, some also worried that Free Basics could lock smaller companies out of the market, stifling innovation in India.
Now, the Telecom Regulatory Authority of India (TRAI) has ruled in favour of the critics, saying in a statement: "No service provider shall offer or charge discriminatory tariffs for data services on the basis of content." As a result, Free Basics has now been blocked.
The TRAI's ruling is the culmination of a long, high-profile battle between Facebook and Indian net neutrality advocates over the merits of the service. The two sides have been publicly trading blows for a long time, with Facebook defending Free Basics in a prominent advertising campaign.
10 facts you didn't know about Facebook

Show all 10
Facebook co-founder and chief executive Mark Zuckerberg also wrote an editorial for the Times of India in December, in which he said "everyone deserves access to free basic internet services," and asked: "Who could possibly be against [Free Basics]?"
Another newspaper editorial, written by Manu Joseph in the Hindustan Times, said that if the poor "fully understood what they are being denied by India's internet activists," they would "hit the streets and bring the nation to a halt."
In their statement, TRAI said the ruling was designed to ensure that consumers would get "unhindered and non-discriminatory access to the internet."
It said the body would "keep a close watch" on the implementation of their ruling by service providers such as Facebook, and said they may "undertake a review" of the policy in two years' time.
Speaking to The Independent, a Facebook spokesperson said: "Our goal with Free Basics is to bring more people online with an open, non-exclusive and free platform. While disappointed with the outcome, we will continue our efforts to eliminate barriers and give the unconnected an easier path to the internet and the opportunities it brings."
Join our new commenting forum
Join thought-provoking conversations, follow other Independent readers and see their replies