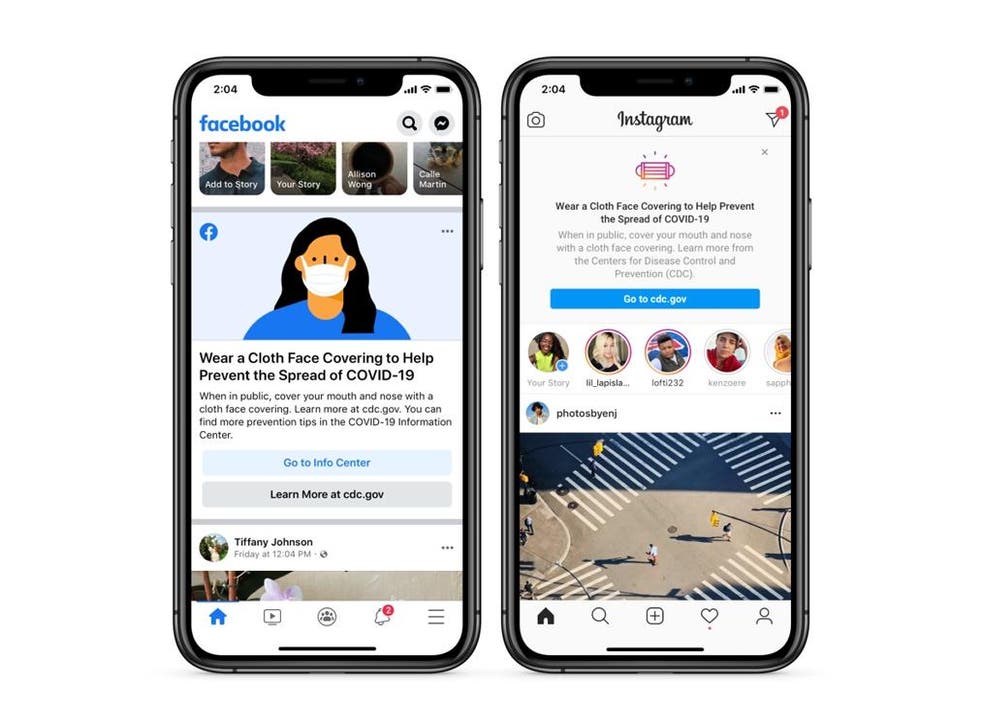 Facebook and Instagram will now remind you to wear a mask as US coronavirus cases soar
The alert will appear at the top of the apps' news feeds
Adam Smith
Friday 03 July 2020 11:02 Comments
Facebook announced on Thursday that it will push recommendations at the top of he news feed to encourage users to wear masks.
Both Facebook and its subsidiary, Instagram, will have alerts at the top of news feeds reminding people to wear face coverings.
It will also link to the Centres for Disease Control and Prevention (CDC), which have been a source of information in Facebook's coronavirus hub
The development comes as the United States is facing a new surge in coronavirus cases.
The White House's coronavirus adviser, Dr Anthony Fauci, said the country "never got things down to baseline" and that the US "got hit very badly, worse than any country, with regard to the number of cases and the number of deaths."
Facebook has been taking a variety of actions during the coronavirus pandemic in order to try and limit the spread of fake news on its platform as well as encouraging people to take precautions.
The company launched a campaign to help people spot incorrect stories and is changing its algorithm in order to promote original reporting over clickbait.
This comes as an online 'pandemic of misinformation' is threatening the UK's democracy, according to a report from the House of Lords Democracy and Digital Technologies Committee.
"We are living through a time in which trust is collapsing. People no longer have faith that they can rely on the information they receive or believe what they are told. That is absolutely corrosive for democracy." Committee chair Lord Puttnam said
At the same time, the social media giant is being condemned for not taking enough action against racist and hateful content on its platforms.
Such content is shared in conjunction with coronavirus posts, which the United Nations say has resulted in an "tsunami of hate and xenophobia".
Many advertisers are boycotting Facebook to take a stand at the company's inaction – although CEO Mark Zuckerberg has said that the companies will be back "soon enough"
Nevertheless, Zuckerberg also announced that the company would start labelling inflammatory posts from Donald Trump and other politicians, something the company had been loathe to do previously and criticised Twitter for.
Register for free to continue reading
Registration is a free and easy way to support our truly independent journalism
By registering, you will also enjoy limited access to Premium articles, exclusive newsletters, commenting, and virtual events with our leading journalists
Already have an account? sign in
Join our new commenting forum
Join thought-provoking conversations, follow other Independent readers and see their replies