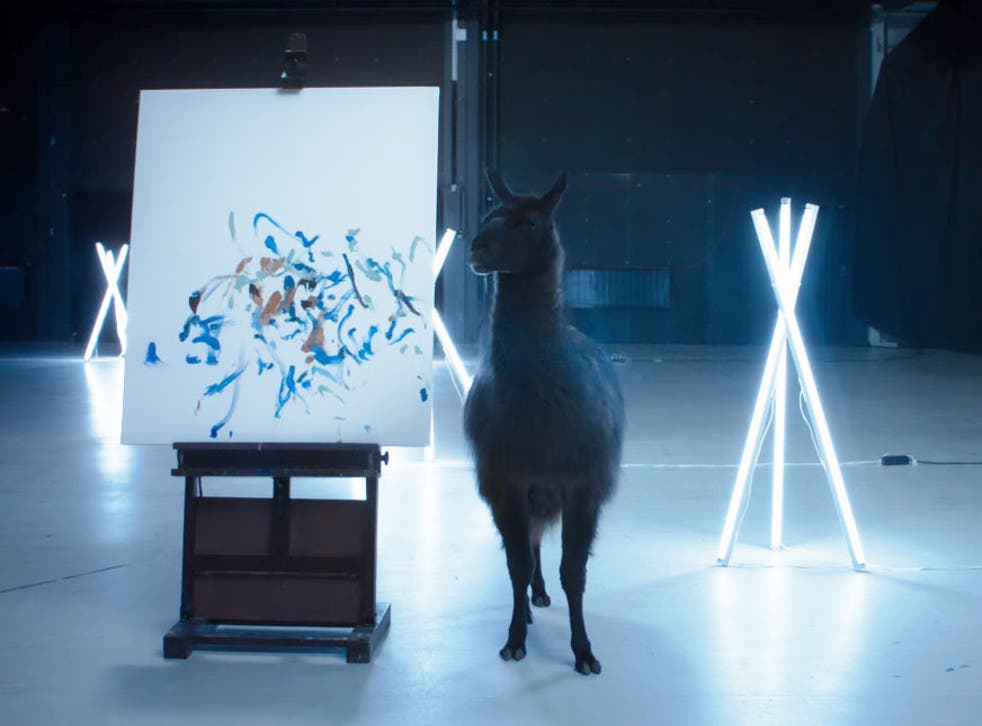 Samsung Galaxy S7: Artistic llama makes an appearance in bizarre advert for new smartphone
Kuzco the llama had a starring role in Samsung's latest promotional video for the Galaxy S7
Doug Bolton
Wednesday 17 February 2016 12:52 Comments
In one of their most bizarre attempts yet to hype up the launch of the Galaxy S7, Samsung has got a llama to paint a picture of the upcoming smartphone in a promotional video.
The clip shows an adorable llama, Kuzco, going into a mysterious black box to look at the phone for 30 seconds. Afterwards, his handler sticks a brush in his mouth, and he paints a picture of the phone on a canvas.
Naturally, the finished product doesn't give too much away - Kuzco's painting is a mess of blue and brown streaks, and it's difficult to see anything that could hint at the S7's rumoured features.
The unusual advert is part of Samsung's 'Seven Days of Unboxing' campaign - a series of videos, released in the week before the launch, in which different people (or in this case, animals) get a sneak peek at the phone and create their own interpretation of what it looks like.
Other videos have seen a little boy drawing a picture of the S7 with crayons, and an ice sculptor creating a frozen image of the phone with a chainsaw. The llama video, however, is the strangest so far.
We'll know more about the S7 and S7 Edge when they're unveiled on 21 February, at a press event ahead of the Mobile World Congress trade show.
If we're lucky, we might even get to see Kuzco again.
Register for free to continue reading
Registration is a free and easy way to support our truly independent journalism
By registering, you will also enjoy limited access to Premium articles, exclusive newsletters, commenting, and virtual events with our leading journalists
Already have an account? sign in
Join our new commenting forum
Join thought-provoking conversations, follow other Independent readers and see their replies