The Independent's journalism is supported by our readers. When you purchase through links on our site, we may earn commission.
Should we be wearing face masks outdoors?
The Scientific Advisory Group for Emergencies (SAGE) has called for people to consider wearing face coverings outside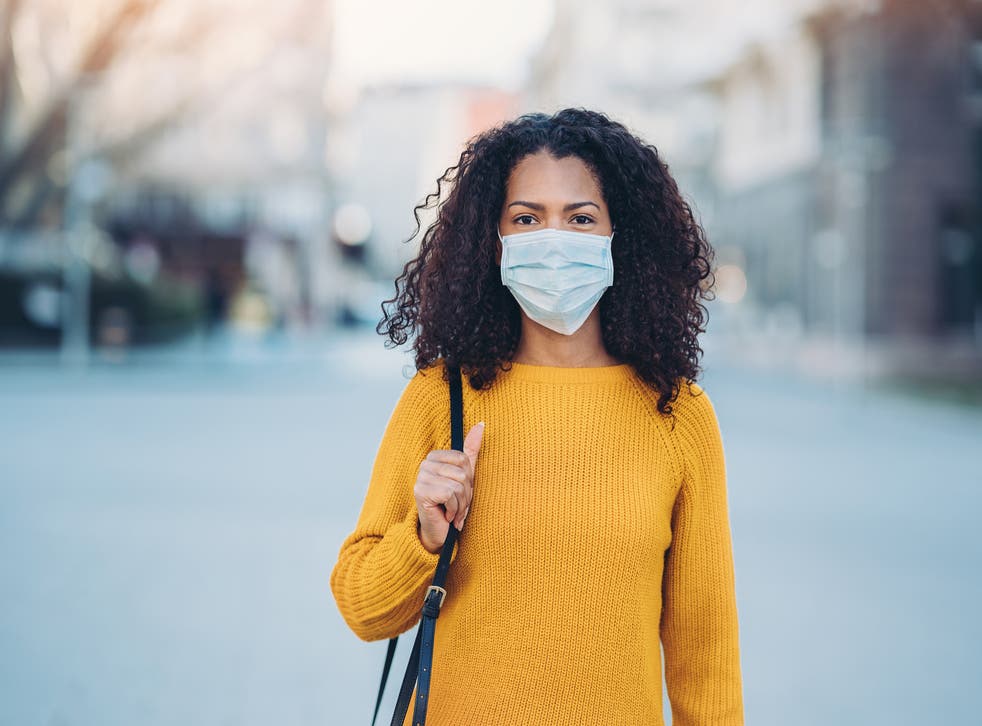 Leer en Español
In the UK, it has been compulsory to wear face coverings in many indoor settings since June 2020.
Currently, the places where you must wear a face-covering in England include, on public transport, in taxis, supermarkets, shops, and in banks. Prior to the third national lockdown being imposed in January, people were also required to wear face masks in restaurants and at hospitality venues.
However, despite face mask-wearing being mandatory in all places outside the home in several other countries, the UK government has not made it compulsory to wear face coverings in outdoor settings.
But experts are increasingly calling for them to do so in light of the new variant of Covid-19, including the Scientific Advisory Group for Emergencies (SAGE), who, last week submitted a paper to the government making the case for a change of rules.
It stated: "Consideration should be given to using face coverings in a wider range of settings where people could be asymptomatic and may be in close proximity. This may include outdoor spaces where it is difficult to maintain distance and people may be close together for extended periods (medium confidence)."
The guidance comes after London mayor Sadiq Khan also said in a joint letter to the prime minister sent alongside London Councils that tougher measures were a "matter of urgency" in order to combat the spread of the new variant of Covid-19. 
In the letter, they called for "mandatory face masks outside of the home – including in supermarket queues, on high streets and other outdoor places that may be crowded".
In January, Borough Market became the first outdoor space in the UK to legally enforce the wearing of face coverings, with a £50 fine for those who are found to be breaking the rule.
Kate Howell, director of development at the London venue, said at the time: "Whilst we've done everything we can to politely encourage people to wear masks and keep to social distancing and keep the space safe, now is the time to really show our intent.
"We've got to a stage where we feel as responsible landlords that, actually given we do have these bylaws, in our reckoning that we're able to say, 'We're going to make this mandatory'."
Mask wearing in public places outside has been enforced in other countries, including France, Spain and Italy, leading some people to question why the UK has yet to follow suit.
So should we all be wearing face coverings outdoors? And what would the benefits of that be in terms of reducing the spread of Covid-19?
What are the benefits of wearing a face mask outside?
The advantages of wearing a face covering inside are well-documented. On the government website, it explains that coronavirus usually spreads by droplets from coughs, sneezes and speaking. 
"These droplets can also be picked up from surfaces, if you touch a surface and then your face without washing your hands first," it adds. "This is why social distancing, regular hand hygiene, and covering coughs and sneezes is so important in controlling the spread of the virus."
The government adds that the "best available scientific evidence" is that, when used correctly, wearing a face covering may reduce the spread of coronavirus droplets in certain circumstances, which helps to protect others. 
One international report published in The Lancet on 3 June analysed data from 172 studies in 16 countries and found that there is a three per cent chance of catching Covid-19 when wearing a face covering.
Clinical virologist Dr Julian W Tang explains that wearing masks outdoors can be helpful in crowded outdoor scenarios.
"It also helps in those casual, unexpected encounters if you cannot maintain social distancing at all times, like walking past someone in opposite directions on narrow pavements when the traffic does not jet you cross over," he tells The Independent.
"Every little extra bit of protection helps - it does not have to be exactly 100 per cent or 80 per cent to make a difference - as exposure can occur unexpectedly in different situations like queuing at bus stops, to pay and display, when others around you may be symptomatic and not wearing masks outside."
But the general consensus has been that it's not necessary to wear face coverings outside, given that the risk of transmission is thought to be significantly reduced when outdoors because of increased ventilation.
Additionally, plenty of research has noted how the virus spreads more quickly and easily indoors compared to outdoors.
The conversation about where face coverings should be compulsory remains ongoing in the UK.
Last month, the chief medical officer for England, Chris Whitty, stated that wearing face coverings should be considered in certain outdoor spaces.
Speaking to BBC Radio 4's Today programme, he said: "If people, for example, are crowded together in a queue outdoors, if they're really huddled together round a market stall or something, that is a risk with this virus and in that situation there might be some logic to people thinking about wearing masks."
Additionally, the World Health Organisation states that you should wear a mask outside if you cannot maintain social distancing. "Some examples are busy markets, crowded streets and bus stops," it states.
Why haven't face masks been made compulsory outdoors?
Some experts think it's an unnecessary precaution, with Professor Michael Bonsall of the University of Oxford's department of Zoology telling The Independent: "It is hard to see how coupled with social distancing, that mask-wearing would significantly reduce infections further outside.
"They are recommended for close confined spaces, not open spaces."
Professor Bonsall says that not enough research has been done in order to verify the claim that it is necessary for face coverings to be worn in all outdoor settings in order to reduce the spread of coronavirus.
"The virus is super small," he says, "So masks prevent large droplet transmission. However, more evidence is needed to understand how actually effective they are at significantly reducing virus transmission by wearing them outside."
Why have other countries made it compulsory to wear face coverings outside?
The countries where face masks are compulsory outdoors include Italy, Spain, and France, all of which made face coverings compulsory indoors before the UK.
In early April, wearing face masks became mandatory in regions of Lombardy and Tuscany, while in Spain, the use of face masks became mandatory in May. Perhaps it is only a matter of time until the UK follows their example once again by making face masks mandatory outside.
Recent data suggests that the aforementioned countries have been more compliant with mask-wearing compared to the UK, which would suggest that such rules are beneficial with regards to encouraging general mask-wearing.
Professor Bonsall suggests that the reason could be down to cultural differences.
"The wearing of face maskings is more controversial here in the UK," he says. "In southeast Asia (e.g. Taiwan) it is a social norm - with different social and cultural expectations in place when talking and interacting with others that make it more acceptable."
Dr Penny Ward, visiting professor in Pharmaceutical Medicine at King's College London, adds: "Mask wearing is a habit in far eastern populations - it is considered unseemly to be seen to have a runny nose or cough onto other people - and this may also have contributed to control of disease in the very overcrowded cities in some countries."
However, this could be set to change, with reports circulating early last month that the government is considering imposing stricter measures in order to reduce the spread of coronavirus - and that could include enforcing mask-wearing outside.
"There's not a lot more that we can do," a government source told The Telegraph. "We've put in these very tough national restrictions. It is a lockdown for everyone all the time."
Register for free to continue reading
Registration is a free and easy way to support our truly independent journalism
By registering, you will also enjoy limited access to Premium articles, exclusive newsletters, commenting, and virtual events with our leading journalists
Already have an account? sign in
Register for free to continue reading
Registration is a free and easy way to support our truly independent journalism
By registering, you will also enjoy limited access to Premium articles, exclusive newsletters, commenting, and virtual events with our leading journalists
Already have an account? sign in
Join our new commenting forum
Join thought-provoking conversations, follow other Independent readers and see their replies