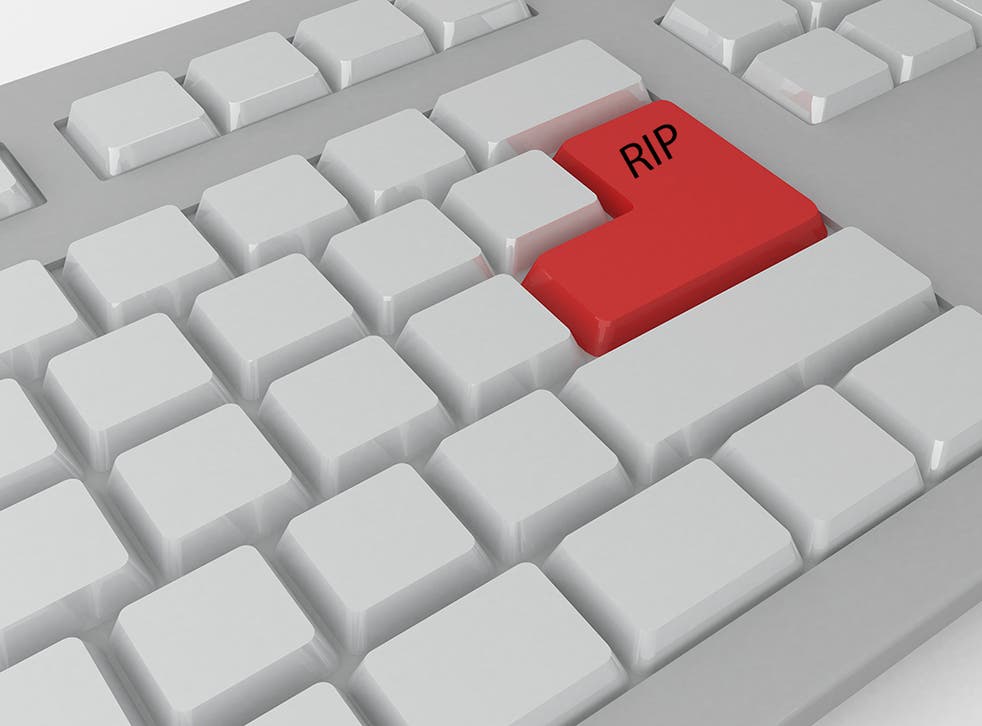 Has social media changed the way we grieve?
Some people find the communal process comforting, while others feel a social pressure to express grief publicly on social media. So how would a dislike button change our response to the news of death?
Susie Coen
Friday 18 September 2015 12:16 Comments
Alright, I'll admit it: the first thing I do in the morning is check my Facebook. Aunty-you-never-speak-to has invited you to play Candy Crush, annoying-girl-from-freshers has a posted a video of a dog fast asleep captioned 'this is me in the morning, lol', boyfriend-from-primary-school has a birthday today. But every now and then, while sifting through all this drivel, you come across something that can't be ignored: 'RIP mate, horrible news'.
In Facebook's first eight years, 30 million users died. Like many, I've watched the posts flood in and partaken in what I can only describe as a communal grieving process. In her 1969 book, 'On Death and Dying', Elisabeth Kübler-Ross proposed 5 stages of grief: denial, anger, bargaining, depression and finally, acceptance. In the digital age do we need to add another step – 'posting on 'wall' of the deceased'?
According to Dr Pamela Rutledge, Director of the Media Psychology Research Centre, 'social media has allowed a different expression of grief'. She argues that social media enables 'more people to be involved in the grieving process without imposing on immediate family and friends', while still making them aware of 'the larger community of support.'
22-year-old Tara Murphy explained that it was a shock getting a Facebook invitation from a late family friend to her own funeral, three days after her passing. However, she said that although it was strange 'it made sense because everyone she knew was on her Facebook and it saved the family from ringing everyone up, which can be painful.'
But from those have experienced the death of someone close, views are mixed. Kirsten Pacey from Norwich explained that when her uncle died last February, making a Facebook group for people from all over the world to share their feelings, memories and photographs played a big part in helping her deal with the death. 'People want to talk about it, and often it can be a bit awkward face to face,' she said.
Natasa Cordeaux disagreed. When her close friend passed away last year, she found the 'the once 'active' now silent Facebook friend difficult'. She felt that social media created an unspoken social pressure to publicly express grief. For her, grieving takes place in the physical world with loved ones.
Dr David Giles, an expert in media influence on human behaviour at Winchester University, recognises this social pressure. He said: "Ultimately I guess it's just a case of the classic social psychology phenomenon of 'majority influence'". "People will go along with the majority just to avoid confrontation so conform with others in their network."
In this sense, feeling pressured to make a statement of your grief on social media is akin to the social pressures that we experience in everyday life, and, as many of us know, having the courage to say no to conforming can be daunting.
Dr Giles said that condolences via social media can, sometimes, be more significant. He differentiated between two mourners: mourner A, 'who turns up to a funeral, lurks at the back and fails to utter a word' and mourner B who posts a tweet. He said, 'mourner A has been a physical presence, but it's possible they have gone unnoticed, while everyone will have read mourner B's tweet.'
And in the event of a celebrity death? Hashtags are created, RIPs fill Twitter feeds and people who have probably never even met the deceased feel a need to comment. This is what Dr Giles calls 'parasocial interaction': feeling like you know a celebrity as well as others in your social network, but probably not realising it.
Death makes people realise how strong these parasocial relationships are, he argues. 'So we might not have given a thought to Cilla Black for years, but once her death is announced, it feels almost like a distant relative has passed away.'
Earlier this week Mark Zuckerberg announced that his team are working on a "dislike" button for Facebook in response to popular demand.
This new feature could further alter our relationship between social media and grief by allowing a more nuanced response to tragedy. Whereas at present you must "like" statuses that discuss upsetting themes, such as death, in order to convey empathy, a "dislike" button would allow for a more appropriate response.
Speaking on the topic, Zuckerberg said: "What they really want is the ability to express empathy. Not every moment is a good moment."
On the other hand, in terms of high profile celebrity deaths, having the choice between a "like" and "dislike" button could result in members of the public actively choosing to "like" upsetting news. At present, people have the option of writing insensitive tweets and comments in response to high profile deaths. But what separates this idea of "liking" such news is that you would be able to see a clear figure of the amount of people who "like" incidents that might be very distressing for other people.
Last year former Facebook CTO Bret Taylor said: "I have the feeling that if there were to be a 'dislike' button is that you would end up with these really negative social aspects to it."
Social media has undeniably changed the way we grieve. We still go through the same processes, but now we have new mediums through which to do it. If people find that grieving via Facebook, Twitter and Instagram helps them, then that's a positive impact that social media has had on our lives. Alternatively, if people choose to mourn privately, they can. Our grief is ours to do with as we wish. But, let's be honest, if there is any kind of afterlife, the first thing people will be doing is checking Facebook.
Register for free to continue reading
Registration is a free and easy way to support our truly independent journalism
By registering, you will also enjoy limited access to Premium articles, exclusive newsletters, commenting, and virtual events with our leading journalists
Already have an account? sign in
Join our new commenting forum
Join thought-provoking conversations, follow other Independent readers and see their replies