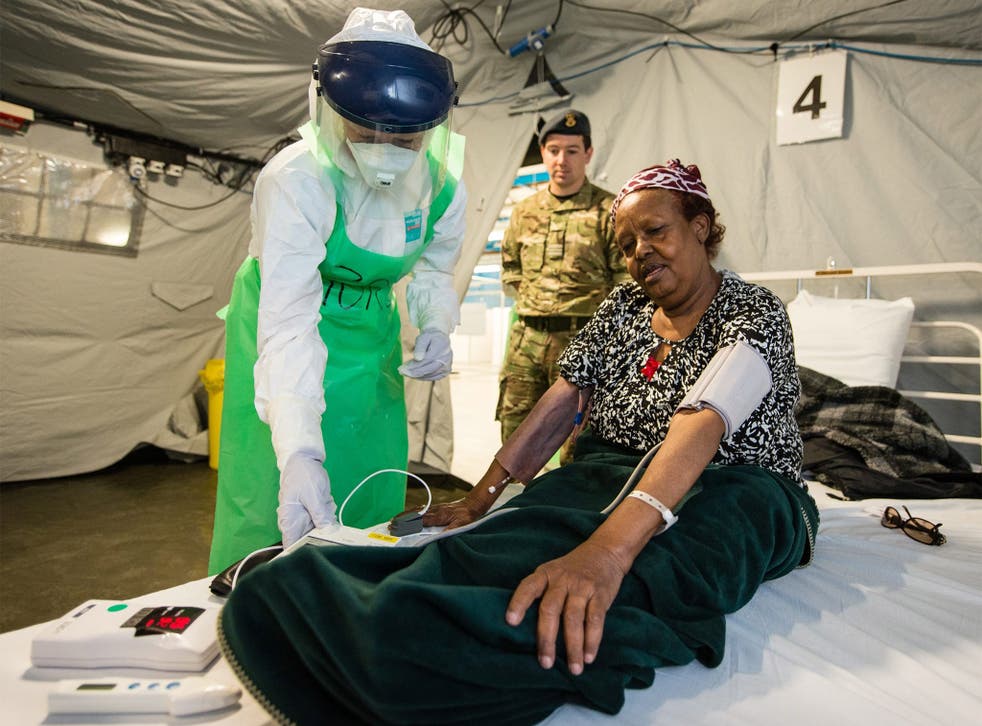 Ebola outbreak: Britain sending 750 soldiers and medics to Western Africa
Hospitals put on stand-by in case of UK outbreak
Britain will send 750 troops, three helicopters and a military vessel to support the international Ebola relief effort, in the biggest UK military deployment since the Libya campaign of 2011.
Military personnel including medics and soldiers will be sent to Sierra Leone, one of the three countries that have borne the brunt of the outbreak.
The announcement came amid a growing appreciation that the West had so far failed to grasp the scale of the crisis. The US Secretary of State, John Kerry, made an impassioned appeal for wealthy nations to do more to combat the outbreak. "We need people to step up now," he said. "Now is the time for action, not words. And frankly, there is not a moment to waste in this effort."
He was speaking after health officials announced that the first person to be diagnosed with Ebola in the US – a 42-year-old Liberian citizen – had died in hospital in Texas. Another person who had contact with the dead man's family and went into his apartment was reportedly taken to hospital with Ebola-like symptoms.
In Spain, there was criticism of the authorities over the circumstances in which a Madrid nurse became the first person to contract the virus outside West Africa – despite stringent anti-infection controls. Teresa Romero Ramos had treated two missionaries who later died from Ebola.
Spanish have media reported that she only found out she had the virus from reading about it in a news article on her phone.
Infection rates in the deadliest Ebola outbreak in history show no sign of abating. The World Health Organisation revealed that 8,033 people are now confirmed to have been infected, and 3,879 killed. More than 560 new cases were recorded in just four days last week, the WHO said.
UK troops will help to build at least five treatment facilities, which could treat 8,800 patients over six months, and provide training for medics.
In pictures: Ebola virus

Show all 62
The deployment was agreed at a meeting of Cobra, Whitehall's emergencies committee, which was chaired by David Cameron. It is being backed by the dispatch of the Royal Fleet Auxiliary ship Argus and three Merlin helicopters to the affected area.
Philip Hammond, the Foreign Secretary, warned the virus would become "much more widespread" with "many, many more victims" unless the international community took action quickly.
"I think that the key message here is the shortness of time. This disease, in Liberia, the number of victims is doubling every two weeks," he told ITV News. "If we don't get ahead of the curve and get on top of this outbreak in the next few weeks the challenge is going to be far bigger and the prospects of containing it far more remote." However, Mr Hammond said the right action could see "all cases dealt with by the middle of next year".
The US Government has ordered stricter screening at airports for passengers from Liberia, Guinea and Sierra Leone. However, health officials in the UK ruled out taking similar measures - despite Home Office minister Norman Baker calling for procedures to be reviewed in The Independent.
The Health Secretary, Jeremy Hunt, said while it was now "entirely possible" that someone with Ebola may come to the UK, the NHS was prepared. "We have very, very good plans in place. The NHS has a proven track record of dealing with people with Ebola," he said.
Posters are being put up in airports to advise travellers of the symptoms. All local NHS teams have set up contingency measures in the event of an outbreak. If a diagnosis of Ebola were made, the patient would be sent to London's Royal Free Hospital, where British nurse William Pooley was treated after contracting the disease in Sierra Leone.
Ebola can only be passed on through bodily fluids and the Department of Health said that most major NHS hospitals would be equipped to take patients if necessary. It was also confirmed that a British national contracting Ebola in West Africa may not be immediately repatriated but could be treated at a UK centre in Sierra Leone. Nearly 600 NHS employees have volunteered to support the aid effort.
The WHO said that the situation in Guinea, Liberia and Sierra Leone "continues to deteriorate".
Ellen Johnson Sirleaf, Liberia's President, said international aid efforts were "appreciated" but help was arriving too slowly. "The commitment is strong. We just need to see a little bit faster action, that's all," she said. "Our own response was slow because we just didn't know what to do. So many people died simply because we're dealing with an unknown disease."
In Sierra Leone, a strike over pay by teams tasked with burying the bodies of victims risked worsening the outbreak. The virus remains active in the corpses of victims and specialised teams equipped with protective clothing have been set up to dispose of bodies. Abdul Rahman Rarker, a burial team supervisor, said of the piles of dead bodies: "We cannot bury them because we are risking our lives and those in charge are depriving us of our money."
In Spain, the 40-year-old nurse is being held in quarantine with her husband and three others. Sky News quoted her as saying she learned she had tested positive for Ebola when she checked a news site on her mobile.
Thomas Duncan, the Liberian patient who died in the US today, was admitted to hospital on 28 September and was being treated with an experimental antiviral drug.
Join our new commenting forum
Join thought-provoking conversations, follow other Independent readers and see their replies