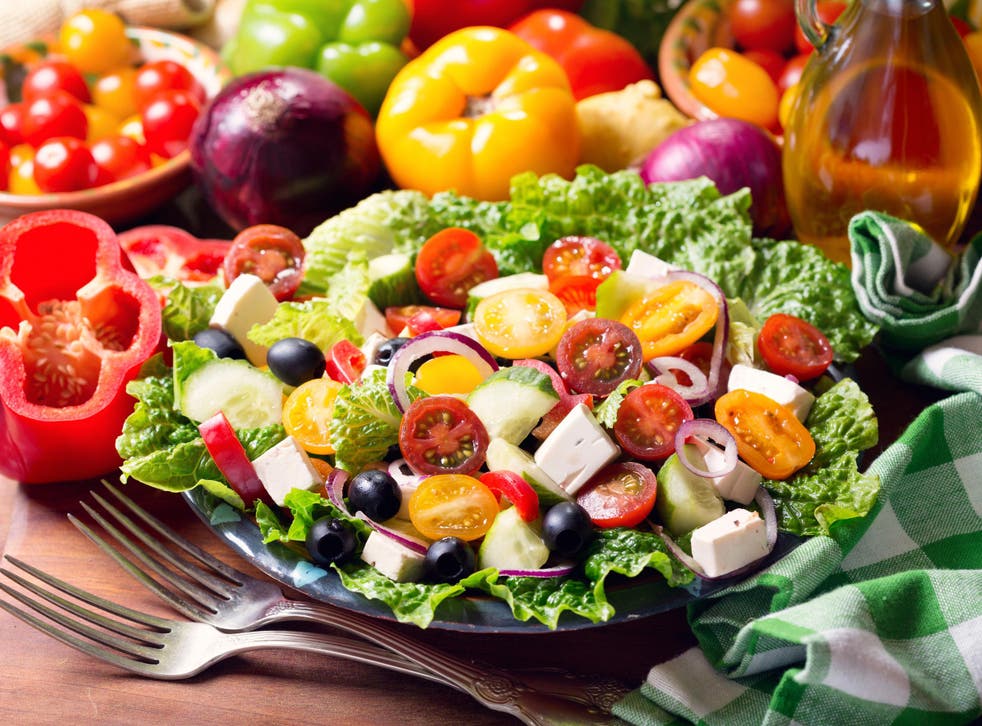 Eating a Mediterranean diet 'could help lower risk of heart disease' in Britons
Around 12.5 per cent of cardiovascular deaths in the UK could potentially be avoided if British people switched to a Mediterranean diet, the study says
Alexandra Sims
Thursday 29 September 2016 01:46 Comments
Britons who eat a Mediterranean diet could significantly lower their risk of developing heart disease, according to new research.
Scientists found healthy people who ate more foods associated with a Mediterranean-style diet were up to 16 per cent less likely to have cardiovascular disease than those who did not.
The study, published in the journal BMC Medicine and which was the first of its kind to analyse the benefits of the diet in Britons, also found eating Mediterranean-style could decrease the risk of a heart attack or stroke.
Around 12.5 per cent of cardiovascular deaths in the UK could potentially be avoided if British people switched to a Mediterranean diet, Dr Nita Forouhi, lead author from the Medical Research Council Epidemiology Unit at the University of Cambridge, said.
Traditionally, the Mediterranean diet is high in fruits, vegetables, whole grains, nuts and olive oil, low in red meats and has moderate quantities of dairy, fish, poultry and wine.
Researchers collected data from 23,902 healthy Britons, whose diets were measured using food frequency questioners.
The best diets: according to the experts

Show all 10
The participants were monitored for an average of 12 to 17 years to investigate the association between a Mediterranean diet and the occurrence of new-onset cardiovascular disease and deaths during that time.
The Mediterranean diet was defined using a 15-point score based on guideline recommendations from a Mediterranean diet pyramid published by the Mediterranean Diet Foundation.
The research supports previous studies which acknowledge the health benefits of eating a Mediterranean diet.
In August, a study by the Department of Epidemiology and Prevention at the IRCCS Neuromed Institute in Italy, found a diet rich in vegetables, nuts, fish and oils cut the chances of early death in heart patients by 37 per cent.
It said eating these foods could be even more effective than cholesterol-lowering drugs.
In June, research conducted on more than 300 women with early-stage breast cancer suggested a Mediterranean diet may play an important role in cutting cancer risk.
Dr Forouhi said: "The benefits of the Mediterranean diet for cardiovascular health are well documented in countries of the Mediterranean region, but this is the first study to evaluate this in the UK.
"If our findings are broadly representative of the overall UK population, then we can assume that higher level of adherence to the Mediterranean diet could have significant impact in lowering the cardiovascular disease burden in the UK."
"Encouraging greater adoption of the Mediterranean diet looks like a promising component of a of a wider strategy to help prevent cardiovascular disease, including other important factors such as not smoking and maintaining a healthy weight, blood cholesterol and blood pressure."
Register for free to continue reading
Registration is a free and easy way to support our truly independent journalism
By registering, you will also enjoy limited access to Premium articles, exclusive newsletters, commenting, and virtual events with our leading journalists
Already have an account? sign in
Register for free to continue reading
Registration is a free and easy way to support our truly independent journalism
By registering, you will also enjoy limited access to Premium articles, exclusive newsletters, commenting, and virtual events with our leading journalists
Already have an account? sign in
Join our new commenting forum
Join thought-provoking conversations, follow other Independent readers and see their replies