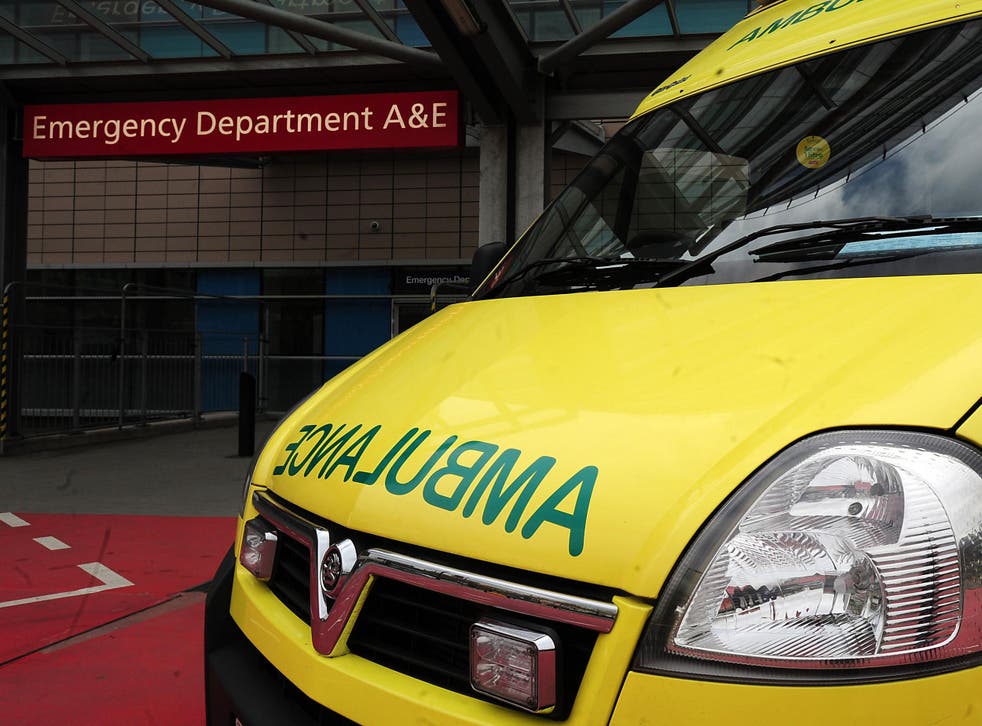 When to go to A&E: Patients urged to consider other options amid NHS hospital crisis
Jeremy Hunt urges patients to stay away from overstretched A&E departments unless necessary
Katie Forster
Tuesday 10 January 2017 08:13 Comments
Jeremy Hunt has urged people to stay away from A&E departments to ease intense pressure facing NHS hospitals – but when is a visit to A&E necessary, and how many other options are there?
The Health Secretary told Parliament there has been a significant increase in visits to A&E since the turn of the millennium but around a third of these trips were avoidable.
Mr Hunt's call for people to stay away from accident and emergency departments comes despite his comments in 2014 that he had taken his own children to A&E rather than waiting to see a GP.
Professor Helen Stokes-Lampard, chair of the Royal College of GPs, said public health messages on the range of services available to patients were needed "so that only the most serious turn to A&E departments".
Patients should consider "whether they can care for themselves, or seek advice from a pharmacist instead, so that we can direct our care to those patients who need it most," she told The Independent.
Jeremy Hunt says only 'one or two hospitals' are in trouble despite claims of a humanitarian crisis
What counts as an emergency?
A&E departments are for patients with serious and life-threatening conditions.
If someone is obviously in danger – for example, they are experiencing chest pain, blacking out, bleeding, choking or the early symptoms of a stroke – they should be taken to hospital as quickly as possible.
Serious allergic reactions, severe burns, difficulty breathing or severe abdominal pain down one side are also all reasons to seek treatment at A&E and call an ambulance if necessary.
However, if it is not an emergency, consider one of the other options available to patients.
Should I call 999?
Patients unsure whether they should go to A&E should avoid calling the emergency services, but call the NHS non-emergency number, 111, instead.
The helpline was launched in 2013 and took over as the national telephone health advice line from NHS Direct, which ran between 1998 to 2014.
A trained operator supported by nurses and paramedics asks questions about symptoms and can either call an ambulance or direct patients to their nearest out-of-hours doctor, urgent care centre or late-opening chemist if needed.
Calling 111 is free from both landlines and mobile phone and it is available 24 hours a day, all year round.
However, research has suggested that a large number of people who were told to go to hospital by the service still did not need emergency treatment.
A pharmacist could help more than you think
Diarrhoea, headache, a painful cough or a runny nose do not usually warrant a visit to A&E, and can be treated at home with over-the-counter medicines.
Pharmacists can advise on a range of conditions and are able to discuss health conditions confidentially without anything being noted in medical records, advises the NHS website.
Screaming blue murder: We join a London Ambulance crew for the busiest nightshift of the year

Show all 4
Make an appointment with your GP
If you have a persistent, but non-emergency health problem, such as ear pain, stomach ache, frequent vomiting or back ache, don't go to hospital but make an appointment with your GP.
Mr Hunt has announced proposals for GP surgeries to be open from 8am to 8pm seven days a week, despite criticism from doctors who say the service is already overstretched.
If your local GP practice is closed, search for your nearest walk-in or urgent care centre on the NHS website.
Register for free to continue reading
Registration is a free and easy way to support our truly independent journalism
By registering, you will also enjoy limited access to Premium articles, exclusive newsletters, commenting, and virtual events with our leading journalists
Already have an account? sign in
Join our new commenting forum
Join thought-provoking conversations, follow other Independent readers and see their replies