Jeremy Hunt attacked over 'pie in the sky proposals' to solve NHS crisis
Doctors say they are struggling amid GP recruitment crisis and Government's plans are unrealistic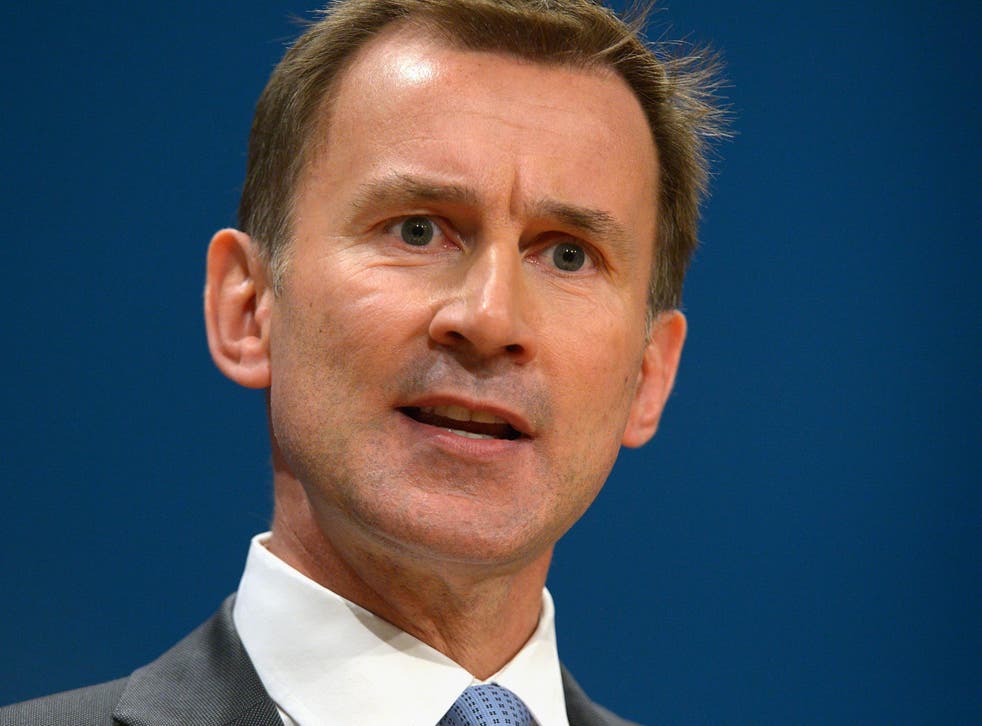 Doctors have said Jeremy Hunt's proposals to alleviate pressures on the NHS by shifting some of the emergency care burden on to GPs are "pie in the sky".
The Health Secretary urged patients to visit their GP instead of heading to A&E for minor illnesses and outlined plans to temporarily release time for family doctors to support urgent care work.
He said around 40 per cent of A&E patients were in hospital unnecessarily and called for a "honest discussion with the public about the purpose of A&E departments".
But doctors struggling amid a GP recruitment crisis said Mr Hunt's plans were unrealistic and demanded the Government commit to investing in all areas of the overstretched health service.
"Quite unbelievable. Hunt says he will 'release GPs for A&E work' – like we're twiddling our thumbs and have our feet up. Get a grip!" wrote one doctor on Twitter.
Chaand Nagpaul, chair of the British Medical Association (BMA)'s GP committee, told The Independent family doctors were already "working flat out but often struggling to keep up with the rocketing number of patients coming through the surgery doors".
"GP services are already overstretched and at full capacity with one in three practices reporting doctor vacancies left unfilled as this, coupled with contracting budgets and rising patient demand, has left many GP practices struggling to provide the necessary care to their patients," he said.
Jeremy Hunt says only 'one or two hospitals' are in trouble despite claims of a humanitarian crisis
"If the government wishes to prevent the number of patients visiting A&E, they must commit to investing in all areas of health care, particularly areas such as social and community care, as chronic underfunding is largely to blame for the current crisis on our A&E wards."
The head of the British Red Cross said he stood by his description of a "humanitarian crisis" gripping the NHS, after Theresa May rejected the suggestion.
Mr Hunt told Radio 4's Today programme the NHS now had more doctors, nurses and funding than ever, but explained what he called "very serious problems at some hospitals" by suggesting pressures were increasing in part because people are going to A&Es when they should not.
He also said the NHS will soon be able to deliver seven-day access to a GP from 8am to 8pm.
The overall number of GP consultations have increased by 15 per cent over the past five years – three times the rate of increase in the number of GPs, according to The King's Fund.
And a BMA survey of 3,500 GPs in England found around a third of practices had vacancies for doctors they had been unable to fill for at least a year.
"GPs under huge pressure ... I imagine they won't welcome time released to support urgent care rather than improve primary care," tweeted journalist Rebecca Thomas.
GP trainee Alex Gates told The Independent he had worked with 20 different GP surgeries in Swindon and had seen first-hand the pressures facing practices.
"Numerous practices which are all having significant problems with recruitment," he said. "They're facing closure and having difficulty seeing patients in a timely manner."
"I was surprised by Jeremy Hunt's claim patients would be able to see their GP from 8am to 8pm, which is certainly not something any of us are able to imagine at any time in the future. GPs are waiting up to a month sometimes for an appointment. That's pie in the sky at the moment."
Helen Stokes-Lampard, Chair of the Royal College of GPs, also called on Mr Hunt to "urgently" invest in general practice so community doctors can alleviate pressures across the NHS.
She told The Independent while the focus of public concern had been on pressures in hospital, GPs were "also under intense pressure during the winter period, and this can also have severe consequences for patients".
Two patients died on trolleys in A&E and 42 emergency departments were forced to divert ambulances to other hospitals last week, twice the frequency of the same period last year.
Beccy Baird, who leads the King's Fund's research into community-based health care, said the ageing population and cuts to social care were placing more pressure on hospitals than patients attending A&E with less serious illnesses.
"Patients going to A&E for minor problems where they could or should see a GP are a cause of pressure in A&E, but aren't the main cause of pressure," she told The Independent.
Screaming blue murder: We join a London Ambulance crew for the busiest nightshift of the year

Show all 4
"Clearly, there are people coming through the door, but they can be processed quite quickly, as opposed to the people who have to see a clinician."
In his statement to the Commons, Mr Hunt said hospitals were on the whole coping better than this time last year but that, with further cold weather on the way, some "distressed" NHS trusts would be able to take action to relieve pressure.
This may include ensuring people in care homes and residential homes really need taking to hospital, and trying to open more care beds so elderly people who are medically fit can be discharged.
Join our new commenting forum
Join thought-provoking conversations, follow other Independent readers and see their replies