How much sleep do you need and how can you cure insomnia?
Is there a way to stop waking up in the middle of the night?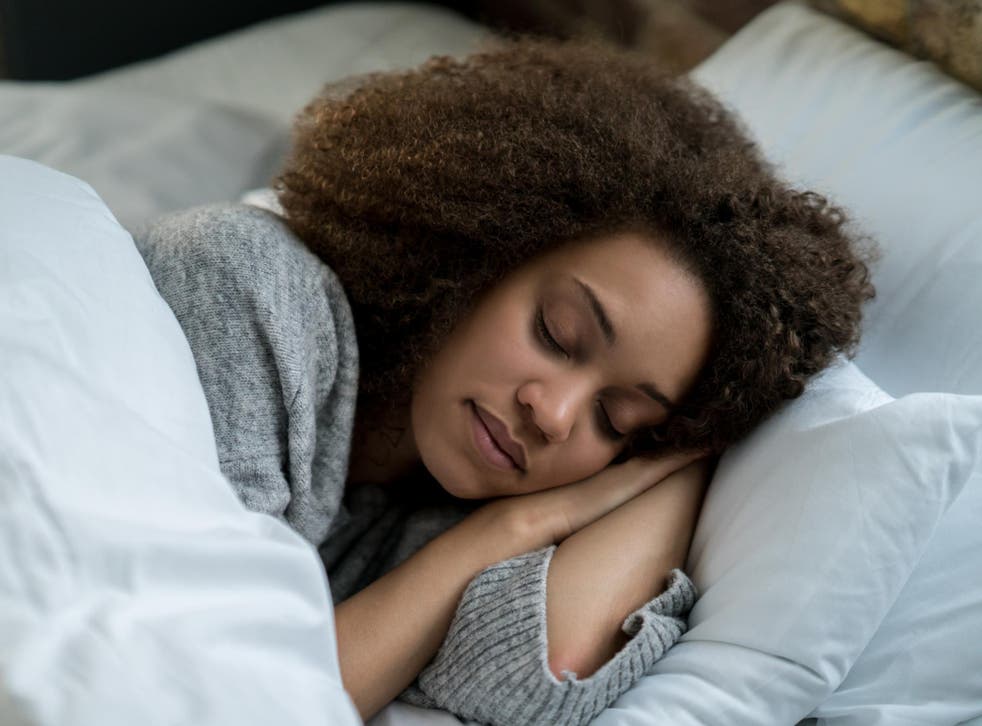 [This article was originally published in March 2020]
How much sleep should you be getting? Ask a room of adults and you are likely to get a variety of different answers depending on personal preference, your body clock and whether or not you have toddlers at home.
Sleep, like food and water, is something humans need to function but in an increasingly busy and switched-on world, ensuring you're getting enough isn't always easy.
According to the NHS most adults need between six and nine hours sleep per night, but surveys have found as many as 33 per cent of British adults are regularly getting fewer than six hours shut eye.
Long-term, this level of poor sleep puts you at risk of serious medical conditions such as obesity, heart disease and diabetes – and shortens your life expectancy, according to the NHS.
Whether this is because you suffer with insomnia, sleep apnoea, caffeine-induced restlessness or noisy neighbours, there are a few things you can do to help be better rested.
So what do you need to know about sleep and how can you improve your bedroom habits if you're left feeling exhausted when your alarm goes off in the morning?
How much sleep should I be getting?
Lisa Artis from The Sleep Council, a body raising awareness on the importance of sleep, says the general consensus is around seven to nine hours although it does vary across our lifetime in relation to other factors. "It is important to remember that one size doesn't fit all and if you get slightly less than seven hours and feel fine, then chances are you sleeping enough for you. It's also about quality of sleep and not just quantity," she says.
It's not just about the length of sleep but the number of rapid eye movement sleep cycles.
Artis explains: "Each sleep cycle lasts around 90 minutes and consists of four stages NREM 1, NREM 2, NREM 3 and then REM, and we need to experience all four stages in order to wake up rested. A good night's sleep consists of four or five cycles, disturbed sleep consists of far fewer."
Overnight Sleep Masks

Show all 7
Alison Gardiner, behavioural psychologist and founder of Sleepstation, an NHS-affiliated sleep programme to overcome insomnia, says: "Adults obtain most of our deep slow wave sleep in the first half of the night and most of our dream sleep in the second half."
Gardiner says the best indication of whether you're getting enough sleep is to "assess how you feel" the next day, about two hours after waking up. "If you're feeling well rested then you're probably getting enough sleep," she says.
Alternatively if you feel like you could easily fall back to sleep then you're likely not getting the right amount of sleep.
What time should I go to bed?
It can be tempting to stay up watching Netflix, especially if you don't feel tired yet, but when should you be going to bed to ensure you're optimising your sleep?
Gardiner says: "You should give yourself at least enough opportunity to get the right amount of sleep for you. If you need nine hours sleep to feel good the next day and you need to be up at 8am for work, then you need to make sure you're getting into bed (with the intention of sleeping) no later than 11pm."
She highlights that you shouldn't base your sleep around when your partner goes to bed as their needs may be different from yours.
"Consistency is key but the focus should be on the getting up time, not the bedtime," Gardiner says. "Getting into bed before you're ready to sleep will likely result in you lying there awake and frustrated until the time you would have fallen asleep anyway, but with added frustration."
How can I switch off before bed?
Gardiner says during sleep we are vulnerable and therefore humans have evolved to need to feel safe, secure and relaxed to sleep (unless we're really sleep deprived) so you need to have an environment that makes you feel this way.
This means having a cool, quiet, dark room as well as relaxing before bed.
"The best way to relax is to do what you find relaxing. Everyone is different; what might relax one person may not be relaxing at all for another. So, whatever you do to relax doesn't matter – it just matters that you do something," she says.
Artis says we should be doing this for between 30 minutes to one hour before our scheduled bedtime – during this period we should also be wary of using electronics if we sleep badly.
This is because of the blue light from our smartphones and other devices, which can damage our quality of sleep.
Artis explains: "The blue light from these devices has the capacity to prevent the hormones that make us sleepy from being produced. Importantly, it is not just the light that can affect our sleep but most activities that we use our devices for can keep us awake and alert which we don't want to do at bedtime."
And although it is tempting – try not to drink alcohol to induce sleep. "No to the nightcap," says Artis.
"Although alcohol is a sedative, it can have a significant impact on the quality and quantity of your sleep. Our sleep tends to become fragile and light when we have a lot of alcohol."
How can I improve my sleep routine?
Few people manage to stick to a strict bedtime routine all the time so don't worry too much. "This is not much of a problem for most people," the NHS explains.
But it becomes a problem when either you're suffering with insomnia or you're feeling poorly rested. "For people with insomnia, irregular sleeping hours are unhelpful. Your routine depends on what works for you, but the most important thing is working out a routine and sticking to it."
If you're trying to improve your sleep routine, start slow. "Starting on a weekend try to add on an extra hour or two of sleep a night. The way to do this is to go to bed when you're tired and allow your body to wake you in the morning (no alarm clocks). Expect to sleep for upwards of 10 hours at first. After a while, the amount of sleep will gradually decrease to a normal level.
"Don't rely on caffeine or energy drinks as a short-term pick me up. They may boost your energy and concentration temporarily, but can disrupt your sleep patterns even further in the long term."
The NHS says: "It won't happen with a single early night. If you've had months of restricted sleep, you'll have built up a significant sleep debt, so expect recovery to take several weeks."
What can be done about insomnia?
Insomnia means you regularly have problems sleeping: you probably have insomnia if you find it hard to go to sleep, wake up several times during the night, lie awake at night, still feel tired after waking up and find it hard to concentrate during the day.
Fortunately insomnia can often be corrected by changing your sleeping habits and being more mindful about your habits before bed.
The NHS recommends going to bed and waking up at the same time every day, relaxing for at least one hour before bed, making sure your bedroom is dark and quiet, exercising regularly during the day and making sure your mattress, pillows and covers are comfortable.
Do not smoke, drink alcohol, coffee or tea in the six hours before going to bed, do not eat a big meal late at night, do not exercise less than four hours before bed, do not watch TV or use devices just before bed, do not nap during the nap and do not sleep in after a bad night's rest.
And Artis says, if you do wake up in the middle of the night try to avoid clock watching, which can create "anxiety" and make it harder to go back to sleep.
Register for free to continue reading
Registration is a free and easy way to support our truly independent journalism
By registering, you will also enjoy limited access to Premium articles, exclusive newsletters, commenting, and virtual events with our leading journalists
Already have an account? sign in
Register for free to continue reading
Registration is a free and easy way to support our truly independent journalism
By registering, you will also enjoy limited access to Premium articles, exclusive newsletters, commenting, and virtual events with our leading journalists
Already have an account? sign in
Join our new commenting forum
Join thought-provoking conversations, follow other Independent readers and see their replies