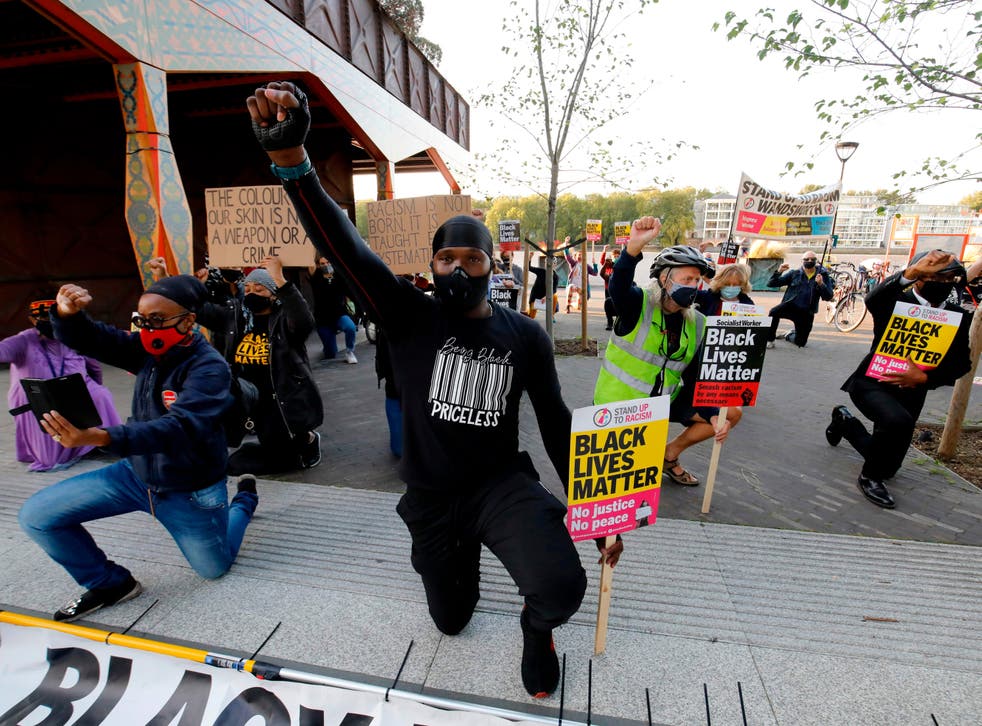 What is the difference between institutional and structural racism?
The Commission on Race and Ethnic Disparities' report, which found 'no evidence of institutional racism', has been widely criticised
Leer en Español
A report by the independent Commission on Race and Ethnic Disparities, released on 31 March, concluded that although racism and instances of racial injustice still exist in the UK, "we no longer see a Britain where the system is deliberately rigged against ethnic minorities".
The controversial report has sparked nationwide conversations, especially against the claim that there is "no evidence of institutional racism" and that, although the UK is not a "post-racial society", it sets a good example for other white-majority countries when it comes to diversity.
Speaking on BBC Radio 4's Today show on Wednesday, the commission's chairman Dr Tony Sewell claimed there was no evidence of institutional racism in the UK and that the phrase is wrongly used.
He said: "What we have seen is that the term institutional racism is sometimes wrongly applied and it's been a sort of catch-all phrase for microaggressions or acts of racial abuse."
To understand what institutional racism is, we must first understand what structural racism is - the two terms are interconnected but differ slightly.
Read more:
What is structural racism?
Structural racism encompasses all of the social, political and economic systems of our society collectively. It is how large-scale systems, historic and contemporary ideologies, social forces and processes combine and manifest in inequality between racial groups.
Kehinde Andrews, the UK's professor of Black Studies at Birmingham City University told The Independent: "Structural racism refers to the systematic oppression of ethnic minorities that leads the disparities that we see in terms of income, employment, health etc.
"So the disproportionate death rates from Covid are an example of structural racism, caused by the place we [ethnic minorities] find ourselves in society - more likely to live in inner-city, key workers, working-class."
In the workplace, executive positions held disproportionately by white individuals are an outcome of structural racism, which is upheld by institutional racism in education, the workplace, as well as other areas of society. Ethnic minorities are more likely to be in low-paid, insecure jobs.
According to Andrews, "the wealth gap is probably the area of the clearest structural racism as it locks in so much of the disparities."
What is institutional racism?
Institutional racism is racism that exists in institutional settings and is typically political or social. Through policies and practices, whether done consciously or unconsciously, the outcomes disadvantage one racial group.
Andrews explained: "Institutional racism refers to how racism is practised through the institutions such as schools, universities, workplaces in ways that maintain structural racism."
In 1999, the Metropolitan Police was investigated over its handling of the murder of black teenager Stephen Lawrence. It was found by Sir William Macpherson, who led the public inquiry, to be institutionally racist.
Macpherson described it as "the collective failure of an organisation to provide an appropriate and professional service to people because of their colour, culture or ethnic origin."
He added that institutional racism can be seen in "processes, attitudes and behaviour which amount to discrimination through unwitting prejudice, ignorance, thoughtlessness and racist stereotyping which disadvantages minority ethnic people".
Examples of this can be seen in policing - in October 2020, figures showed black people were more than nine times more likely to be stopped and searched by the police than white people.
Additionally, Andrews said: "Institutional racism in the education system means that black people are more likely to leave university qualified, and the institutional racism in the workplace means that qualified black graduates are less likely to be employed.
"The worst way to look at institutional racism is to focus on just one sector, as all of these problems are interlinked."
Join our new commenting forum
Join thought-provoking conversations, follow other Independent readers and see their replies