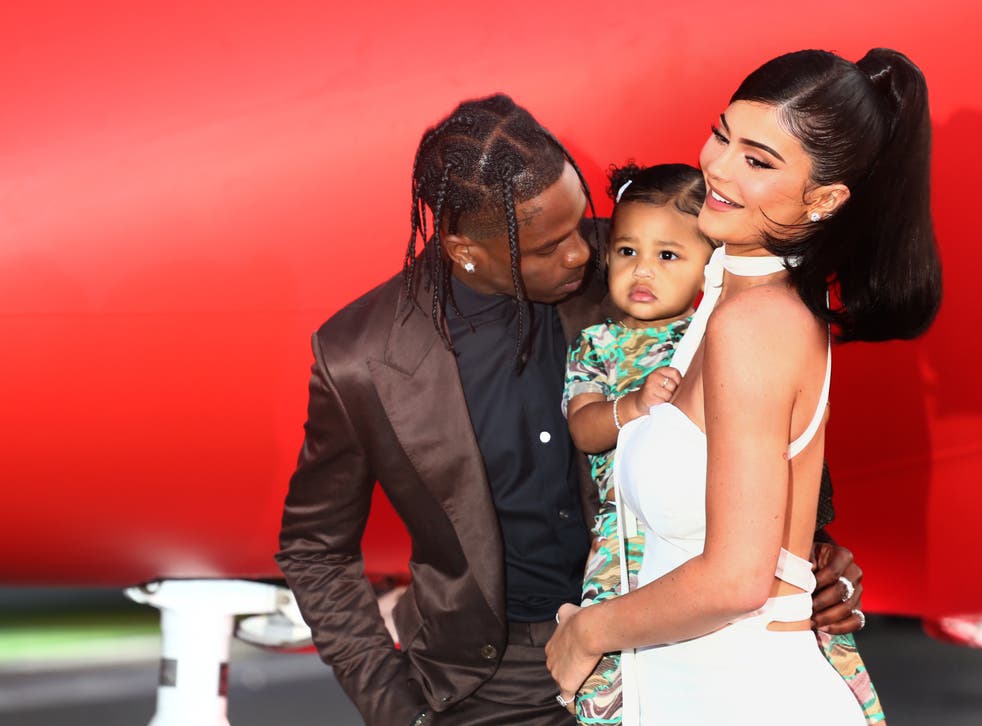 Kylie Jenner and Travis Scott accused of being 'out of touch' after gifting daughter Stormi yellow school bus
'We do not live in the same reality as rich people,' critic tweeted
Kylie Jenner and Travis Scott are being accused of "being out of touch with reality" after gifting their three-year-old daughter Stormi Webster a yellow school bus.
On Tuesday, Jenner shared a series of photos of her daughter standing next to a school bus, and then walking down the empty aisles, on her Instagram Stories, where she revealed that the three-year-old has been infatuated with the vehicles.
"All Stormi has been talking about is riding a big yellow bus. Daddy surprised her," the Kylie Cosmetics founder captioned a photo of Stormi hugging the side of the bus.
While Stormi seemed pleased with the unique present, many found the gift bizarre, with a number of Jenner's fans expressing their pity that the three-year-old won't have a "normal" childhood.
"Kylie and Travis buying Stormi a yellow school bus because all she wanted to do was be a normal kid and ride on one is the most dystopian, surreal, depressing, and funny thing I've ever seen," one person tweeted.
Another said: "Stormi got gifted a school bus??? Rich people will do the most to try and seem normal."
The present also prompted backlash from some who said the money could have been better used, with someone else suggesting it could have been "given to someone who needs it".
Others accused the parents of "pretending to be middle-class" with the gift, which many also said was proof of how "out of touch" the celebrity couple is.
"Stormi got to play make-believe poor today," one person jokingly wrote on Twitter, while someone else added: "Stormi is so rich her dad Travis surprised her with a yellow school bus so she can act middle class for the day."
Another person tweeted: "Rich people are literally so far from reality they bought a school bus for Stormi to sit on."
However, not everyone agreed with the criticism, as one fan acknowledged that riding a school bus is a "neutral life experience" for most people and shouldn't be "laughed at as a mark of poverty".
"I think labelling riding a school bus as a 'poor people' thing in the context of Kylie Jenner's daughter Stormi wanting to ride one is incredibly disrespectful to kids who ride school buses," they wrote. "It's a neutral life experience and doesn't need to be laughed at as a mark of poverty."
There were also those who praised Scott's over-the-top gift to his daughter, even if the present was unusual.
"I don't see anything wrong with Travis giving Stormi a school bus, it's kinda stupid but it's cute," one person tweeted.
Another person said they would do the same thing for their child if they were as wealthy as the rapper, writing: "I don't think it's weird that Stormi got a school bus, I would definitely do the same thing for my kid if I was a billionaire."
This is not the first time that the couple, who are reportedly expecting their second child, have faced criticism over extravagant gifts they have given to their daughter, as Jenner previously sparked backlash when she shared a photo of Stormi wearing a Hermès backpack for her first day of homeschooling.
Join our new commenting forum
Join thought-provoking conversations, follow other Independent readers and see their replies