10 reasons you might not be having as much sex as you'd like
From hormones and work, to technology and sexual health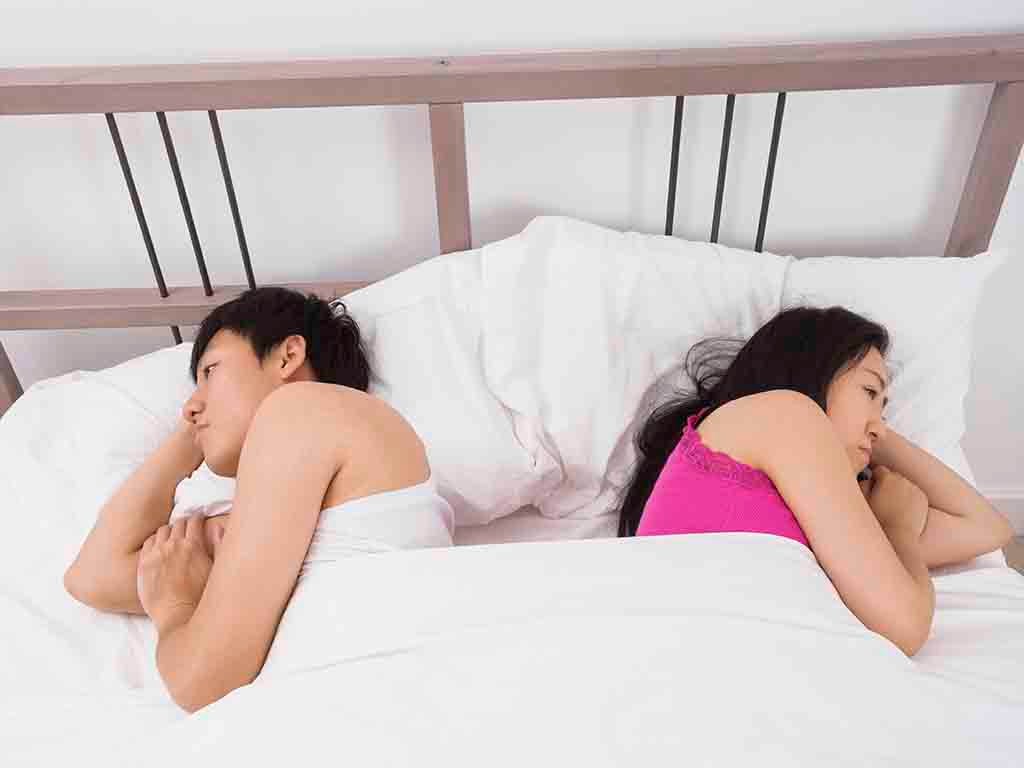 According to a recent survey by YouGov, only 38 per cent of respondents said they had sex at least a few times a month, but 64 per cent of Britons said they wanted to have sex at least this often. In addition, 10 per cent said they wished to have sex every day, a goal which only 1 per cent admitted reaching.
44 per cent of 18-24 year olds said they had sex more than a few times a year, but 73 per cent wanted to have sex more frequently than that and despite 50 per cent of the over 60's wanting to have sex more than a few times a year, only 24 per cent said they were achieving this.
Having sex regularly does diminish with age and there are many reasons as to why people aren't having as much sex as they'd like.
Different bedtimes
It can be hard to have sex when you go to bed at 10pm and your partner doesn't go to bed until after midnight, having stayed up watching a boxset or falling asleep on the sofa.
Even though it may seem silly to schedule sex, it can help. Suggest to your partner that you both go to bed at the same time a couple of nights a week, making it clear that you won't be sleeping! Make it a date night so it feels special. Once you get into a routine of doing this, he or she may be joining you in bed more frequently.
Technology
Technology is a distraction that can put a dampener on our sex lives. A study in Italy found that couples who had a TV set in their bedroom were having sex 50% less often than couples without a bedroom TV and this rose to 60% in the over 50's.
A recent US survey found that 12% of American mothers used their mobile phones during sex and they weren't taking naughty photos!
Implement a no gadgets rule after 10pm to ensure that you have each other's full attention and no one is going to be distracted by emails or Twitter.
Making time
A poll of 2000 people (2014) found that despite being in committed relationships couples are spending less than two per cent of their normal working day in each other's company.
Sadly, three in ten couples said that their relationships suffered as a consequence of not spending more quality time together. An enormous 89% thought that they would all get on better if they spent more time together and 50% said they would be simply happy with a meal at home to catch up with their partner's activities.
Getting grandparents, friends or relatives to look after your children to allow you to have quality time together. Being a parent can be overwhelming and your emotional needs can get neglected.
If you care for an elderly relative or are a carer, getting respite care for them can help you reconnect with your partner.
The world's most sexually satisfied countries
Show all 12
Work schedules
This can be hard to change when couples do shift work. When one person gets up for work just as their partner is returning home from their night shift, sex is the last thing on their mind.
Try scheduling your time off together and spend the day with each other. Have sex during the day when the children are at school or when your partner gets into bed at the weekend.
The social calendar
Whether it be going out for drinks with friends or a family party, sometimes big events you attend mean that while you're spending time together, you can't exactly sneak off to have sex! If you have to travel far for a party, why not make a whole weekend of it and book a couple of nights away? You may be tired after celebrating, or might have over-indulged on alcohol, so instead of worrying that you're not going to have any sex that night won't matter if you've got a whole day ahead of you.
If it's a local event, why not book a cheap last minute hotel room anyway? Any time spent just the two of you will not only be a great way to bond, but you can later reminisce about your mini adventure.
Sharing the chores
People often say they have too much to do and so aren't in the mood for sex. If you feel like you are the only one doing anything around the house, enlist the help of your partner or children to share the workload. Get children to unload the dishwasher or do the washing up. Teenagers can be taught how to iron and put their clothes away, so stop running around after them. Get your family to tidy up after themselves or just gather their stuff up and put it in their room.
Sharing the work will make you feel less resentful and tired at the end of the day and more willing to go to bed and enjoy sex rather than collapse in a heap under the duvet.
Are you depressed?
Often people who suffer from depression experience sexual problems, either as a result of the depression or due to the side effects of the medication they are taking for their condition. Some medication can cause erectile dysfunction, low libido and vaginal tightness and dryness, making sex difficult or uncomfortable. You should seek medical help if you think you may be depressed or speak to your doctor about changing your medication to one with fewer side effects.
Hormonal changes
Hormonal changes affect both men and women. For women, pregnancy, breastfeeding, contraception and menopause all cause changes in our normal hormone levels. Studies show that 30-50 per cent of women are hit by a drop in sex drive for longer periods of time and may have related issues such as orgasm problems or painful sex, leading them to avoid sex.
Stress from work commitments and looking after children is typical in our 30s/40s and many women in particular find themselves looking after ageing relatives when they are in their 50s/60s.
The constant cycle of excessive dieting can cause our libido to drop too as our bodies need a certain level of fat for sex hormones to function normally. Constantly restricting your diet can cause mood swings too. Eating healthily and taking regular exercise can help, improving both your mood and body image too.
Men generally experience changes in testosterone levels as they age and may feel more tired, gain weight around their midriff and feel less sexually aroused due to a decline in their libido. Eating healthily, reducing alcohol consumption and taking regular exercise can help increase energy levels and boost your body image.
Sexual health issues
People avoid having sex if they have a sexual health issues such as erectile dysfunction or sex is painful. If you think you have ED, you should seek medical advice as it may have a serious underlying cause such as heart disease or diabetes.
Sex should never be painful - if it is, there is a problem. Using lubricant can help if you have vaginal dryness but vaginal tightness (vaginismus) can be caused by a variety of reasons and can be treated successfully through a combination of self-help, physiotherapy with a women's health physiotherapist and counselling with a sex therapist.
As people age, their sexual function and desire decreases but you can still enjoy sexual intimacy and pleasure through making changes to the way in which you have sex.
Boredom
Being bored in the bedroom can make you feel less inclined to want to have sex so why not add some spice to your sex life?
Even if you don't feel like having full penetrative sex, try having foreplay which might lead to sex.
Finding ways to have more sex involves making changes to your routine, from being imaginative about where, when and how you have sex, enjoying childfree time together, making a rota for housework and seeking medical help if you think you have sexual issues. So take a look at your lifestyle - it could be time to make changes and enjoy more sex.
Samantha Evans is a former nurse, sexpert and co-owner of online sex toy retailer www.jodivine.com
Join our commenting forum
Join thought-provoking conversations, follow other Independent readers and see their replies