Church of England should scrap fees of up to £641 for weddings, vicar says: 'It should be a free gift'
The Reverend Tom Woolford described marriage fees as being 'like a poll tax', ahead of a vote on the matter at the General Synod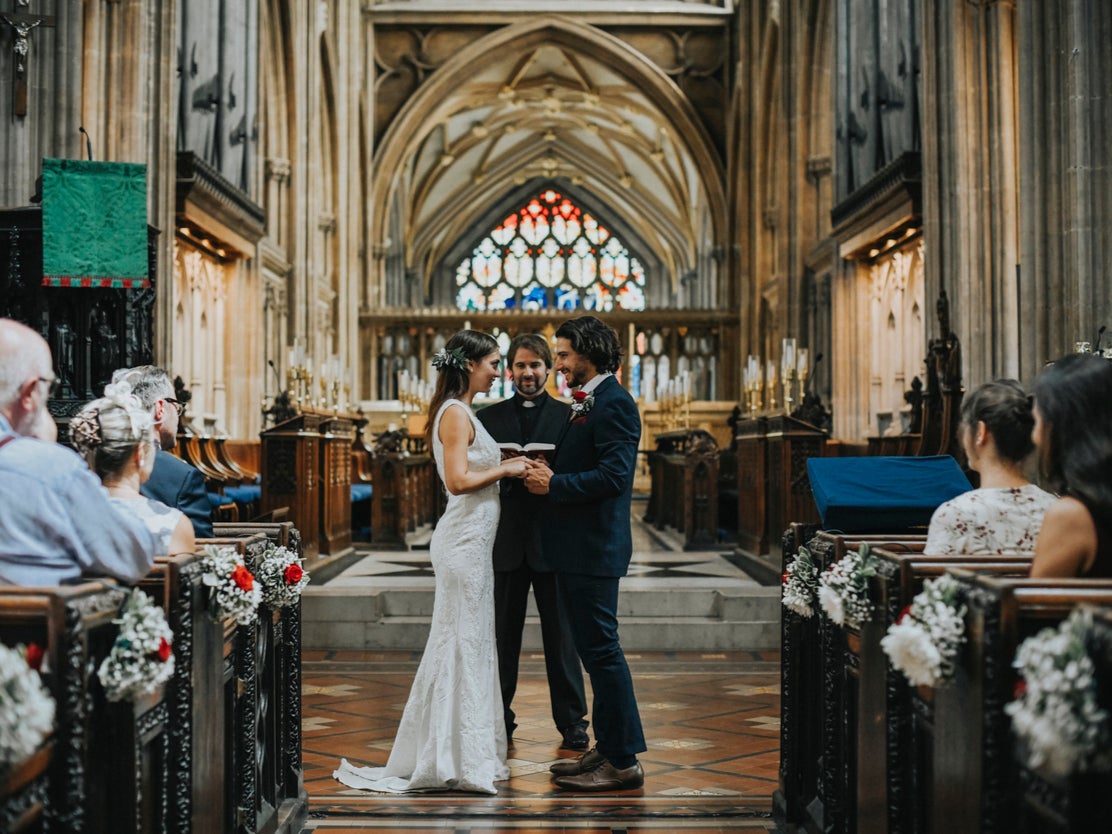 The Church of England is wrong to charge for weddings and should scrap fees, a vicar has said ahead of a vote on the issue next week.
Charging couples hundreds of pounds is a "major contributor to the decline in church weddings", according to the Reverend Tom Woolford, who will put a motion before the church's parliament on Tuesday.
The vicar of New Longton, near Preston in Lancashire, described marriage fees as being "like a poll tax", ahead of the vote at the General Synod.
People who marry in a church in their home parish must pay a maximum of £539, or £641 if they marry away from where they live, according to Church of England fees for 2023.
Next week the Synod will be asked to vote on a motion to scrap or at least reduce fees charged to couples wanting to get married in church.
Woolford said that, as marriage is seen in the church as a gift from God, "it should be a free gift".
He told the PA news agency: "With cost of living, the cost of a wedding can be phenomenally expensive. So we just want to make it really easy for people, financially make it easy, for them to get married in church.
"We believe it's (marriage is) a gift of God, and we even say that in our literature – we say marriage is a gift of God in creation.
"Well, if it's a gift, why are we charging for it? It should be a free gift.
"We should be wanting couples to get married in church, because it's the right thing to do, because it's good for them, good for society, good for the church, good for their children.
"So just encouraging it in every way, including this financial way, I guess seems the appropriate thing to do."
He said he believes bishops will not vote to scrap fees entirely due to concerns around church income, adding he feels "they'd be wrong to do so".
He said: "I think the chances of it just passing and weddings becoming free straight away is basically nil. General Synod is very risk-averse and the bishops will vote against it because they're worried about loss of income for the churches and therefore having to find that money from somewhere else.
"I think that's a short-sighted way to look at it because I think that, if the wedding is free, most couples will make a donation anyway. So you can't just say 'We'll just lose all of the money'.
"I also think we'll get lots more weddings if it's free. And with more weddings, even if a donation is less than the fee, I think financially we'll not be too far off."
While he acknowledged that society is now more secular, he said baptisms – which are free – have not seen the same decline as church weddings, indicating "some correlation with the fees going up and up, and the number of church weddings going down and down".
He said: "It's not going to get to the same level as the 1950s, of course not, but I think that our fee structure is a major contributor to the decline in church weddings."
Woolford said he would be happy for a regional trial to be approved as a first step, where weddings are free in a particular diocese for a period of time to see what difference it might make.
He said he is bringing the motion "on social justice grounds, on believing in marriage grounds", adding: "If we believe it's (marriage is) sacramental, then to charge for it doesn't sit well."