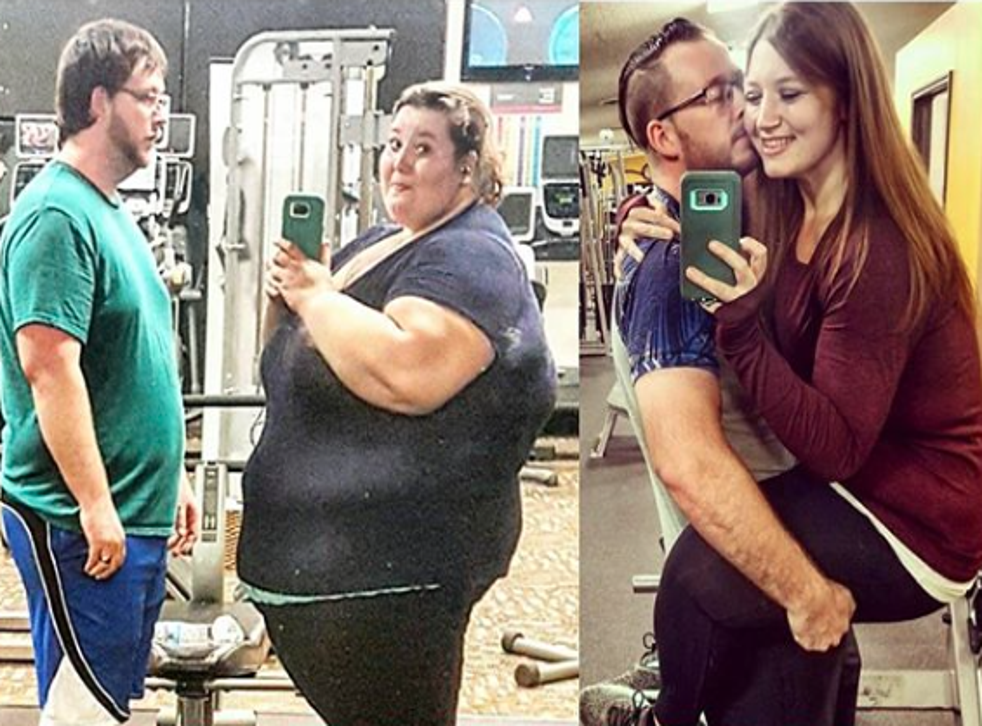 Obese couple shed half of body fat in 18 months: 'We have transformed our lives'
They lost an impressive 28 stone between them
A couple who lost half their body fat in just 18 months say that their weight loss journey has brought them closer together.
Lexi Reed, 26, from Terre Haute, Indiana, weighed in at 485lbs (34.6 stone) just two years ago, with husband Danny not far behind at 280lbs (20 stone).
But after making a New Year's resolution in 2016, the pair embarked on a journey to shed the pounds.
Little did they know, that just 18 months later they would have collectively lost an incredible 392lbs (28 stone).
Documenting her progress on Instagram as 'Fat Girl Fed Up', one of Reed's most recent posts celebrated the couple's achievements by sharing a shocking before-and-after picture.
On the left, the pair stand face-on at the beginning of their journey, while on the right, Reed is wrapped around her husband's waist after losing an impressive 303lbs (21 stone).
"We didn't have a meal plan, surgery, personal trainer, but what we did have was each other and the motivation within to work hard every single day,' she wrote alongside the image.
"We wanted to be parents in the future and live a longer life together."
Reed goes on to explain how they never imagined that just six months into their resolution they would become a "completely different couple."
Weighing a combined 765lbs (45 stone), they switched out an 8,000 calorie a day diet of fast-food for home cooked meals and going to the gym five or six times a week.
Now, having shed the pounds the couple are celebrating their achievements with the hopes that their story inspires others to step out of their comfort zone.
"We may have lost the weight but we have grown closer together," she wrote.
"Pound by pound, step by step, day by day — we have transformed our lives and moulded our bodies into the people we've always wanted to be."
Despite her success though, in another post Reed admits that she wants to shed another 7 pounds before the New Year.
"I'm ready to finish what I started in 2016 & hit my next goal of 175 (12.5 stone)!"
Join our new commenting forum
Join thought-provoking conversations, follow other Independent readers and see their replies