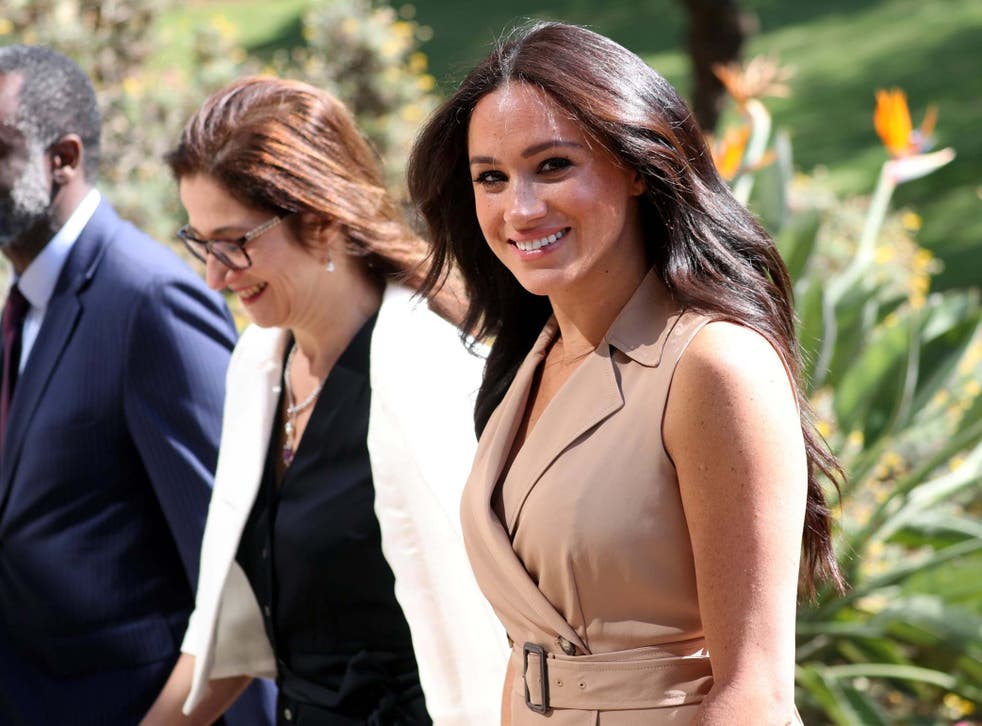 Meghan Markle emphasises importance of gender equality in education: 'It changes absolutely everything'
Duchess of Sussex announces new Gender Grants for three South African universities
The Duchess of Sussex has spoken about the importance of striving for gender equality in education during an engagement on the royal tour.
On Tuesday, the duchess visited the University of Johannesburg in South Africa to take part in a round-table discussion with the Association of Commonwealth Universities (ACU).
The royal became patron of the ACU in January, taking over the role from the Queen, who held the position for 33 years.
During the discussion with academics and students, Meghan explained how ensuring women receive equal education can benefit society on the whole.
"The goal here is to be able to have gender equality, to be able to support women as they are working in research and higher roles. And also to be able to have workshops, convene things that are really helping people understand the importance of gender equality," she said.
"True to what you said, when a woman is empowered it changes absolutely everything in the community and starting an educational atmosphere is really a key point of that."
The duchess added that when a person does not receive the support "that is necessary" to help them progress in life, then they are "stunted in growth".
"I went to university. It takes a village, doesn't it, to sort of piece it together for people to be able to finance that," the 38-year-old said.
"Families chipping in, scholarship, financially all those things that were the reason that I was able to attend university."
During the engagement, the duchess announced three new Gender Grants will be provided for the University of Johannesburg, Stellenbosch University and the University of Western Cape in South Africa.
The grants will help to fund initiatives at the universities which promote gender equality in education and support female members of staff.
All Meghan Markle's outfits during royal tour to South Africa

Show all 22
As Meghan arrived at the University of Johannesburg, she was greeted by Susana Glavan, director of the British Council in South Africa, and Professor Tshilidzi Marwala, vice-chancellor of the university.
Samukelisiwa Nomusa Shongwe, a 19-year-old student who attends the university, said the duchess is a "great person".
"She has done so many things. She has contributed to society, especially to African society," the student said.
"She is interested in playing a positive role by speaking about gender equality and gender abuse."
Support free-thinking journalism and attend Independent events
Last week, the duchess met with a group of inspiring women to discuss gender inequality.
One of the women Meghan met was Sophia Williams-De Bruyn, one of the founders of South Africa's anti-apartheid movement.
For all the latest news on the royal tour, click here.
Join our new commenting forum
Join thought-provoking conversations, follow other Independent readers and see their replies