The financial resolutions you should make in 2021
This new year, make your pennies go even further – you never know what the future might bring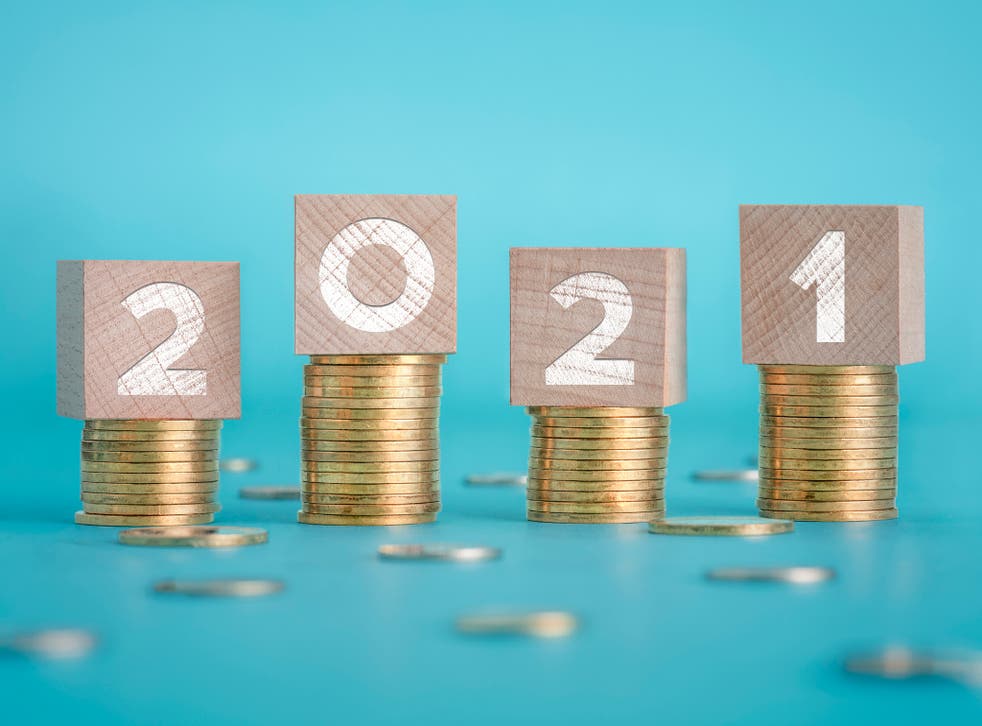 After the bruising year that 2020 turned out to be, many of us will be less willing to make new year resolutions for 2021. After all, resolving to travel or visit friends more when the country is still in a crisis could simply be setting you up for failure.
But you could resolve to rebuild or reposition your finances after such a tough year, to make sure you're in a better position for whatever economic events the next few months and years have in store.
Cutting back on spending, getting out of debt and saving more money for the future are the top financial resolutions, according to a survey carried out by GoCompare Money.  
So here's our guide to achieving all that and more.
Resolve to get your spending under control
If getting your finances under control is your 2021 goal then it's important to understand your budget straight away, particularly given the temptation of the January sales.
By working out how much you can actually afford to spend on non-essentials, you can resist the temptation to run up debt or run out of money before the end of the month.
One useful way to arrive at a number is to spend some time drawing up a budget, based on your income and outgoings. You will want to earmark some of any leftover income for paying down debt or increasing your savings, depending on what your goals are.
A budget will show you how much you can afford to spend as well as helping you plan your other financial goals.
Resolve to save money for longer-term plans
Once you have a budget and your spending is under control, you should be in a good position to plan your other goals.
If you want to pay down debt or build your savings then look at what you can afford to set aside towards those goals each month and ensure that money is moved into savings or to overpay debt as soon as you've been paid so you aren't tempted to spend that cash elsewhere.
Should you have a number of different debts then spend some time planning. It's worth overpaying the debts with the highest rates of interest first. And if you can consolidate your debts without paying any penalties then doing so could make it easier to stay on top of clearing it.
One important thing though: if you do consolidate credit card or overdraft debt then you need to be careful not to just run up more debt on them – or you could end up with twice the debt you started with.
Resolve to sort out your pension
Many people left their pension schemes in the last nine months because money was tight. Resolving to fix your pension in 2021 could ensure money isn't tight all through retirement as well.
If you don't have a pension or if you opted out in the last few months then resolving to sign up to your employer's pension as soon as possible is essential.
But if you are already in a scheme then take some time to assess whether it's enough or if you need to save more money into a pension.
And if you have a few different pensions because you've changed employers then resolve to track them down.  
Tom Selby, senior analyst at AJ Bell, says: "Tracking down these old pots makes sense for a number of reasons. Firstly, knowing how much you have saved at the moment will help you determine how much you might need to save in the future to enjoy the retirement you want.
"Secondly, once you have located any old defined-contribution funds you can consider combining them with your existing provider. This can not only make your pension easier to monitor and manage, but you could also benefit from lower charges, greater investment choice and more flexibility when you decide to access your fund."
Before transferring old pensions it's important to check if they have any guarantees attached as these might end up being lost if the pots are switched to a different provider. It's worth getting some financial advice if you're unsure what's best.
Resolve to control your energy bills
Deciding to reduce bills is a common new year financial goal but it's particularly important this year. After almost a year of being at home far more than usual, those rising energy bills might be starting to really pinch.
The comparison site Energy Helpline predicted that winter heating costs could rise by £107 for a typical homeworker.
You can absolutely change your household habits to help control the cost and your impact on the planet. There's some good advice available via the Energy Saving Trust, covering both the habits you can change and the upgrades you can install as needed.
For example, you can save £60 and 310kg of carbon dioxide a year by simply turning the thermostat down by one degree. And fitting your hot water cylinder with an insulating jacket can cut typically heating bills by £20 a year as well as saving 150kg of carbon dioxide emissions.
But the quickest, easiest way to bring your bills down substantially for 2021 is to change energy suppliers. The watchdog Ofgem reports that switching away from a default tariff to a cheaper deal could save a typical household up to £305 a year.
Add a financial incentive to your healthy resolutions
If your resolutions are more about kicking bad habits than kicking your savings into gear then adding a financial element to that might help.
Sarah Coles, personal finance analyst at Hargreaves Lansdown, worked out that ditching an 11-a-day cigarette habit could save £186.50 a month (£2,238 a year), while cutting out alcohol could typically save almost £40 a month and reducing food waste as much as £60 a month.
Increase your motivation by adding up how much you save and planning a better way to spend that cash.
Join our new commenting forum
Join thought-provoking conversations, follow other Independent readers and see their replies