Businesses and households should not pay for the government's mistakes – they need more support
The chancellor should rethink his 'sacred duty' to balance the books, writes Ben Chapman
Wednesday 06 January 2021 13:01
comments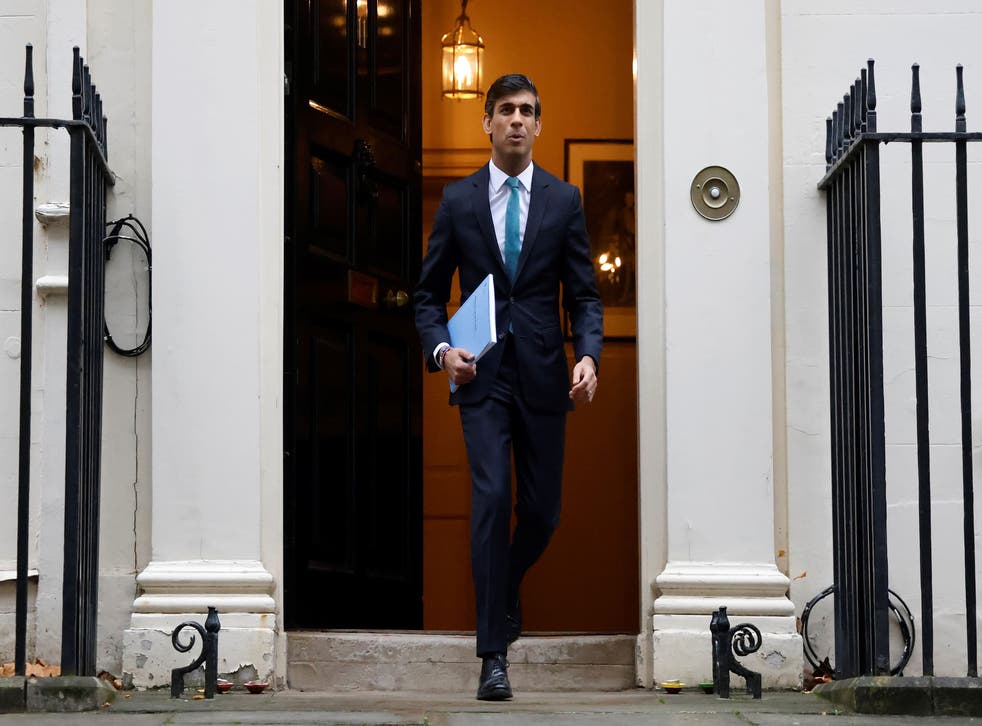 Lockdown three, hopefully, marks the beginning of the final act in our unfolding coronavirus tragedy.
From the start, this story has been one of an indecisive prime minister flailing between two sides of a false trade-off: lives vs the economy. Sadly, the main protagonist's flaws have proved fatal.
That we are here, ten months on from the first lockdown, is an indictment of a government that has failed to resolve the tension between ministers pushing to reopen the economy and those arguing for tighter restrictions and earlier action.
It is businesses and households who are paying the price. Many have worked tirelessly to keep their heads above water amid the constantly changing political tides but will struggle to do so for much longer.
Particular blame falls at the feet of so-called lockdown sceptics, chief among them the man charged with steering the UK economy through this crisis, Rishi Sunak.
He was rightly praised for his early interventions but by pushing back against restrictions, he has done more harm than good. Businesses will feel that they should not be punished for the chancellor's mistakes.
Acting too late made a third lockdown inevitable. What might it bring for UK businesses, households and the wider economy?
Thousands of companies are running out of cash. Grants of up to £9,000 announced today will not cover their rent, utilities and other overheads. Companies in several hard-hit sectors are not eligible. A business rates bill in April will deliver the coup de grace. Many firms that survive will emerge saddled with debt, unable to invest and grow.
More people will be furloughed and more laid off, left to survive on the UK's threadbare safety net with all the mental health impacts that financial hardship brings.
As well as creating thousands of stories of personal turmoil, this will reduce spending in the economy and hamper the wider recovery.
Among households, inequalities that have been highlighted by the pandemic – between wealthy and poor, home workers and the rest, old and young – will likely be further exacerbated.
But this downward spiral can be interrupted.
As has been the case from the outset, a strong response to the escalating public health crisis must come before all else.
Ministers have so far failed to develop a coherent economic strategy, in part because they do not seem to have agreed on a set of realistic scenarios for how the pandemic might develop.
In the summer, hubris trumped common sense. In the autumn, ideology sidelined the science. Little is said now of the "world-beating" test and trace system or Eat Out to Help Out.
Looking ahead, no businesses can plan without more clarity on the progress of the vaccination rollout which we have always known would be our only route out of the pandemic yet still seems to be being made up as we go along.
Many parts of the country don't have enough sites where patients can get a vaccine. Elderly and vulnerable people in some areas have heard nothing from their GPs. More concerning is the fact that doses are not yet available in large enough numbers – partly because the country's manufacturing capacity has been allowed to wither.
Boris Johnson has said that "with a fair wind" 14 million vulnerable people will be vaccinated by March.
Even if this target is met, a third lockdown will lead to long-term economic consequences if good businesses cease trading and more jobs are lost. Periods out of work, especially when people are young, have a life-long impact on employment prospects and earnings.
All of the damage can be mitigated, however. The huge slump in output we are going through does not need to result in a long-lasting economic catastrophe if the policy response is adequate.
Industries are calling for further business rates relief and more help getting young people into work. The hardest-hit sectors (the arts, restaurants, travel, aviation and more) need bailout packages tailored to their specific needs, not arbitrary and insufficient handouts every few months.
Businesses that have taken on lots of debt will need some of it to be written off. Without this, the engine of the recovery will fail to start.
The IPPR think tank has proposed government takes stakes in firms, relieving of them of some of the debt burden while ensuring a return for the public purse.
As the OECD's chief economist Laurence Boone made clear this week, governments must take centre stage and play an active role in that recovery in a way they have failed to do in previous recessions.
As Ms Boone has said, more spending and greater coordination between governments and their central banks will be required or the downturn will be prolonged. The biggest folly would be to stop spending too soon, allowing businesses to go under because there is "no money left".
In these uncertain times, there are billions of pounds of savings ready to be pumped into the safety of government bonds. This is not a burden on future generations, as the chancellor has suggested.
In any case, every pound that the chancellor has spent in the past year has been matched by a pound created on a keyboard by the Bank of England. There is no reason to believe that the government will ever pay it back. It is money we owe to ourselves. There is no chance that the government will go bust.
Despite £450bn of new money created this year at the tap of a button, inflation has remained low.
Why?
What this crisis has demonstrated is that a better measure of the government's ability to continue spending is not the total level of the public debt, it is the productive capacity of the economy into which public money is spent. There is no reason that this capacity should be permanently reduced by a temporary crisis, but that is exactly what will happen if the government does not grant more support to businesses in need.
In this pandemic, newly created money has correctly been targeted at those firms that have been forced to close. It has also kept spending power in the hands who of those who have lost out through no fault of their own.
Money is not being pumped into an asset bubble or into a sector of the economy that is overheating (which would cause prices to rise).
Instead, it primarily acts to preserve productive capacity that already exists. It stops the local pub, theatre, restaurant, cinema or travel agent from closing down, destroying real value, unnecessarily and permanently, with knock-on effects on employees and suppliers. Such spending does not have to cause inflation.
So the chancellor should rethink his "sacred duty" to balance the books. This gets things the wrong way round. The real duty is to save people's livelihoods; the businesses they've worked for all their lives; and many of the things that make life worthwhile, and not to destroy them for the sake of some entries on a central bank's balance sheet.
Join our new commenting forum
Join thought-provoking conversations, follow other Independent readers and see their replies