Change Please: London-based coffee company helping the homeless off the streets takes positive message global
The multibillion-pound coffee industry has the power to change lives all along the supply chain, from people sleeping rough in the UK to farmers in the tropics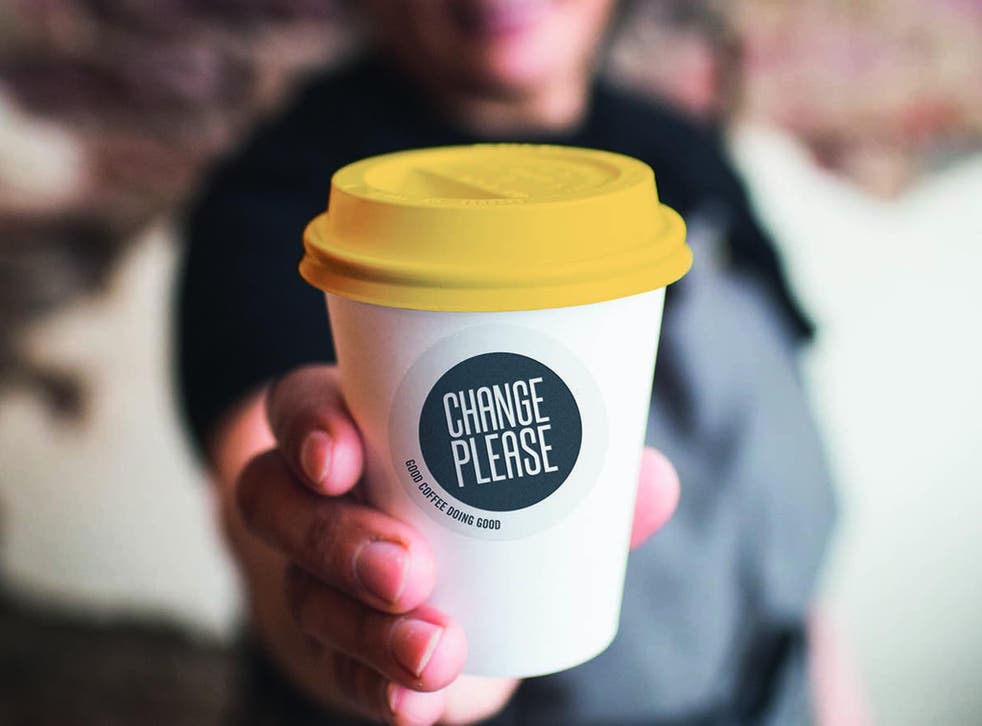 How do you make the perfect cup of coffee? According to some large high-street chains the formula seems to be something like this: spend millions on marketing and branding, rent thousands of expensive high-street locations, add in a hefty shot of executive pay and a generous sprinkling of shareholder dividends. But go easy on the tax. Use the remainder to buy some coffee and pay your staff the minimum wage to make it.
For the last two years, London-based social enterprise Change Please has demonstrated a radically different way of doing things, and now it's beginning to scale up rapidly to take on the industry's really big names.
"We want to be the fourth-biggest coffee chain in the UK. We're not holding back," says founder Cemal Ezel, a Londoner who worked in the City before becoming disillusioned with what he was doing and launching Change Please.
Change Please recently won the UK heat of the Chivas Venture, an award for the best social enterprises from around the world. The global final takes place in May.
While the large coffee chains have recently trumpeted their plans to tackle the scourge of plastic waste, Change Please already does a lot more to make a positive impact.
For a start, all of its cups are 100 per cent recyclable. Its beans also come from farms that support local communities. One supplier in Peru helps victims of domestic abuse, while another in Tanzania supports people injured by landmines.
When the beans get to the UK, people who have been sleeping on the streets roast them and are also trained as baristas to work at the company's 17 locations. Change Please pays the London Living Wage, currently £10.20 per hour, and provides help with opening bank accounts, housing, therapy and assistance with onward employment. All profits are put back into helping to reduce homelessness.
So how is it able to do all this? Put simply, the margins in the coffee business are pretty big, says Ezel. But most of the £2.50 you pay for your morning pick-me-up just hasn't been making it to the right places.
Despite improvements in recent years, the coffee supply chain still sees smallholder farmers in relatively poor countries take much of the risk of fluctuating coffee prices while reaping just a small fraction of the benefits from wealthier countries' increasing thirst for the drink. The workers who serve up coffee also tend to get a raw deal as revenues swell for the big companies they work for.
This is why the idea that a cup of coffee can do so much good has really caught on among consumers, Ezel says. Coffee is a vast and growing global industry that has the potential to make a huge positive impact.
Interest from big companies in Change Please is also rocketing. Ezel plans to open 22 new sites in the UK this year. Sainsbury's started stocking Change Please coffee in October, Ocado has just signed a similar deal and more big partnerships are in the pipeline, Ezel says. The company also serves its coffee in Bank of New York and UBS offices. "So far, every door we've pushed on has opened," says Ezel.
"If those companies can add coffee into their supply chain which doesn't cost any more, tastes better and is lifting people off the streets, it's a no-brainer."
Londoners will soon start to see a lot more of the company thanks to a new contract with Transport for London to operate in tube stations. Half of the staff in those outlets will be people who have been sleeping rough on buses or trains in TfL's network.
Ezel is also looking to capitalise on growing international interest, too. A new site in Perth, Australia, opened last month and he recently had a meeting with the mayor's office in New York. Other locations on the expansion target list include Philadelphia, Washington and San Francisco.
Royalty from the United Arab Emirates even came to see Change Please's roastery in Peckham last year. "That was a strange experience", says Ezel.
Its goals may sound lofty but Change Please has the backing of some corporate heavyweights to help it achieve them.
Sahar Hashemi, co-founder of the UK's first big high-street coffee chain, Coffee Republic, works two or three days a week for Change Please. Paolo Peretti, a former chief operating officer at Pret a Manger and Leon, is also on the Change Please board, alongside former senior executives from Jimmy Choo and Starbucks.
But it's the employees that really drive the business, says Ezel, who tells the particularly poignant story of one person Change Please has helped.
Adan Abobaker trained as a chef at one of the best culinary schools in the US. The 45-year-old from Kingston, south-west London, first became homeless in 2001 after a divorce from his wife. He lost his job and became severely depressed.
"In 2010, a lady tried to kill herself by jumping off Blackfriars Bridge," says Ezel.
"Adan heard her screams, took off his clothes, dived into icy waters and saved her life, catching hypothermia in the process."
In 2012 he was given an award for gallantry by the Queen. Five years later he was still homeless.
"How was that guy, who is a real-life hero, still homeless?" asks Ezel.
"He came and found us at our site in Borough Market and we employed him. He's been absolutely incredible; an amazing employee, who now trains others who are homeless to become baristas."
Change Please's main problem is not lack of demand for its products but lack of capacity to help the rapidly increasing number of people sleeping rough in the UK.
"We're limited by the number of sites we have," says Ezel. "We have been pushing people away and saying, 'we just can't take you on right now'."
He is now hoping to win the global final of the Chivas Venture and part of the $1m (£720,000) prize money on offer.
That would help to create a centre of excellence that will include temporary housing, an on-site roastery and a barista academy.
"As soon as someone comes to us from a homelessness charity, we can give them training straight away and then they move directly into one of our partners."
Join our new commenting forum
Join thought-provoking conversations, follow other Independent readers and see their replies