Brexit legal challenge: FTSE 250 jumps as High Court delivers hammering blow against Theresa May's Brexit plans
The pound has risen the most since August against the dollar after the Government announced it cannot trigger Article 50 without parliament approval.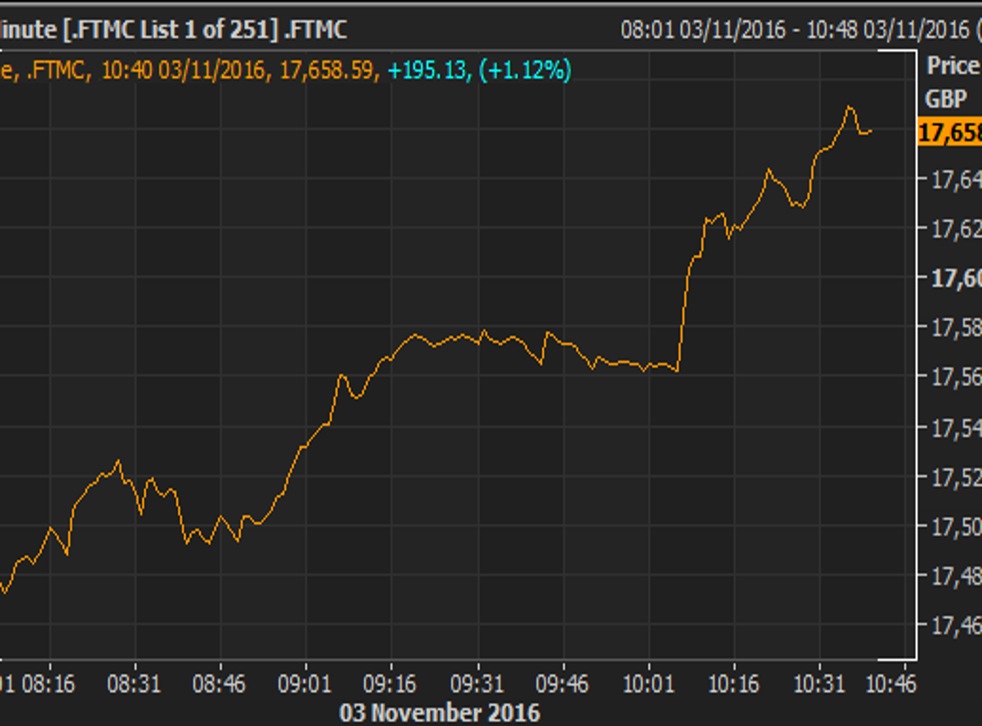 The High Court ruled Thursday that Theresa May cannot trigger Article 50 and start the Brexit process without the backing of Parliament.
The ruling saw the domestically-focused FTSE 250 index rising by more than 1 per cent.
Sterling has also been a beneficiary of the ruling rising the most since August against the dollar.
The pound jumped by more than 1 per cent trading above $1.24 for the first time in three weeks.
Neil Wilson, of ETX Capital said: "The news sent the pound roaring through $1.24 before gains were pared as markets digest the news – the fact is no one really knows what the implications of this decision are yet. An appeal is coming in early December, so this is not final. Cable was last at $1.2432, its highest level in almost a month."
The Government has already been given the go-ahead to appeal the court ruling that MPs must vote before Britain can leave the EU.
High court rules Brexit needs Parliamentary approval
Naeem Aslam, of Think Markets, says traders will now "seriously question" if there is a possibility of no Brexit following this morning's High Court ruling.
He said: "There is no doubt that the UK government will take the case to Supreme Court, but there is a strong possibility that the decision over there may be the same."
"Supreme Court also gives the same decision, then it will be Parliament who will need to decide if they want to leave the EU. We could have serious division there and it may delay the Brexit process even further and Sterling will become even more vulnerable."
Brexit Concerns

Show all 26
The ruling came only two hours before the Bank of England announces its latest monetary decision,
The Bank of England is expected to reveal new economic forecasts showing the biggest overshoot of its official 2 per cent inflation target in the independent central bank's modern history.
Register for free to continue reading
Registration is a free and easy way to support our truly independent journalism
By registering, you will also enjoy limited access to Premium articles, exclusive newsletters, commenting, and virtual events with our leading journalists
Already have an account? sign in
Register for free to continue reading
Registration is a free and easy way to support our truly independent journalism
By registering, you will also enjoy limited access to Premium articles, exclusive newsletters, commenting, and virtual events with our leading journalists
Already have an account? sign in
Join our new commenting forum
Join thought-provoking conversations, follow other Independent readers and see their replies