Italy referendum: Bank shares slump for second time in 12 hours after brief recovery
Selling has accelerated as Prime Minister Matteo Renzi is set to confirm his resignation later today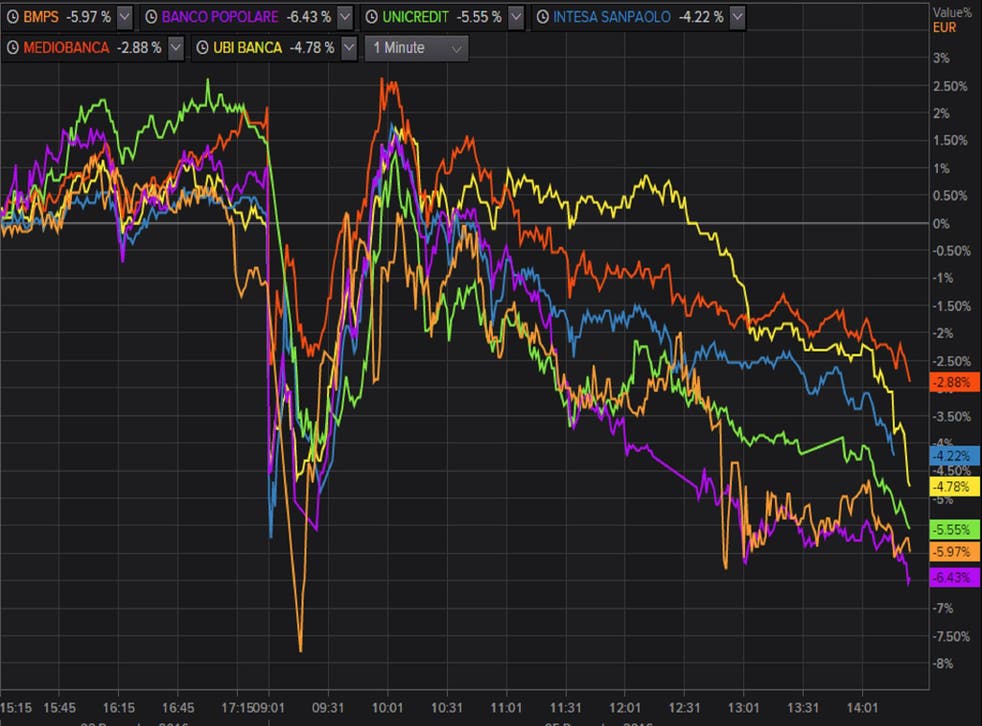 The outcome of the Italian referendum has seen fearful investors dump shares in Italian banks during a volatile day of trading on Friday, prompted by concerns that the ongoing attempts to strengthen several lenders could be at risk.
After recovering from early losses to trade in positive territory, shares have fallen back into the red as uncertainty looms ahead.
Selling has accelerated as Prime Minister Matteo Renzi was preparing to formally submit his resignation on Monday afternoon and investors were meeting to discuss the fate of a crucial €5bn recapitalisation plan for troubled bank Monte dei Paschi.
Shares in the world's oldest bank – Banca Monte dei Paschi di Siena – plunged by 5 per cent before recovering some losses. They plunged back again, trading down by 4 by early afternoon.
Banco Milano and Banco Popolare were both down by more than 7 per cent.
Meanwhile, shares in Unicredit, Italy's largest bank, dropped by more than 5.5 per cent – forcing its shares to be suspended in early afternoon trading.
Shares in the world's oldest bank – Banca Monte dei Paschi di Siena – plunged by 5 per cent before recovering some losses. They dropped again, trading down by 4 per cent in early afternoon.
The euro was hit after Mr Renzi said he would resign. At one stage it hit $1.0505, its lowest level against the dollar in 20 months .
But then it rebounded and by 3pm was at $1.0724, a rise of 0.5 per cent.
Kathleen Brooks of City Index says: "We've seen very volatile trading in Italian bank stocks this morning. Shares rallied but then reversed those gains, and Unicredit has dropped by more than 5 per cent which caused it's circuit breakers to kick in. Trading will probably be suspended for the next few hours."
Mr Renzi conceded shortly after midnight on Monday and is expected to head to the presidential palace, the Quirinale, on Monday afternoon.
Many analysts predict a caretaker government will be appointed by the Italian President and that this government will still be led by Renzi's Democratic Party, possibly by the current finance minister Pier Carlo Padoan.
This administration could carry on with the previous bank recapitalisation strategy – although there can be no certainty about this.
World news in pictures

Show all 50
Economists at Citi point out that Italian banks hold €400bn of Italian government bonds.
They warn that if traders mark down the value of these bonds in the coming weeks due to renewed political and economic uncertainty, it could prompt further falls in Italian banks' stock prices, creating a "vicious spiral" of lower bank lending and weaker GDP growth.
"The economy is gradually recovering but it is also being held back by the problems in the banking sector which haven't been addressed properly so far,"Lorenzo Codogno, former chief economist at the Italian Treasury and founder of LC Macro Advisors, told the BBC.
"So I think the combination of domestic and international factors plus the open issue of the banking sector are at the root of not particularly brilliant growth."
Register for free to continue reading
Registration is a free and easy way to support our truly independent journalism
By registering, you will also enjoy limited access to Premium articles, exclusive newsletters, commenting, and virtual events with our leading journalists
Already have an account? sign in
Register for free to continue reading
Registration is a free and easy way to support our truly independent journalism
By registering, you will also enjoy limited access to Premium articles, exclusive newsletters, commenting, and virtual events with our leading journalists
Already have an account? sign in
Join our new commenting forum
Join thought-provoking conversations, follow other Independent readers and see their replies