TTIP: UK will be powerless against trade deal outside EU, say campaigners
TTIP is 'template for world trade' and only way to stop it is at European level, campaigners warn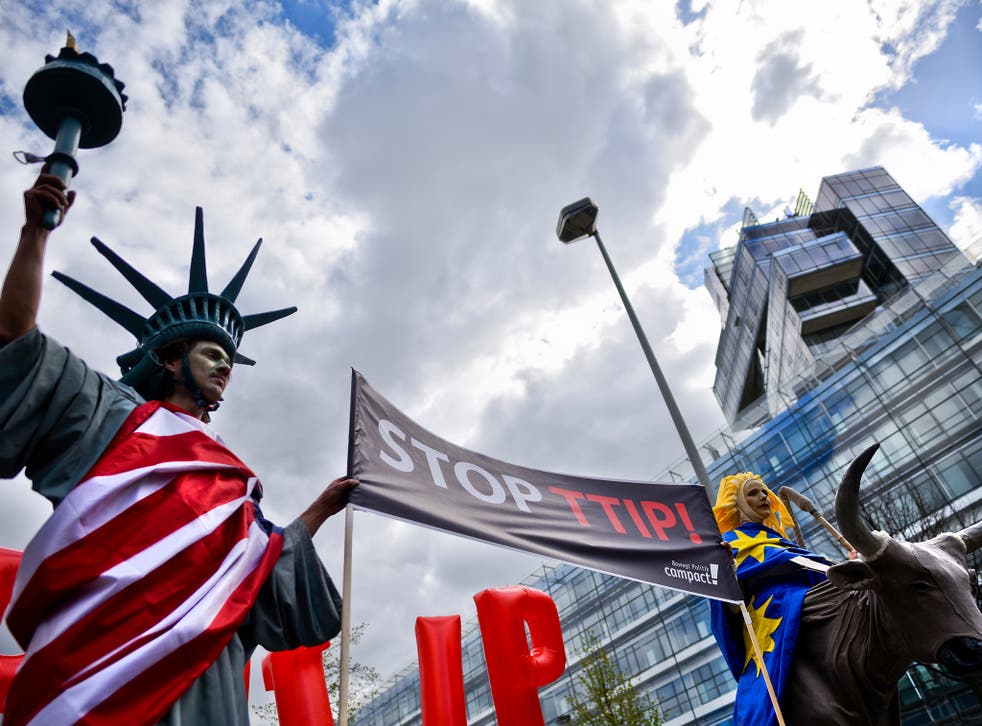 The TTIP trade deal is unpopular across the political board in Britain. The controversial agreement has been revealed to include provisions for the US to degrade protections on the environment, consumer rights, and would give US companies influence over European laws.
Jeremy Corbyn recently said he would "veto" the deal, and even Boris Johnson performed a spectacular U-turn to attack the EU-US trade deal which he had previously hailed as "Churchillian" in its brilliance.
Yet while Mr Johnson campaigns for Brexit, and putting the UK out of reach of the deal, campaigners have warned that leaving the EU would make Britain more vulnerable to being forced to accept the terms of the deal at a later stage.
Speaking to The Independent, Mark Dearn, the senior trade campaigner at War on Want said: "While voting to leave the EU would immediately remove you from TTIP, it doesn't mean that five years from now you remain outside those powers. If TTIP goes through then it is intended as a template for all world trade.
"This would mean that if the UK exits the EU, and two or three years down the line TTIP is agreed, and we want to trade with the EU, then that is the template we would have to agree to."
The warning comes just hours before Britain goes to the polls to vote on its continued membership of the EU.
"So bear in mind that the only way you can stop TTIP is by actually ensuring that TTIP is not agreed, not by leaving the EU," Mr Dearn added.
The measures available to states to prevent the legislation are complex and depend on the ultimate classification of the TTIP deal.
Seven areas that could swing EU referendum
If TTIP is classified as a 'mixed competence deal', the heads of state at the European Council from each member state must unanimously support it for the legislation to pass.
"In that instance one member state can veto the deal, so Corbyn, if in power, could stop the deal," Mr Dearn said.
UK news in pictures

Show all 50
But if it is not classified as mixed competence then it can only be stopped by a qualified majority of states, rather than a simple veto.
"Leaving the EU would take us outside of TTIP, but to stop TTIP, you have to stop TTIP itself," Mr Dearn added.
Join our new commenting forum
Join thought-provoking conversations, follow other Independent readers and see their replies