Uber's board considers reducing voting power of former CEO
Travis Kalanick appoints two new directors onto Uber's board, ruffling the feathers of current chief executive Dara Khosrowshahi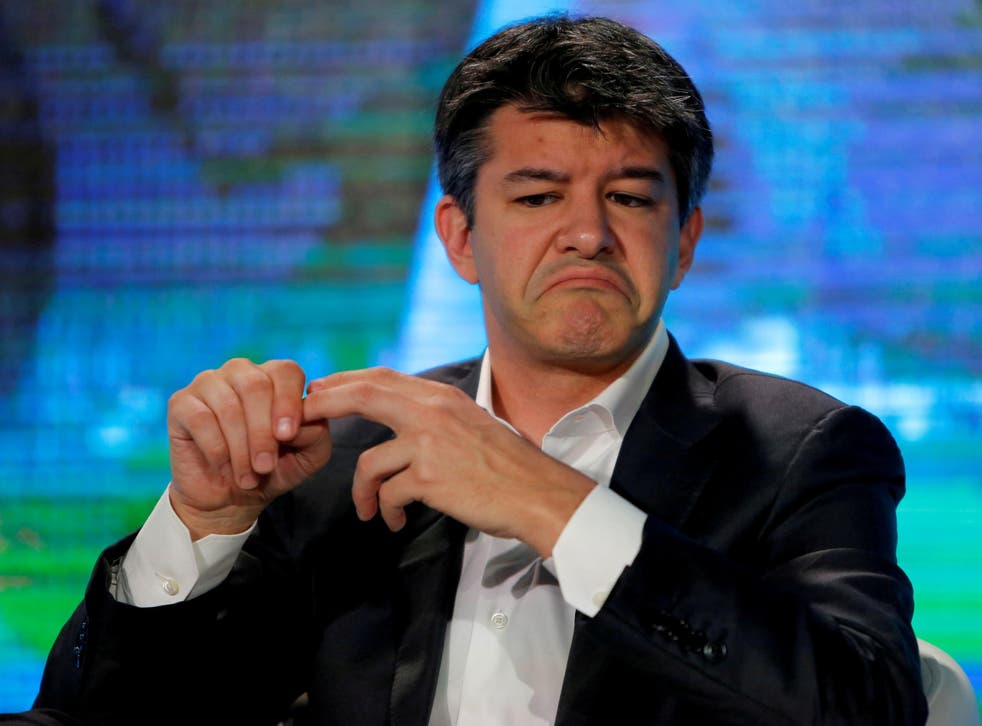 Uber directors plan to vote Tuesday on board reforms and whether to pursue a major stock deal with SoftBank despite the surprise appointment of two new members by ousted chief executive Travis Kalanick, two people familiar with the matter said.
Those two coordinated moves could drastically reshape the ride-hailing company's governance, while officially kick-starting what could end up being the largest private stock sale in history.
Mr Kalanick, a co-founder who resigned as chief executive under fire in June, stunned the board Friday when he named two former corporate titans to the startup's embattled board of directors.
The nominations of former Merrill Lynch chief executive John Thain and former Xerox chief executive Ursula Burns came as Uber's board considers a slate of changes that would strip Mr Kalanick of much of his power.
The moves present yet another challenge for the ride-hailing company, valued at about $70bn (£52bn), that has been beset this year by multiple lawsuits, investigations by US authorities, sexual harassment allegations, fights over operations with municipalities from New York to London and an array of vacancies at high-level positions including chief financial officer.
With or without his appointees -– it's still not clear which –- Uber's board plans to vote on the changes and whether to move forward reforms, and whether to go forward with a $10bn stock sale to SoftBank, said the two people, who asked not to be identified discussing private deliberations.
Bloomberg reported in July that some Uber shareholders, led by Benchmark, discussed a stock deal with the Japanese company that has backed some of the startup's ride-hailing rivals in Asia.
The reforms have three major objectives: create equal voting power among shareholders, move the closely held company toward an initial public offering in the next two years, and limit Mr Kalanick's power as a shareholder and board member.
Mr Kalanick sees the changes as poor corporate governance, meant to shift authority to new chief executive Dara Khosrowshahi and away from the board, a person familiar with the matter said.
And many of the proposals -- including a mechanism to push Uber toward an IPO if more than a third but less than half the board support -- are indeed unusual.
"I hope nobody puts this into a model of good corporate governance," said Ken Bertsch, executive director of the Council of Institutional Investors.
"But they're dealing with a specific problem in any way they can, and the problem is excessive power for the former chief executive, who has the potential to undermine the authority of the new chief executive. So I am pretty sympathetic to them."
Mr Kalanick, who hugged Mr Khosrowshahi at an all-hands meeting in September, has tried to show his support for the new chief executive. But Mr Kalanick's decision without warning to name two board members late Friday afternoon put him at odds with his successor.
In an email to employees, Mr Khosrowshahi called the decision "disappointing," writing, "Travis appointed two new members to Uber's Board without discussing it with me or the Board of Directors more broadly. Anyone would tell you that this is highly unusual."
There are some questions about Mr Kalanick's power to unilaterally appoint the directors. For one, Uber's largest shareholder, Benchmark, is suing Mr Kalanick for fraud to strip him of those two seats and a third one that he occupies.
That suit was sent into private arbitration and the sides are in the process of selecting an arbitrator. The investor plans to legally challenge Mr Kalanick's board appointments, according to a person familiar with the matter.
As of Sunday, Thain and Burns still weren't official board members of the San Francisco-based company, one of the people said.
It's not clear whether the pair will join the board, though at least one current director believes the group will embrace Mr Kalanick's appointees, a person familiar with the matter said.
Business news: In pictures

Show all 13
Uber's board held a phone call Saturday to discuss the governance proposals. Burns and Thain did not participate.
The governance proposal, written with the help of Goldman Sachs, would shift Uber shareholders to one share, one vote.
That would significantly reduce the voting power of Mr Kalanick and Benchmark. Benchmark is a major proponent of the changes while Mr Kalanick is opposed.
The reforms would also give Mr Khosrowshahi the authority to fill three board seats if the current board members who occupy them vacated their seats. At least half the board and half of shareholders would need to approve his appointments, however.
The plan would strip Mr Kalanick of one of his board seats and give it to SoftBank as part of the potential share purchase. Mr Kalanick's other seat would require Mr Khosrowshahi's approval and would need to be filled by a C-suite member of a current Fortune 100 company.
Now that Mr Kalanick has moved to fill his two seats, it's not clear what will become of those provisions.
The reforms would also create a high hurdle for Mr Kalanick to return as chief executive. Any former officer of the company would require two-thirds vote of support from shareholders and the board.
Bloomberg
Join our new commenting forum
Join thought-provoking conversations, follow other Independent readers and see their replies