Exclusive: Core A-level courses scrapped after Michael Gove cuts £100m from sixth-form colleges
Anger that funds are being diverted from sixth-form colleges to free schools that help far fewer pupils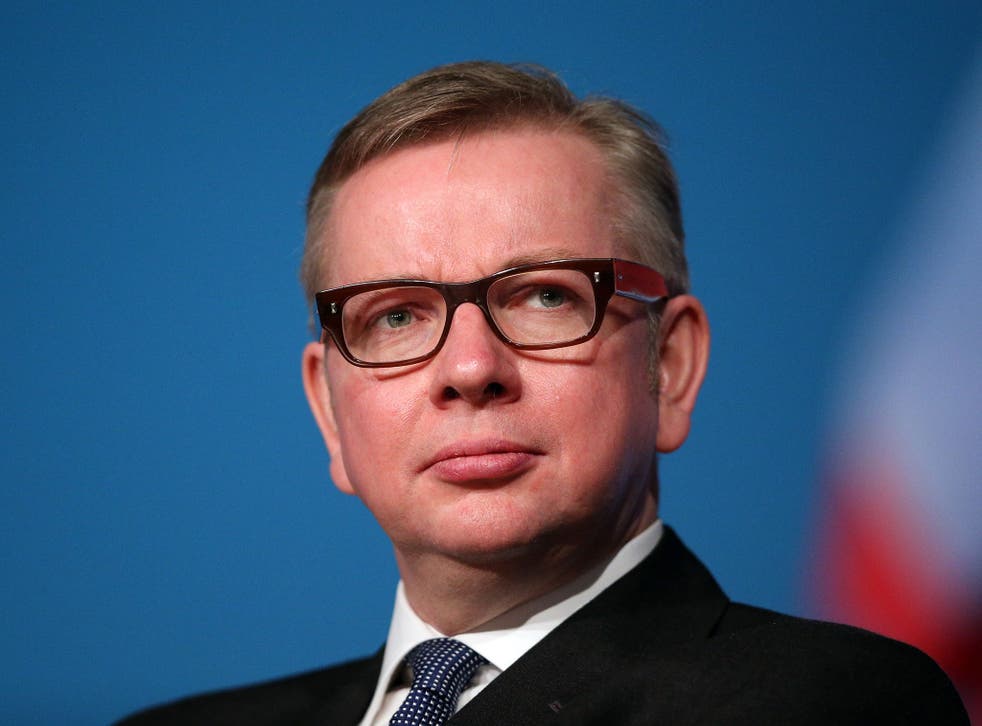 Michael Gove will be embroiled in a fresh controversy on Monday as it emerges that his department's savage spending cuts have forced sixth-form colleges to scrap A-level courses in core subjects such as languages and maths, regarded by the Government as crucial to the future of Britain's economy.
It comes after a weekend in which the Conservative Education Secretary was involved in a furious row with his Coalition colleagues over his decision to dismiss Labour's Baroness Sally Morgan from her post as chair of Ofsted, the education standards watchdog. The Deputy Leader of the Liberal Democrats described the move as an attempt to "politicise something that should be kept out of politics".
In research seen by The Independent, leaders of the country's sixth-form colleges claim they have lost more than £100 million in funding over the past three years, with the result that courses in core A-level subjects - whose importance Mr Gove has been anxious to champion - are being axed.
The survey reveals that almost half (48 per cent) of the country's sixth-form colleges have cut courses, while 78 per cent have been forced to reduce staffing levels, resulting in larger class sizes. The country's 93 sixth-form colleges educate more than 150,000 pupils, most of whom are studying for their A-levels.
The college leaders are also incensed that the Govern ment has spent £62m setting up nine new free schools, offering education for 16 to 19-year-olds, which between them have just 1,557 pupils - less than the average number enrolled in just one sixth-form college. They estimate that the Government is spending more than £39,616 for every student at the free schools, compared to just £4,000 on those at sixth-form colleges.
In a speech today, Mr Gove will come out fighting with a passionate defence of his school reforms, claiming his aim is "simple - when you visit a school in England standards are so high all round that you should not be able to tell whether it's in the state sector or a fee paying independent". He will argue that the days of the "bog standard" comprehensive are over, with state schools improving across the board.
But his the speech will be made against a backdrop of falling spending on sixth-forms. "Slashing sixth-form funding to protect schools means the Government is building a very well appointed road to nowhere," said James Kewin, deputy chief executive of the Sixth Form Colleges Association (SFCA), which carried out the research.
"Courses are being cut - particularly those that the Government is keen to see grow - modern foreign languages, STEM [science, technology, engineering and maths], class sizes are increasing and industrial unrest is on the increase. The curriculum is being seriously impoverished."
He added: "Our members felt bad enough having to make cuts in the name of deficit reduction. But the latest funding cut coupled with the release of startling new data that highlights the Government's largesse in funding the creation of new sixth-form providers...has taken this sense of anger and injustice to a new level."
The analysis by the SFCA shows that budgets were slashed by 10 per cent three years ago, 6 per cent in 2012 and a further 1.2 per cent in 2013. The cuts stem from the fact the Government's pledge to maintain funding for education only covers the years of compulsory education from the ages of five to 16.
On the establishment of the nine new free schools, Mr Kewin said: "Our argument would be there was no need for much of this new provision in the first place, particularly when SFCs are being subjected to savage cuts. It would have cost around £7.2m to educate these 1,557 students in existing sixth-form providers of some kind."
The colleges also point out that they have to pay VAT of £30m a year, while schools and academies are exempt. Matthew Hancock, the Conservative minister responsible for sixth-form colleges, has rejected exempting them from VAT, arguing that this would open the door to a similar demand from further education colleges, costing £150m a year.
Officially, the sixth-forms are funded by the Education Funding Agency, a quango set up to finance post-16 education, and Mr Hancock is a joint posting between Mr Gove's Department for Education and the Department for Business, Innovation and Skills. But Mr Gove has told the colleges they are ultimately his responsibility.
In his speech - to be made at one of the sixth-form free schools, the London Academy of Excellence in Stratford - Mr Gove will argue: "For many years commentators have lamented poor discipline, entrenched illiteracy, widespread innumeracy, the flight from rigour, the embrace of soft subjects, the collapse of faith in liberal learning and the erosion of excellence in science and technology.
"The widespread view has been that the only way to get a really good education for your children was to escape - either into a better postcode or into the private sector - both, of course, extorting a hefty toll from your pocket."
Citing the fact that 250,000 fewer pupils are now taught in under-performing schools, he will add: "That pessimistic view is no longer tenable. Because the facts show - beyond any reasonable doubt - that English state education is starting to show a sustained and significant improvement."
A spokeswoman for the DfE said the Government was ending the "historic unfair" funding between schools and colleges at sixth-form level - and had taken action to protect those likely to face the biggest impact as a result of the changes.
Case study: New College, Pontefract, Yorkshire
Pauline Hagen took over as principal of New College in Pontefract, Yorkshire, three years ago - and has never known a year when she has not had to make cuts. Shortly after being appointed she was asked to slash the budget by £900,000. One of the first casualties was the German A-level course.
The following year there were cuts of between £150,000 and £200,000, which meant spending on administrative and support staff was hit as she strove to protect teaching jobs. The college was also forced to prune its spending on "enrichment funding", which offers support and pastoral care to students.
She is remarkably upbeat about the future, believing that sixth-form colleges are still able to offer a wider variety of courses due to their size (New College has around 1,900 students). Despite the cuts, the college's performance has improved with 91.7 per cent of students passing exams last year.
Case study: Colchester Sixth-form College, Essex
Ian MacNaughton, principal of Colchester Sixth-Form College in Essex, believes that institutions like his are becoming an "endangered species". By 2018, he anticipates that most colleges will have lost about a third of their funding.
They are not alone in their plight. School sixth-forms have also suffered as a result of not being covered by the Coalition's pledge to maintain education spending, which only applies to pupils between the ages of five and 16.
But sixth-form colleges are unable to move money away from relatively better funded areas, because they do not have any. Furthermore, unlike schools, they have to pay VAT. Mr MacNaughton presides over one of the biggest colleges in England and Wales, with 3,100 students enrolled.
During the three years of cuts, he has seen class sizes rise and has had to axe some courses. The college offers the International Baccalaureate but no longer does courses in economics and computing. Enrichment courses which include sports, drama and other out-of-hours activities have also suffered.
---
Join our new commenting forum
Join thought-provoking conversations, follow other Independent readers and see their replies