Lancaster University students wear T-shirts with offensive jokes mocking child murders and sexual abuse
One of the messages described the Sandy Hook school shooting as 'bantz'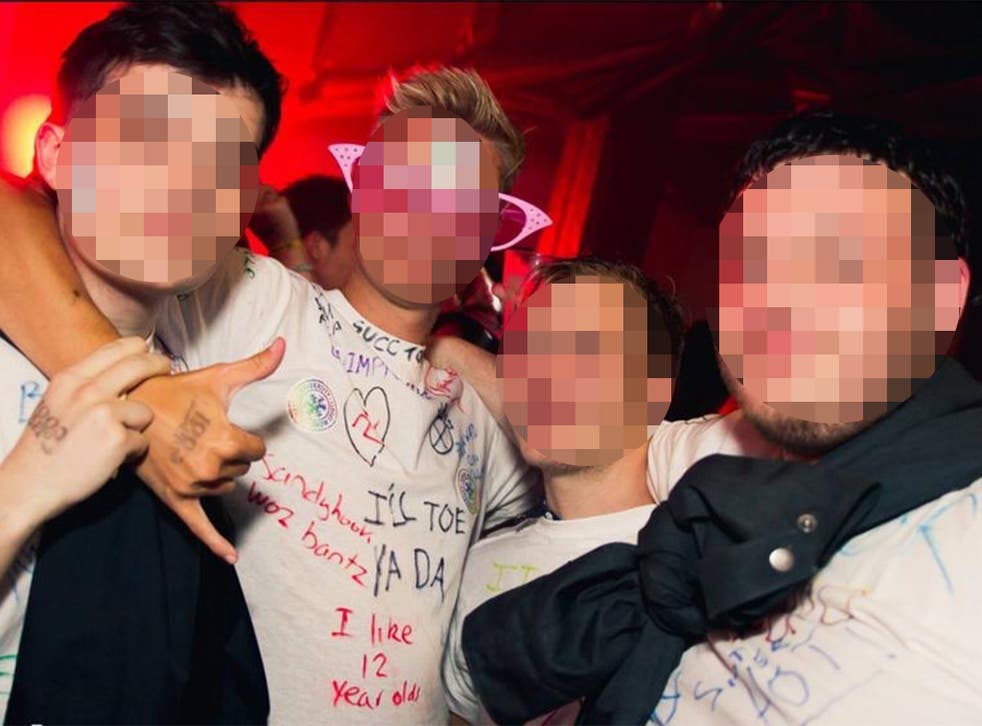 Students who wore T-shirts scrawled in slogans mocking murder and sexual assault victims – including "Sandyhook woz bantz" and "Mandela touched kids" – could face disciplinary action.
The Snowsports Society at Lancaster University has been suspended after pictures emerged of students wearing the offensive white T-shirts on a night out at a club run by the students' union.
Students who wore T-shirts – which were reported to have said "Jimmy Saville was misunderstood", "I like 12 year olds" and "Gary Glitter innocent" on them – are now being investigated.
One student also appeared to be wearing a T-shirt with a swastika symbol inside a heart.
The incident comes after Conservative students – one pictured with a T-shirt saying "F*** the NHS" and another with a drawn on Hitler-style moustache – were investigated by Plymouth University last month.
It is understood that the photographs were originally uploaded by the student union's club Sugarhouse onto Facebook last month before they were subsequently taken down.
But angry students began sharing the images on social media this week. One Twitter user said: "This is so disgusting, I'm ashamed to call myself a Lancaster university student."
Another student told The Independent: "The issue is that of a hate crime. It should have been reported to the police and those living on campus who could had been offended."
A students' union spokesperson said: "This matter is the subject of a live investigation by the students' union, as is our policy when allegations are made relating to breaches of our codes of conduct. The club was immediately suspended as soon as the students' union became aware of this issue."
"A panel convened to consider the available evidence and decide any appropriate sanctions against the students' union group. The panel has already agreed that the behaviour fell far below of the standards that were expected. The panel was due to meet to finalise sanctions against the club."
They added: "We're extremely disappointed that this information has been made public before the investigation was concluded and that our panel has been compromised. The union takes allegations of this kind very seriously and the matter is being handled in line with our disciplinary procedures."
UK news in pictures

Show all 50
A Lancaster University spokesperson said: "The university fully supports the students union's investigation into the conduct of one of its societies and the society's immediate suspension.
They added: "The university expects all members of its community to behave with respect and tolerance for others and is prepared to use its own disciplinary procedures if necessary where behaviour falls short of those standards."
Earlier this year, members of a student law society who made racist comments and rape "jokes" were suspended by the University of Exeter after WhatsApp messages were shared on social media.
Join our new commenting forum
Join thought-provoking conversations, follow other Independent readers and see their replies