One third of disadvantaged pupils 'had no access to device needed for online work last year'
Availability of device was 'far more limited' for poorer pupils, report says
Zoe Tidman
Monday 08 February 2021 19:26 Comments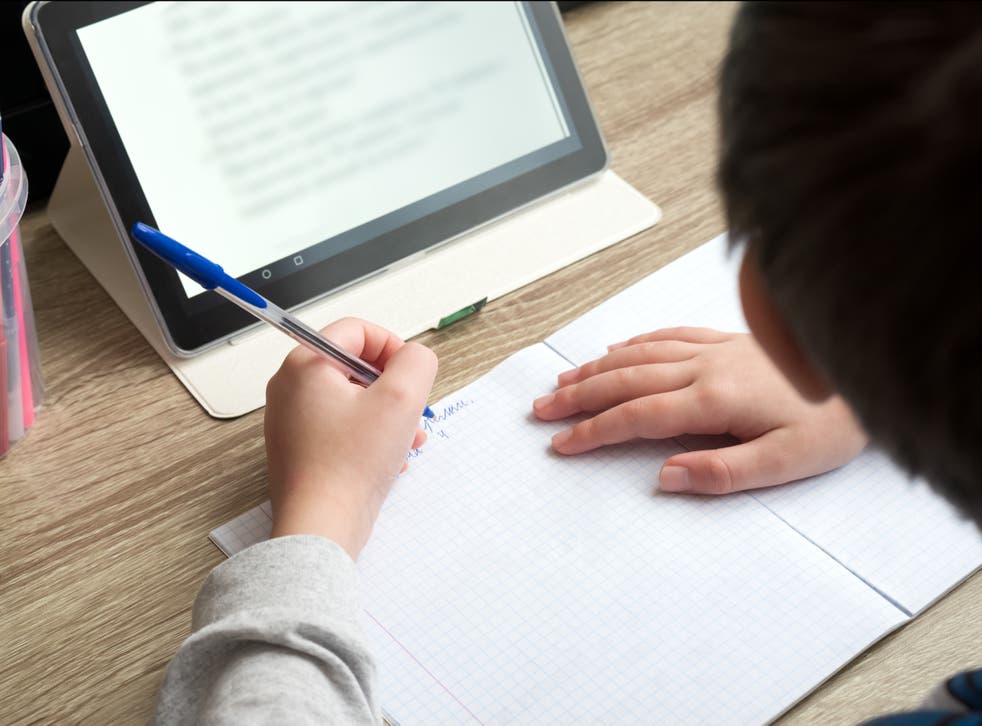 One third of disadvantaged students did not have access to a device needed for online work last year, according to a new study.
While poorer pupils were still likely to live in a household with a device, the availability of one was "far more limited" than in wealthier families, according to research by ImpactEd, a non-profit organisation.
The coronavirus pandemic kept most students at home from March until the start of June, when some year groups were allowed back into the classroom.
While all students were allowed back from September until the end of the autumn term, pupils had to learn from home if told to self-isolate.
Towards the end of the year, this amounted to hundreds of thousands of children each week who could not attend classrooms, according to Department for Education (DfE) data. 
ImpactEd said pupils from disadvantaged backgrounds felt the challenges of remote learning "much more strongly" than others. 
Its survey — which polled more than 62,000 school and college pupils between May and the end of November last year — found 67 per cent of those eligible for pupil premium, a grant for disadvantaged students, said they could not use a device when they needed one for online work.
This compared to 78 per cent for those not on pupil premium.
Around 97 per cent of students eligible for pupil premium —which includes those currently receiving free school meals or who had over the previous six years — had a device at home they can do school work on, compared to 99 per cent for other children, according to the poll.
"Students eligible for pupil premium were likely to live in a household with access to a device," the ImpactEd report said. "However, the availability of a device was far more limited."
"It seems likely that this is due to wealthier households having multiple devices."
"On average, disadvantaged pupils gave their home learning environment a score which was over 6 per cent poorer compared to their peers. 
ImpactEd's report also said pupils eligible for pupil premium were "less likely to have developed a routine for learning, less likely to be able get help from their family, and less likely to understand the schoolwork that they had been set".
The survey, which covered children aged 6 to 18, found 45 per cent disadvantaged pupils said they understood school work they had been given, compared to 57 per cent of others.
James Turner, chief executive of the Sutton Trust, said the reports findings were "a unique and important addition" to understanding how the pandemic has "widened existing gaps between poorer pupils and their classmates".
"Many of the findings reinforce our own research showing the disproportionate impact of the pandemic on disadvantaged young people," he added.
The Department for Education has dispatched more than 927,000 laptops to schools this academic year for disadvantaged children who do not have a device at home and whose face-to-face education has been disrupted, as part of a scheme which has purchased 1.3 million devices to date.
Around 365,000 of these have been sent since 4 January, when schools moved online for all but vulnerable and key worker children for the second time in the coronavirus pandemic.
During the current lockdown, the government confirmed pupils without laptops or tablets at home could be classed as vulnerable and continue going to school.
Register for free to continue reading
Registration is a free and easy way to support our truly independent journalism
By registering, you will also enjoy limited access to Premium articles, exclusive newsletters, commenting, and virtual events with our leading journalists
Already have an account? sign in
Join our new commenting forum
Join thought-provoking conversations, follow other Independent readers and see their replies