Living in fear: One in three Muslim students attacked on campus as Islamophobic hate crime surges
One female Muslim student was left 'in tears' and felt unsafe after she was targeted at university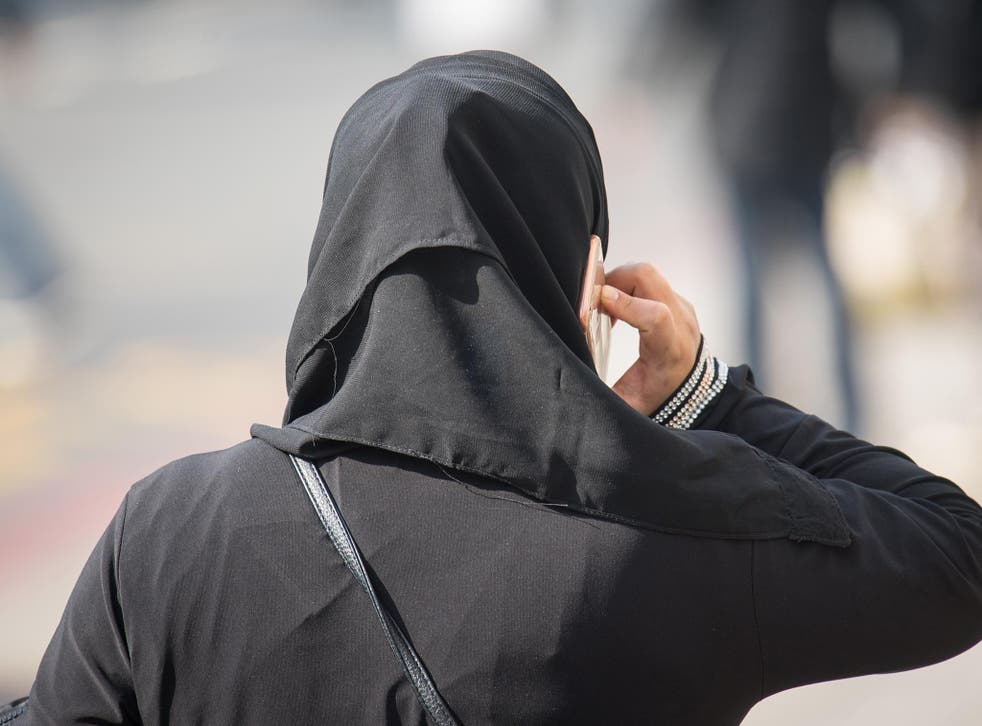 One in three Muslim students are living in fear of Islamophobic attacks or abuse on campus – and women who wear traditional garments are most concerned for their safety, a report has found.
More than half of Muslim students have been subjected to harassment or abuse online. A third say they've been victims of crime or abuse at their further education college or university.
The National Union of Students (NUS) survey, shared with The Independent, reveals that most students (79 per cent) who suffered abuse felt they had been targeted because of being Muslim.
Hate words or symbols, and the incident coinciding with a terrorist incident, were cited by Muslim as indications that the perpetrator's actions were motivated by religious prejudice.
And women who wear a traditional Islamic garments, such as a hijab, niqab or jilbab, were significantly more likely to worry about abuse or attacks, the report found.
Fatima Diriye, a history and politics student at Soas University of London, told The Independent that she felt unsafe when two students took photos and drew a sexualised image of her in a jilbab.
"They drew a picture of me because I wear a jilbab – the head to toe piece – so they drew that, and then explicitly exaggerated my figure and wrote: 'I like penis.'
"I didn't feel safe. I was really upset, I was in tears," she said.
In another incident, Fatima was called out for expressing views during a student union activity. "He said 'You are a Muslim woman. Why are you even speaking? Aren't you normally oppressed?'"
The 22-year-old added that she has consciously changed her actions and behaviour following terrorist attacks, to reduce the chance of Islamophobia.
"I think 'will I have to be a lot friendlier today on campus to make sure people feel safe?' I also do not know what people's reactions are going to be on the way to university," she said.
"I usually think it is safest to get taxis for the next few days, because I don't know what is going to happen. Because I am wearing the jilbab, there is not a way for me to hide that I am a Muslim."
The new findings follow a rise of hate crimes facing the Muslim community across the country. Hate crimes targeting mosques across the UK more than doubled between 2016 and 2017, figures revealed last year.
Fiyaz Mughal, director of Faith Matters, which works to increase community cohesion, called the new NUS report "concerning" and added the reports of Islamophobia were "unsurprising".
He said: "There is more anti-Muslim rhetoric, insults and abuse in the real world than there ever was in 2012. The level of fear in Muslim communities of young people has risen. They don't feel that secure anymore because they have suffered these incidents."
The study, believed to be the first of its kind in the UK, reveals that 43 per cent of Muslim students do not feel comfortable discussing terrorism in class, and a third do not believe that there is a safe space or forum on campus to discuss the issues that affect them.
And the Government's Prevent duty, which requires education institutions to report students "vulnerable to radicalisation", has made Muslim students more reluctant to speak up, the NUS says.
A third of respondents felt negatively affected by the Prevent duty – and of those Muslim students affected, 43 per cent felt they were unable to express their views or be themselves because of it.
Muslim students reported feeling less comfortable in engaging in political debate, or for running for roles in their students' union – while some experienced barriers to organising events.
One male student, who was surveyed, said: "When I was getting a certain speaker for an event, Prevent were involved and had to be present for the talk, in addition to police as well, shockingly."
Mr Mughal said students often kept "themselves to themselves" because of a perception that Prevent – which became a legal duty for universities in July 2015 – clamps down on all free speech.
He said: "It comes down to one simple fact that our universities are not properly making clear to students that universities are places where debate and discussion like this has to happen.
"I think universities are failing miserably in their ability to communicate to students effectively on these issues. Universities have a lot more to do, and student unions need to do more."
The NUS has previously come under fire for reports of anti-Jewish sentiment – and their new report suggests that many Muslim students feel disillusioned and disengaged from the students' union.
Two-thirds of respondents said they thought the NUS would not respond appropriately to allegations of Islamophobia. Eight out of 10 had never attended any NUS events of any kind.
One female student surveyed said: "NUS Muslim representatives have faced disproportionate abuse over recent years and the NUS has not dealt with it adequately."
Student news in pictures

Show all 34
On the report, Hareem Ghani, NUS women's officer, said: "We are deeply concerned about islamophobia and anti-Muslim sentiment within the education sector and society as a whole.
"Action must be taken immediately by institutions and students' unions to safeguard Muslim students – especially women – against racism in or around campus."
Angela Rayner, Labour's Shadow Education Secretary, told The Independent: "The details revealed in the NUS report about the experiences of Muslim students are shocking. No student should ever feel like they are not safe because of their ethnicity, gender or religion.
"Our universities are places of learning and debate, and should also act as a safe space for all students from fear of persecution, harm and bigotry. Universities have a duty of care towards the physical and mental wellbeing of their students, first and foremost."
A Department for Education spokesperson said: "There is no place in higher education for hatred or any form of discrimination or prejudice, and we expect providers to act swiftly to address hate crime, reported to them, including anti-Muslim incidents.
"The Prevent duty builds on universities' safeguarding responsibilities and aims to stop people being drawn into terrorism. Prevent deals with all forms of extremism; it is not about shutting down free speech or spying on students and should not be used to discriminate against any particular group."