'We are fed up waiting': More than 5,000 headteachers set to march on Downing Street to demand more cash for schools
Exclusive: 'We don't want any more sticking plasters and we are really frightened of a grandiose-sounding announcement that sounds big until you look at the detail'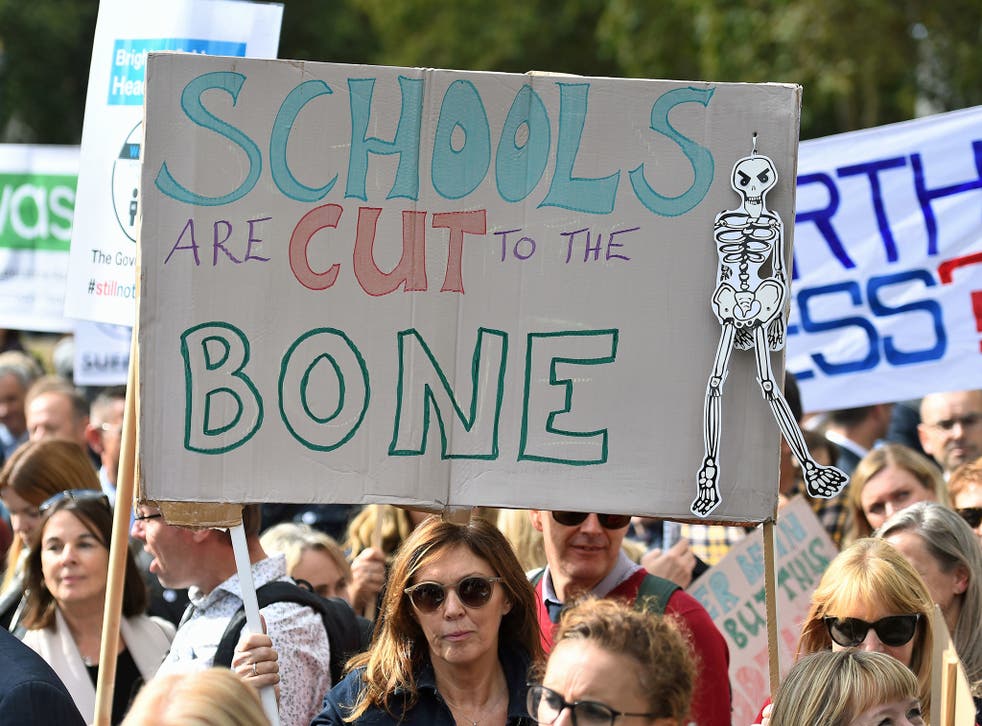 Thousands of headteachers are set to march on Downing Street to demand Boris Johnson inject billions of pounds into schools.
Headteacher Jules White, leader of the grassroots campaign group Worth Less?, has warned that a growing number of school leaders are "fed up waiting" for vital funding as pressures become intolerable.
Years of cuts have seen some schools resort to crowdfunding appeals to pay for classroom staff, while others have been forced to reduce the teaching week to four-and-a-half days.
"There is a real feeling that enough is enough," Mr White told The Independent.
His comments come after Theresa May's plans to pump £27bn into education did not materialise.
UK news in pictures

Show all 50
Mr Johnson pledged to increase school budgets on his first day in office as the new prime minister – actual figures or a timescale have not been announced.
Mr White, who is organising the march, has said headteachers will not settle for "meagre offerings" as they say a multibillion pound investment, similar to the NHS funding settlement, is needed for schools.
Last year, approximately 2,000 headteachers took part in an "unprecedented" march on Westminster to ensure their voices were heard over school funding. But no money was released from the Treasury.
Now more than 5,000 heads from across the country, from Cumbria to Cornwall, are expected to miss school to attend a second demonstration in Westminster on Friday 27 September to make their case.
More headteachers are having to increase class sizes, cut subjects and reduce the amount of support for poorer students and children with Special Educational Needs and Disabilities (SEND), campaigners say.
And increasingly, schools are being asked to take on the role of the police and social services amid cuts to these services at a time when the mental health of young children is a growing concern, Mr White said.
He warned: "You can't champion children's mental health and wellbeing and hope to do it on the cheap."
On the march, Mr White added: "We will be relentlessly reasonable. We will be in our Marks and Spencer's workwear to make our point.
"This is not some sort of militant strike. This is just dedicated teachers."
Liz Filer, headteacher at Valentine Primary School in Southampton, will be attending the march as she is worried that making any more cuts will "damage" the educational experience and attainment of pupils.
This year alone, Ms Filer has had to reduce a number of school staff roles, reduce the budget for teacher training and IT provision and cut classroom resources "to the bare minimum".
"Things have got significantly worse as costs go up and income does not," she said. "There is literally nothing else to cut now other than teacher posts which would increase class sizes considerably."
Sabrina Hobbs, principal of Severndale Academy, a special school in Shropshire, said the school has paid around £90,000 per year for the last three years for nursing care to enable pupils to attend school.
Ms Hobbs, who will be marching in September, said: "We are now at the tipping point and that is why more leaders are prepared to march for change – because its the only thing left that we can do."
Thousands of headteachers will wear sticking plasters with the word "no" on them on their formal attire to make clear that "piecemeal announcements" will not be enough to make a long-term difference.
"We don't want any more sticking plasters and we are really frightened of a grandiose-sounding announcement that sounds big until you look at the detail," Mr White added.
Earlier this month, a cross-party group of MPs called for the government to commit to a multibillion cash injection for schools and colleges or risk stretching the education system beyond "breaking point".
The education select committee report called for a 10-year funding plan, like the NHS has, to prevent the sector from being put under any more strain amid rising demands, adding the funding was "bleak".
Support free-thinking journalism and attend Independent events
Paul Whiteman, general secretary of the school leaders' union, said: "Headteachers are coming back this September, in greater numbers, because school funding is still in crisis."
He added: "By our calculations, £3bn of new money from the Treasury is needed right away to prevent any more of the damaging cuts to staffing, facilities and subjects that have been made.
"Boris Johnson pledged £4.6bn of extra funding for schools by 2022-23, but this is only about a third of what is actually needed over that period. Our calculations show that the figure is nearer to £12.6bn.
"We are not going to stop campaigning for more money for schools and colleges until we get to a realistic figure and long-term commitment."
Speaking from Downing Street on Wednesday, Mr Johnson said: "My job is to make sure your kids get a superb education wherever they are in the country.
"And that's why we have already announced that we are going to level up per-pupil funding in primary and secondary schools."
Join our new commenting forum
Join thought-provoking conversations, follow other Independent readers and see their replies