Thousands of students launch legal bid for £20m compensation after university strikes
'You do feel like the money you have paid has kind of been wasted'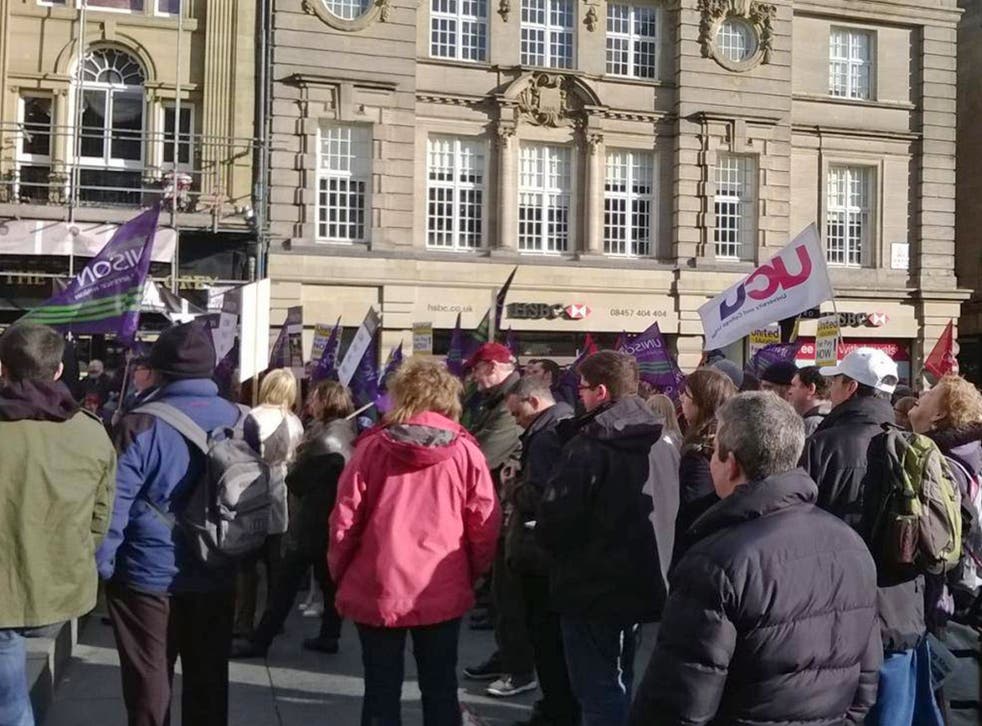 More than 5,000 students have signed up to a lawsuit to claim compensation for lost teaching time during the university strikes.
The group claim – which involves students from some of the most prestigious institutions across the UK – could cost individual universities as much as £20m.
It comes after 14 days of teaching were lost when staff, including lecturers, academics and researchers, from 65 universities walked out in February and March in a dispute over pensions.
The University and College Union estimated that the strike action – which was called off in April – affected more than one million students and a total of 575,000 teaching hours were lost.
Asserson, a law firm that set up a website for students to claim back fees for lost teaching, has had around 500 students join its group action each week since its launch at the end of March.
And the firm is hopeful that the group claim for students – who are paying up to £9,250 a year in tuition fees if they are from UK and even more if they from outside EU – will succeed.
Shimon Goldwater, a senior solicitor at Asserson, said: "The compensation claim against universities is building rapidly. Not only are we receiving 500 new sign ups a week, a leading barrister's advice reaffirms our long-held view that that this claim is likely to succeed."
"The size of this claim, based on £1,000 compensation per student, has already risen to £5m, with the potential to hit £20m," he added.
The universities with the most student sign-ups to the compensation website include four Russell Group institutions – Nottingham, Durham, King's College London and Bristol – as well as Kent.
Xavier Alexis-Greenfield, a first-year law student at Kent University, said he felt lost during his exams last month after he missed out on 14 days of "vital" contact time ahead of the assignments.
The 19-year-old, who is on a scholarship, has to do well in his exams to ensure he still gets financial support. And his chances of qualifying as a lawyer could be jeopardised if his grades fall.
Mr Alexis-Greenfield, who is from Walton-on-the-Naze in Essex, said: "Those 14 days were the last two weeks of our teaching for the whole year. So we turned up to the exams lost.
"That put me at risk especially because the lectures and seminars that were missing were the ones that were examined," he told The Independent. "We don't know how we have done.
"We feel that universities across the country could have done more to alleviate the stresses on students," Mr Alexis-Greenfield said. Missed lectures and seminars could have been rescheduled and exams could have been pushed back in third term to allow for more contact time, he added.
"You do feel like the money you have paid has kind of been wasted," the law student said.
In February, universities minister Sam Gyimah said students should be directly compensated after tens of thousands of students signed petitions demanding refunds for lost lectures.
Joanna Moss, a second-year philosophy student at Nottingham University, launched a petition for compensation for students after she missed out on 20 hours of lectures.
"As consumers, we must protest against losing what we have paid for," her petition said.
The 19-year-old, from Wellingborough in Northamptonshire, decided to join the group claim to secure compensation – and a number of her peers have recently signed up to the court action.
And she believes the exam period has played a part in the rise in students seeking compensation. "At a time when students are at their most stressed and starting to really feel the impact of the lost contact time, we really saw an appetite from these students to join the action," Ms Moss said.
On the growing number of students joining the claim, Mr Goldwater said: "Students are telling us that they have been following advice from their unions and the universities to use standard complaints procedures when asking for compensation, with absolutely no sign of progress.
"In fact, we have not heard of a single instance of a student receiving proper financial compensation for cancelled teaching time."
Student news in pictures

Show all 34
He added: "Universities are presumably hoping that this problem will go away, but this claim shows that thousands of students are not willing to sit by and pay for a service which was cancelled."
Universities UK declined to comment on the group claim but it highlighted advice to students to go through their university's internal complaints procedure rather than using lawyers.
If a resolution is not reached, students can take their claims to the established ombudsman services set up to deal specifically with university complaints.
A study, which was carried out in the middle of the strikes, found that fewer than two in five (38 per cent) students think they are getting their money's worth from their course.
Mr Gyimah told university leaders this month at the Higher Education Policy Institute conference that they could not afford to be complacent over value for money.
Register for free to continue reading
Registration is a free and easy way to support our truly independent journalism
By registering, you will also enjoy limited access to Premium articles, exclusive newsletters, commenting, and virtual events with our leading journalists
Already have an account? sign in
Register for free to continue reading
Registration is a free and easy way to support our truly independent journalism
By registering, you will also enjoy limited access to Premium articles, exclusive newsletters, commenting, and virtual events with our leading journalists
Already have an account? sign in
Join our new commenting forum
Join thought-provoking conversations, follow other Independent readers and see their replies