Teacher shortages at 'crisis' point as pupil numbers set to soar, MPs warn
Education Committee chair warns recruitment 'critical' as secondary-school age population set to reach three million by 2020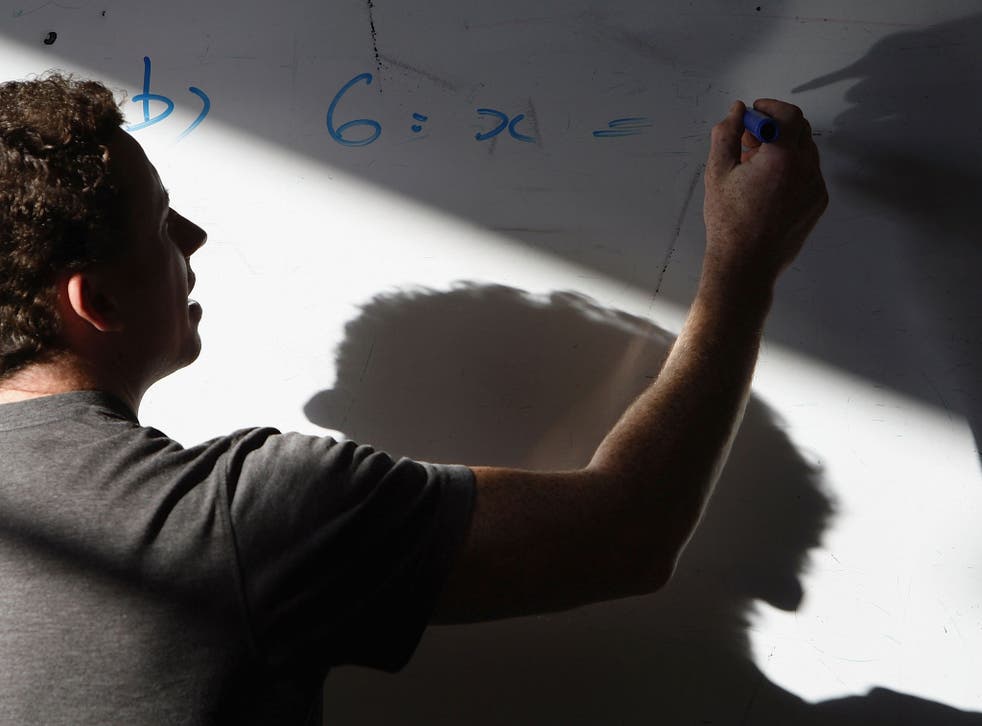 Teacher shortages in England have reached a "crisis" point, with the Government failing to come up with a coherent plan to tackle a lack of staff in core subjects, MPs have warned.
Ministers need to take urgent action to address the shortage, which is set to worsen with a pupil numbers at secondary schools expected to spike by more than 500,000 to 3.3 million by 2025, an influential cross-party committee of MPs said.
Without sufficient numbers of teachers to ensure a high-quality education for young people, the country will struggle to rise to the challenges of Brexit, according to Neil Carmichael, chair of the Education Select Committee.
"The situation is very, very challenging, and as the population grows, efforts to recruit and retain good-quality teachers become even more critical than before," Mr Carmichael told The Independent.
"Key subjects, including technology and sciences, are being neglected. If we are gearing towards high-skill, knowledge-based economy, how are we going to do that without enough teachers in place?"
"A big question for us to consider is how we can make sure teachers feel trusted and valued," he added. "But it's also about rising to the added challenges that leaving the EU will create for us. The Government must act or we will find ourselves in a real crisis."
According to official government statistics, the overall number of full-time teachers in secondary schools fell by 10,000 between 2010 and 2015, the latest year for which figures are available.
Pisa rankings 2015: The best countries in the world for education

Show all 20
The committee's report, published today, raises concerns about a lack of qualified staff teaching core subjects, with around a quarter of physics teachers unqualified in the subject.
It follows growing concern among teachers about their working conditions, with many highlighting "unmanageable workloads" as a key factor for choosing to quit the profession.
The committee's report says the Government lacks a long-term plan to address teacher shortages and consistently fails to meet teacher recruitment targets.
"While recruiting sufficient new teachers is, of course, necessary, the Government should place greater emphasis on improving teacher retention," the report says.
"Not only is this a more cost-effective way to tackle some of the issues, but more teachers staying in the profession for longer would strengthen the pool of leadership positions."
It calls on the Government and school leaders to consider options such as "capping" the number of hours teachers work outside of teaching time in a bid to retain staff.
Stella Creasy shines light into sex education crisis with speech
Last month, the Government was forced to relax immigration restrictions in order to fill school vacancies, particularly in sciences and computing.
The independent Migration Advisory Committee (MAC) warned maths and physics teachers remained in high demand, adding that computer-science and science teachers should be added to the list of most needed professions from those applying to work in the UK.
Government recruitment targets were missed in the majority of subjects, including physics, by 19 per cent and mathematics by 16 per cent. Design and Technology only reached 41 per cent of its recruitment target this year, raising questions about the Government's strategy, the Committee said.
Teaching unions welcomed the acknowledgement of a "deepening crisis" but said the situation was unlikely to improve with a Government "in denial".
"The Public Accounts Committee and now the Education Select Committee have both warned that ministers have no clear plan to address these issues and that the Government's analysis of current and future teacher supply needs is seriously flawed," said Chris Keates, general secretary of the NASUWT.
"This report should act as a wake-up call to ministers that falling back on sticking plaster solutions such as the failed National Teaching Service will do nothing to address the systemic causes of the teacher supply crisis."
A National Audit Office report warned school budgets are facing a further real-terms cut of £3bn over the next four years and there will need to be a reduction in spending by an average of 8 per cent per pupil by 2019-20.
Malcolm Trobe, interim general secretary of the Association of School and College Leaders, said while "unmanageable workloads" were an issue for concern, dramatic cuts seen to school funding also needed to be addressed.
"It is important for people to understand that the current education funding crisis is contributing significantly to these workload pressures. Schools are having to cut the number of teaching and support staff, and this inevitably means more work for those who remain."
A Department for Education spokesperson said in a statement: "There are more teachers in England's schools than ever before with secondary postgraduate recruitment at its highest since 2011.
"We recognise there are challenges. The Secretary of State has set out her ambition to continue driving up standards through investment in professional development so the best teachers stay in the profession."
Join our new commenting forum
Join thought-provoking conversations, follow other Independent readers and see their replies