Over half new teachers do not plan to stay in classroom long term amid mental health problems, figures show
Exclusive: Teachers are looking to quit the profession within months of starting due to anxiety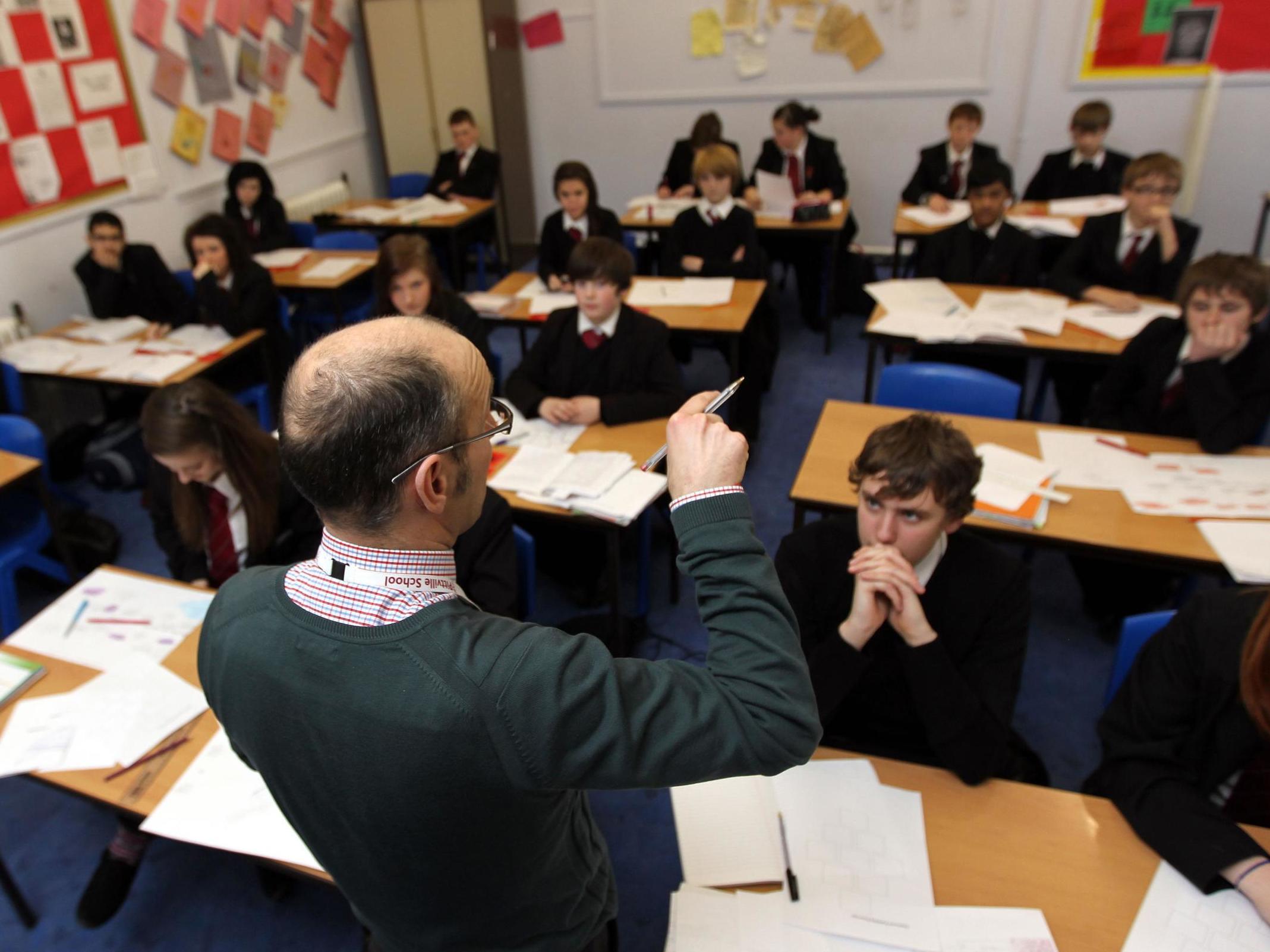 Nearly three in five teachers in only their first year in the profession are already not convinced that they will stay in teaching – and rising mental health problems are partly to blame, research finds.
Half of newly qualified teachers (NQTs) say their job has caused panic attacks or anxiety, while more than a third have been left feeling depressed, a poll shared exclusively with The Independent shows.
One teacher turns to alcohol late at night to self-medicate in a bid to cope with the challenges, while others say they plan to quit the profession as soon as possible to improve their wellbeing.
The survey, of more than 275 teachers in their first year of teaching, by a Leeds Beckett University academic, found that only 43 per cent have definite plans to stay in the profession long-term.
It found that 29 per cent do not plan to stay in the classroom and 28 per cent were neutral.
Experts say a growing number of new teachers are experiencing mental health problems. And cuts to mental health services and a relaxation of the government's teacher recruitment requirements, as well as existing pressures from senior staff and high workload, have contributed to the rise.
Professor Jonathan Glazzard, from Leeds Beckett University, who conducted the poll and who leads research at the Carnegie Centre of Excellence for Mental Health in Schools, said: "It is worrying that they have invested so much money and time into training to be a teacher and they are not staying."
He has called for NQTs and trainees to be given more support on how to combat mental health issues.
In recent years, the focus has been on improving children's wellbeing. But now teaching training providers have begun introducing programmes to help look after trainees who are struggling with their mental health – which include sessions on meditation, mindfulness and yoga.
Emma Hollis, executive director of the National Association of School-Based Teacher Trainers, has noticed a rise of trainee teachers experiencing severe mental health problems and she argues that cuts to support services over the last decade are likely to have filtered down to these young adults.
She said: "Some of the adolescents who fell through the cracks at school are now coming back as adults into an environment where they were first exposed to these feelings of anxiety, mental health issues and exam pressures."
Ms Hollis warned: "If you are not able to take care of your own mental health, it makes you less able to be responsive to the mental health of the children in your class."
Teacher training providers say a "lowering of the bar" to ease the teacher recruitment crisis has also led to more drop-outs and anxiety among trainee teachers who are less prepared for challenges.
The government, which has missed its own recruitment targets for six years in a row, recently removed the requirement for applicants to spend some time in a school before starting training.
James Noble-Rogers, executive director of the Universities Council for the Education of Teachers, said: "This has led to trainees feeling like a bus has hit them when they go into their first school placement experience."
Sinéad McBrearty, acting CEO at charity Education Support Partnership, said: "We're particularly concerned about the mental health of this group; with so many considering leaving the profession, the potential impact on children and young people should not be underestimated."
Recent research from the charity found that NQTs and those working in education for less than 5 years are much more likely to experience a mental health problem compared to their colleagues.
She added: "It's a gap that has widened in recent years, alongside symptoms such as panic attacks, insomnia, tearfulness and difficulty concentrating."
Support free-thinking journalism and attend Independent events
Chris Keates, general secretary of the NASUWT teaching union, said: "Regrettably these findings come as no surprise. Newly qualified teachers are the future of the profession. They are a precious resource but all too often are not treated as such by employers.
"Too many employers are failing to exercise their duty of care for the health and welfare of their teachers and are presiding over mental and physical burnout."
Paul Whiteman, general secretary of school leaders' union NAHT, said: "It is very concerning that so many new teachers appear not to be thinking of a long career in education. The leaky pipeline of recruitment and retention needs to be fixed."
When approached for comment, a Department for Education (DfE) spokesperson said: "There can be no great schools without great teachers and we are committed to tackling issues that could affect teachers' mental health and wellbeing.
"That is why supporting school leaders to make their cultures more supportive for every teacher – including for those at the beginning of their career – was one of the key principles outlined in the Teacher Recruitment and Retention Strategy published last month.
"Alongside this, the Early Career Framework will underpin an entitlement for every new teacher to receive support and professional development‎ in their first two years of teaching, as well as mentoring."
Join our commenting forum
Join thought-provoking conversations, follow other Independent readers and see their replies