Thousands sign petition calling for Nicky Morgan's resignation following 'farcical' SATs results
School leaders say the Education Secretary must 'first apologise' to children who underwent the new curriculum tests this year, 'and then resign her post'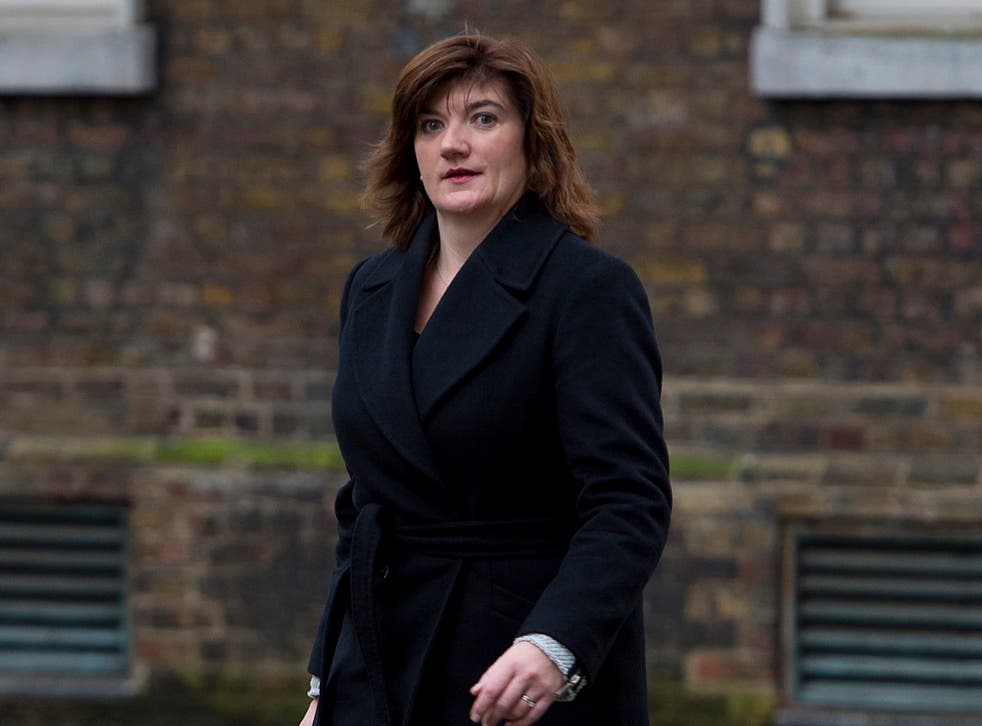 More than 10,000 teachers, parents and school leaders have signed a petition calling on Education Secretary Nicky Morgan to "apologise and resign" from her role, claiming she has "failed" a whole generation of school children.
In a letter on Change.org, concerned educational leaders blamed Ms Morgan for a series of failings around controversial new SATs exams brought in for the 2015-16 academic year.
"This year 47 per cent of 11-year-old children will be told they haven't reached the "expected" standard in at least one of their SATs papers," the letter states.
"Last year this figure was only 15 per cent. This is extraordinarily demoralising for children who are just about to make the big step up to secondary school."
The new SATs, which were also introduced to six and seven year-olds this year, have been criticised by teachers as "ridiculously difficult", leaving children tearful and stressed at too young an age.
The letter continues: "A Secretary of State who demands accountability from schools should apply that principle to herself. In taking this step and accepting the blame for this disaster Nicky Morgan can simultaneously reassure children that these results are indeed not their failure."
Nicky Morgan - wholly unnecessary strike
National results published on Tuesday showed that just 53 per cent of Year 6 pupils reached the government's "expected standard" in all three topics – reading, maths and writing – and just two-thirds made the grade in reading, a significant drop since the previous school year.
The Lancaster, Morecambe & District Primary Headteachers' Cluster, who set up the petition, also referred to reports that the new tests have been poorly marked, since guidance provided to schools "was constantly changing".
Dave McPartlin, Head teacher of Flakefleet Primary School in Lancashire and member of the group said the results were "farcical" and could damage children's self-worth as a result.
He told The Independent:"The changes to the national curriculum and assessment are not fit for purpose and set our children up to fail. I became a head teacher to have a positive impact on children's lives not teach them pointless content that will never help them in life and then at their end of time at school demoralise them by giving them SATs results that are built on quicksand."
"[Nicky Morgan] has destroyed the vocation we love with changes that are fundamentally flawed in so many ways."
He added: "She should not be allowed to continue in her role after the ridiculous and farcical KS2 SATs tests and results this year… [it's] time for somebody who listens to teachers and wants to repair our broken education system."
Earlier this year, thousands of parents across the country took their children out of school for a day of protest over the tough new exam curriculum.
A nationwide protest led by the campaign group, Let Our Kids Be Kids, was supported by school leaders after more than 45,000 people signed a petition calling for a boycott of the national primary school tests.
With exams finished and school terms coming to an end for summer, many school leaders still argue that this year's results should be discounted on account of being "unreliable".
Responding to the recent test results, a Department for Education spokesperson said: "These results show that our children and teachers are capable of achieving the higher standards we expect of them and vindicate the reforms introduced by Michael Gove and continued by Nicky Morgan."
"While previous governments were happy to celebrate ever higher results at the expense of declining standards, these bold secretaries of state have taken the important decision to prioritise our children's future ahead of short-term political wins."
Register for free to continue reading
Registration is a free and easy way to support our truly independent journalism
By registering, you will also enjoy limited access to Premium articles, exclusive newsletters, commenting, and virtual events with our leading journalists
Already have an account? sign in
Register for free to continue reading
Registration is a free and easy way to support our truly independent journalism
By registering, you will also enjoy limited access to Premium articles, exclusive newsletters, commenting, and virtual events with our leading journalists
Already have an account? sign in
Join our new commenting forum
Join thought-provoking conversations, follow other Independent readers and see their replies