University nightclub bans white T-shirt socials over offensive slogans mocking murder and sexual assault victims
'These events have a long-standing track record of promoting hate speech in a variety of different, equally unacceptable forms'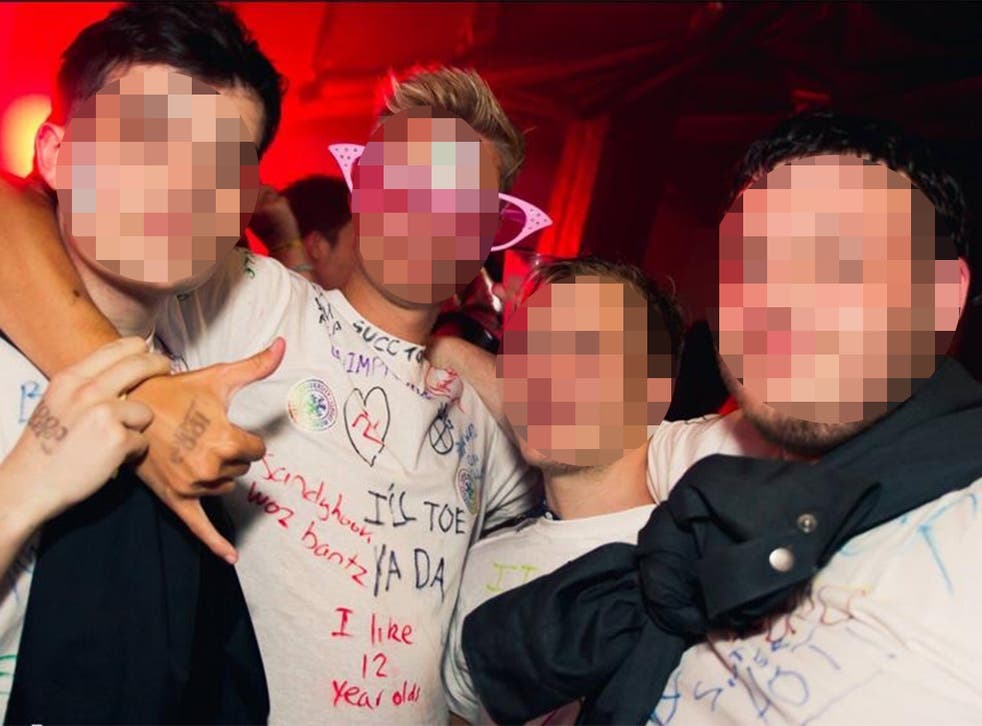 Students on white T-shirt socials are banned from Lancaster University students' union's nightclub after slogans mocking murder and sexual assault victims were scrawled on clothing.
The messages written on the white tops of students on the snow sports social last year included "Sandyhook woz bantz", "Mandela touched kids" and "Jimmy Saville was misunderstood".
Now Lancaster University students' union is urging student groups not to organise the activities.
It comes after a series of incidents across the country where students have been spotted in T-shirts daubed with offensive language and images.
In February, a sports club at Coventry University was suspended over claims students wore T-shirts emblazoned with swastikas and the words "The Jews Deserved it" to a social.
UK news in pictures

Show all 50
Last year, the Conservative society at Plymouth University was suspended after a photograph of students posing in T-shirts scrawled in slogans, such as "F*** the NHS", was posted online.
A motion passed at the National Union of Students' (NUS) conference in April called on unions to "effectively discipline students" responsible for offensive messages on white T-shirts.
Delegates at the conference also voted to "publicly condemn" such incidents at universities and to work with minority groups "to ensure their safety and security on campus."
Now Sugarhouse Club, which is run by Lancaster University students' union, has introduced a policy to refuse entry to students with hand-written words and images on their clothing.
A spokesperson for the union told The Independent: "We strongly advise our student groups not to organise social activities of this kind.
"This is to avoid the actions of a small and thoughtless minority resulting in disciplinary action against their group."
And last month, Leicester University students' union announced a ban on white T-shirt socials after a student was pictured wearing a top with the slogan "Hitler wanted my kind alive".
A statement on its website says: "These events have a long-standing track record of promoting hate speech in a variety of different, equally unacceptable forms.
"Leicester alone has seen two instances of this since the start of term, where students have written explicitly antisemitic statements on clothing."
It adds: "In order to safeguard all members of the university community 'white t-shirt socials' as defined above are prohibited from taking place with immediate effect.
"Any student group that is identified as organising a 'white t-shirt social' will face a students' union investigation and appropriate action will be taken."
A spokesperson for the NUS told The Independent: "We publicly condemn such instances when they arise in order to encourage safe and secure environments.
"This very much aligns with our Alcohol Impact campaign where we publish guidance on commercial bar crawls and have expressed strong concern about these events historically.
"This is another example of how, when students lead we really can make a difference. We'd like to see more operations taking a responsible approach to these issues so that future events are inclusive and meet the spirit they were intended to provide."
Register for free to continue reading
Registration is a free and easy way to support our truly independent journalism
By registering, you will also enjoy limited access to Premium articles, exclusive newsletters, commenting, and virtual events with our leading journalists
Already have an account? sign in
Register for free to continue reading
Registration is a free and easy way to support our truly independent journalism
By registering, you will also enjoy limited access to Premium articles, exclusive newsletters, commenting, and virtual events with our leading journalists
Already have an account? sign in
Join our new commenting forum
Join thought-provoking conversations, follow other Independent readers and see their replies