Baby died on maternity unit months after staff warned it was unsafe
Coroner reveals hospital staff wrote to NHS bosses in 2018 warning of safety concerns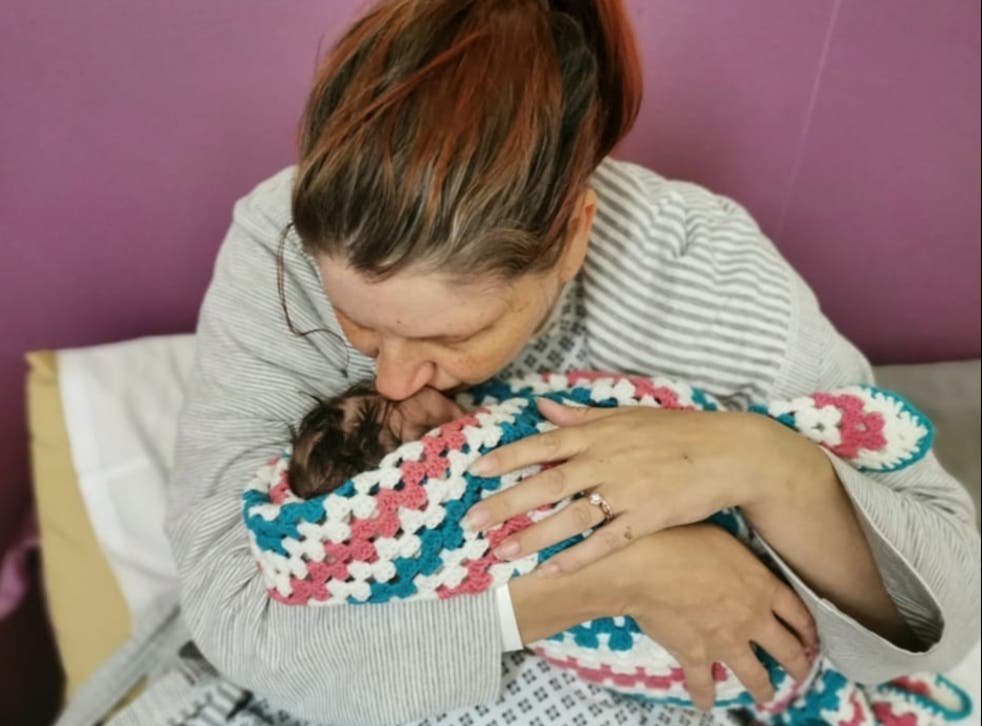 A baby died during birth because of systemic errors in one of Britain's largest NHS hospitals, months after staff had warned hospital chiefs that the maternity unit was "unsafe", an inquest has found.
A coroner ruled that neglect by staff at Nottingham University Hospitals Trust contributed to the death of baby Wynter Andrews last year.
She was delivered by caesarean section on 15 September after significant delays. Her umbilical cord was wrapped around her neck and leg, resulting in her being starved of oxygen.
In a verdict on Wednesday, assistant coroner Laurinda Bower said Wynter would have survived if action had been taken sooner, criticising the units "unsafe culture" and warning that her death was not an isolated incident.
Wynter's mother, Sarah Andrews, called on the health secretary, Matt Hancock, to investigate the trust's maternity unit.
She said: "We know Wynter isn't an isolated incident; there have been other baby deaths arising because of the trust's systemic failings.
"She was a victim of the trust's unsafe culture and practices."
Ms Andrews had started having contractions and experiencing pain six days before being admitted to the maternity ward on 14 September.
UK news in pictures

Show all 50
Midwives did not spot her high blood pressure and gave her diamorphine, which can slow down labour, without a doctor's prescription. Midwives wrongly believed Wynter's mother was not yet in full labour.
Doctors failed to carry out full checks on Ms Andrews and misread vital heart-monitoring reports that warned Wynter was struggling.
Senior midwifery staff at the hospital admitted to a catalogue of errors in the care of Wynter, with the head of midwifery at the trust accepting that the maternity unit at Queen's Medical Centre in Nottingham was unsafe. She also accepted that the culture within the maternity department required action.
In her verdict on Wednesday, the coroner said Wynter would have survived if action had been taken sooner: "I am satisfied that neglect contributed to Wynter's death.
"Mrs Andrews' care was beset by shortcomings on account of staff being too overwhelmed to provide full and detailed care in accordance with guidance. This led to corners being cut, and unsafe practices prevailing within the unit.
"The [incident] reports and staff accounts demonstrate this was not an isolated incident. An unsafe culture had been allowed to develop as these systemic issues had not [been] adequately addressed by the leadership team."
The inquest heard that the unit was short-staffed, by six midwives, when Wynter's mother was admitted, which the coroner said meant that midwives were forced to split their time between patients instead of providing one-to-one care.
She said: "There were repeated failures by all professionals involved to review the notes in full in order to appraise themselves of the available history. This was then perpetuated by incoming professionals who relied upon an inadequate and insufficient handover of the patient situation. This led to Mrs Andrews' obstetric risk factors being omitted from their clinical decision making."
The coroner said the trust "had failed to create an environment where professional challenge was promoted and encouraged".
It has also emerged that a letter from maternity staff at the trust was sent to the hospital board in 2018 asking for help and raising serious concerns about safety.
The letter was sent anonymously to the coroner and sets out a variety of safety concerns, from inadequate staffing levels, which the letter describes as "the single most important factor threatening the wellbeing of families … and the cause of a potential disaster", to failings in leadership.
The coroner said the letter suggested that senior staff at the trust were not acting on concerns, with the letter stating there was a "fundamental disparity between the perceptions and actions of the senior leadership team and the lived reality of staff caring directly for women and families".
The coroner added: "This letter makes for troubling reading, as the grim predictions of a potential disaster were indeed realised some 10 months later when Wynter died as a result of the unsafe practices warned about by midwifery staff."
The case comes amid maternity safety concerns across a number of NHS hospitals, with multiple independent inquiries into care at Shrewsbury and Telford Hospitals Trust, East Kent Hospitals University Trust and a review of dozens of units by the Care Quality Commission (CQC).
The Independent joined with the charity Baby Lifeline in November 2019 to call on the government to reinstate the national maternity safety training fund which was axed after just one year.
Despite growing concerns over maternity safety, the government has yet to announce any measures.
In a statement after the inquest verdict, Ms Andrews said: "Today our daughter, Wynter, was given a voice and we hope that she will be heard and listened to. Wynter died from neglect arising from the gross failings in the care provided by Nottingham University Hospital Trusts.
"Whilst we welcome the coroner's referral to the CQC for an investigation, we are calling for the health secretary, Matt Hancock, to launch an investigation into the maternity services at the trust.
"Wynter lives in a moment of beauty and had we listened to the trust, rather than our instinct, we would not have got the answers we needed. If Wynter's story resonates with you, it's never too late to speak up and seek the answers that your baby deserves."
The trust's chief nurse, Mandie Sunderland, said: "We deeply regret that we failed Mr and Mrs Andrews and their daughter, Wynter, and apologise for the distress this has caused them and their family. Had we made better decisions the outcome could have been different, and for that we remain truly sorry.
"We are committed to learning, improving and transforming our services. We have already made multiple improvements in our maternity services; however, we know we need to go further. We will do all we can to ensure, as far as possible, that this never happens again."
Join our new commenting forum
Join thought-provoking conversations, follow other Independent readers and see their replies