Coronavirus: Scientists divided over report recommending widespread use of face masks
As government advisers call for nationwide use of masks, some scientists contend 'the negative effects of outweigh the positive'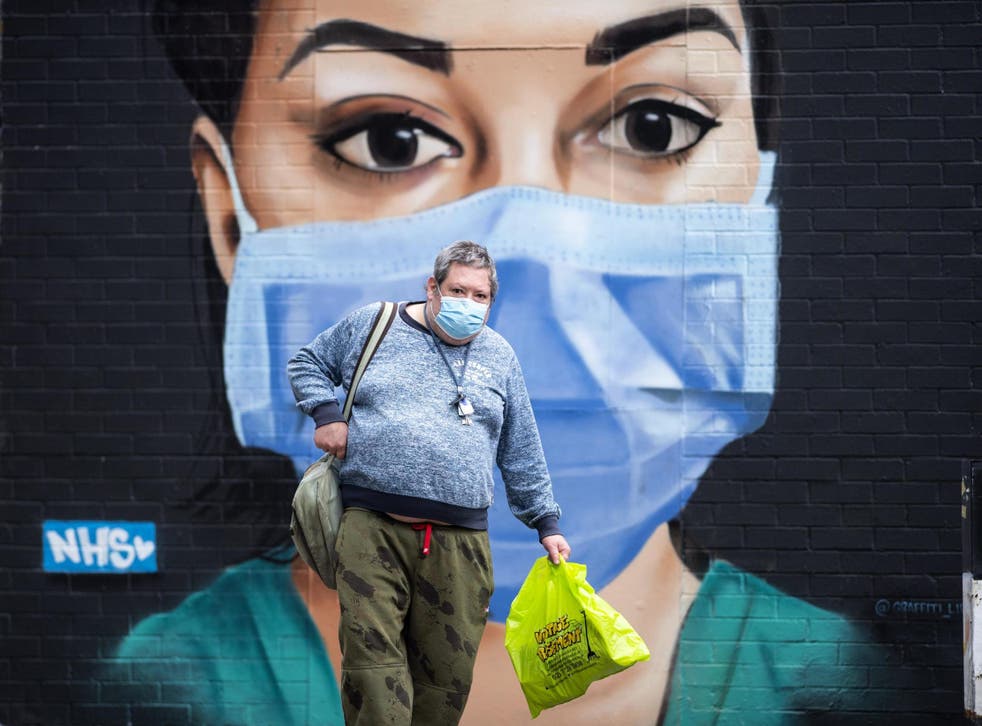 A report submitted to UK government advisers advocating the widespread use of face masks to prevent further coronavirus transmissions has divided scientists.
Face masks, including those that are home-made, could be an "important tool" in reducing Covid-19's spread, according to Delve – a multi-disciplinary group convened by the Royal Society.
Their report, published on Monday, concluded face masks could reduce transmissions if widely used in situations where physical distancing is not possible, such as busy public transport, shopping areas or workspaces.
The recommendation, which has been submitted to the government's scientific advisory group, Sage, "contrasts to the standard use of masks for the protection of wearers", suggesting face coverings could stymie transmission in symptomless carriers.
Their conclusions are based on the fact that infectious droplets – generated by talking and breathing, as well as coughing or sneezing – are a major factor in transmissions, and evidence suggesting that cloth masks can partially reduce the emission of such particles.
But the report has been met with scepticism from other scientists, many of whom fear the evidence base is still insufficient to warrant such conclusions.
"That is not a piece of research. That is a non-systematic review of anecdotical and non-clinical studies," said Dr Antonio Lazzarino, of University College London's (UCL) Department of Epidemiology and Public Health.
"The evidence we need before we implement public interventions involving billions of people, must come ideally from randomised controlled trials at population level or at least from observational follow-up studies with comparison groups. This will allow us to quantify the positive and negative effects of wearing masks.
"Based on what we now know about Covid-19", Dr Lazzarino said, "the negative effects of wearing masks outweigh the positive".
Dr Ben Killingley of UCL Hospital said that while the "overly optimistic" report focuses largely on the "mechanistic" data of viral droplet shedding and masks' filtering efficiency, actual real-world studies of face coverings provide under-whelming results outside of healthcare settings.
"This is likely because other modes of transmission, such as contaminated hands, are more important and because it is difficult to use face coverings correctly," he said.
"This is not to say that face coverings might not be helpful," Dr Killingley added, noting that face mask studies have not been undertaken during a pandemic or in the setting of a novel virus.
"Nevertheless, the report, in my view, does not accurately represent the evidence on face coverings that currently exists," he said.
Other experts, however, welcomed the report, lauded Delve's analysis of the "wealth of evidence" provided, and agreed with the authors' desire to highlight that most Covid-19 transmissions occur via symptomless carriers.
"As would be expected from this distinguished group of scientists, the underlying evidence base is meticulously dissected and presented, including pointing out areas where more research is needed," said Professor Trish Greenhalgh of the University of Oxford's Nuffield Department of Primary Care Health Sciences.
"For example, on the question of whether some people might continue to spread the virus without ever developing symptoms, whether recommendations on mask wearing should vary with the risk of exposure – for example bus drivers versus dog walkers – and how important it is for the mask to be a snug fit.
Dr Greenhalgh added: "It lends weight to the argument that face coverings by the lay public could be a key strategy to help the country ease out of lockdown.
"One issue not covered by the report is the danger that widespread use of masks by the public could deplete stocks of medical-grade masks for healthcare workers. Medical-grade masks are not needed outside of healthcare settings. A cloth mask provides very good protection, and is more comfortable to wear."
However Dr Simon Clarke, a cellular microbiologist at the University of Reading said the report, "while interesting, represents a set of valid opinions rather than any conceptual advance in our understanding of the usefulness of face-masks".
"It falls short of delivering new evidence and too casually dismisses precautionary principle when addressing the possibility that masks and coverings could have negative effects on people's behaviours," he said.
"Until more evidence is delivered in either direction, that's all advice can be based on – opinions."
Register for free to continue reading
Registration is a free and easy way to support our truly independent journalism
By registering, you will also enjoy limited access to Premium articles, exclusive newsletters, commenting, and virtual events with our leading journalists
Already have an account? sign in
Register for free to continue reading
Registration is a free and easy way to support our truly independent journalism
By registering, you will also enjoy limited access to Premium articles, exclusive newsletters, commenting, and virtual events with our leading journalists
Already have an account? sign in
Join our new commenting forum
Join thought-provoking conversations, follow other Independent readers and see their replies