Nightingale Hospitals to be closed after £500m cost
Temporary sites never treated the volume of patients predicted at the start of the pandemic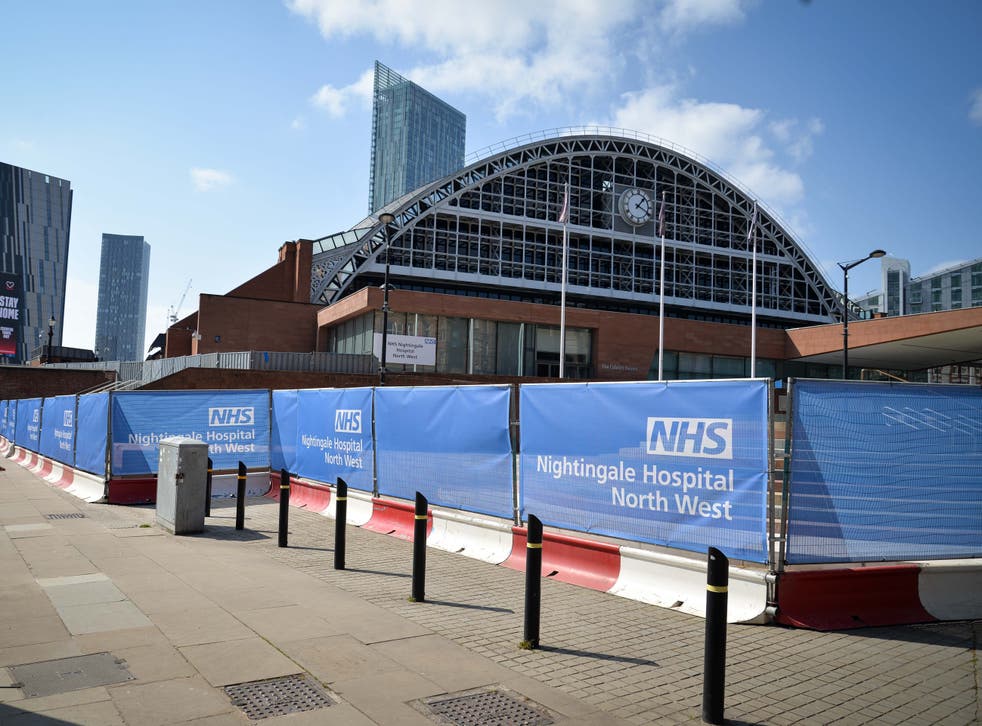 Four of England's Nightingale hospitals are to close permanently later this month after costing taxpayers hundreds of millions of pounds.
Three of the emergency field hospitals will remain open with sites in London and Sunderland being used as mass vaccination centres. The 116-bed hospital in Exeter will be used for diagnostic tests and could be converted to help hospitals carry out more routine care to help cut backlogs.
The remaining four in Birmingham, Bristol, Harrogate and Manchester will all close permanently within weeks.
The Nightingale Hospitals were opened at the start of the coronavirus pandemic last year at a £500m cost to cope with a predicted surge in critically ill patients.
The Health Service Journal reported they were being "stood down" from 1 April after the chancellor made no more money available for them in the budget after this month.
In reality, the hospitals were barely used. London's Nightingale hospital at the ExCel Conference centre in east London saw only 54 patients at the peak of the first wave.
It has since opened as a non-Covid rehabilitation facility with 64 beds but has again struggled to attract patients from London's hospitals.
Some of the other temporary hospitals either never saw any patients or were used to treat recovering patients who were almost ready to go home.
One of the biggest problems with the Nightingale hospitals was a failure to understand the workforce needs, with many permanent hospitals unable to release staff while they coped with surges of patients during each wave of the virus.
The Nightingale hospital in London was dubbed a failure by some health leaders after NHS England's London region requested each area of the city provide staff to work there, at a time when many trusts were pleading with staff to work extra shifts to fill gaps.
The new facility, run by the North East London Foundation Trust, faced a backlash from hospitals, with many sources warning the criteria to discharge a patient to the site were so restrictive it would not help NHS trusts to free up beds.
It had just 12 patients after more than a week and was forced to relax its criteria further to try to ensure hospitals would be willing to send patients there.
The ExCel Centre site had been dismantled in 2020, but was hastily rebuilt as the second wave of cases increased in London, with hospitals again forced to cancel thousands of operations and redeploy staff.
During the January peak, almost 40,000 patients were in hospitals across the UK.
UK news in pictures

Show all 50
An NHS spokesperson said: "Since the very early days of the pandemic the Nightingale hospitals have been on hand as the ultimate insurance policy in case existing hospital capacity was overwhelmed but, as we have learned more about coronavirus, and how to successfully treat Covid, existing hospitals have adapted to significantly surge critical care capacity and even in the winter wave – which saw more than 100,000 patients with the virus admitted in a single month – there were beds available across the country.
"Thank you to the many NHS staff and partners who worked so hard to set the Nightingales up so swiftly and of course the public who followed the guidance on controlling the spread of the virus and helped to prevent hospitals being overwhelmed."
Register for free to continue reading
Registration is a free and easy way to support our truly independent journalism
By registering, you will also enjoy limited access to Premium articles, exclusive newsletters, commenting, and virtual events with our leading journalists
Already have an account? sign in
Register for free to continue reading
Registration is a free and easy way to support our truly independent journalism
By registering, you will also enjoy limited access to Premium articles, exclusive newsletters, commenting, and virtual events with our leading journalists
Already have an account? sign in
Join our new commenting forum
Join thought-provoking conversations, follow other Independent readers and see their replies