As it happened
ended
1656414590
Covid news – live: Hospital admissions continue to rise as experts warn of fifth wave
UK heading towards quarter of a million cases per day, lead scientist predicts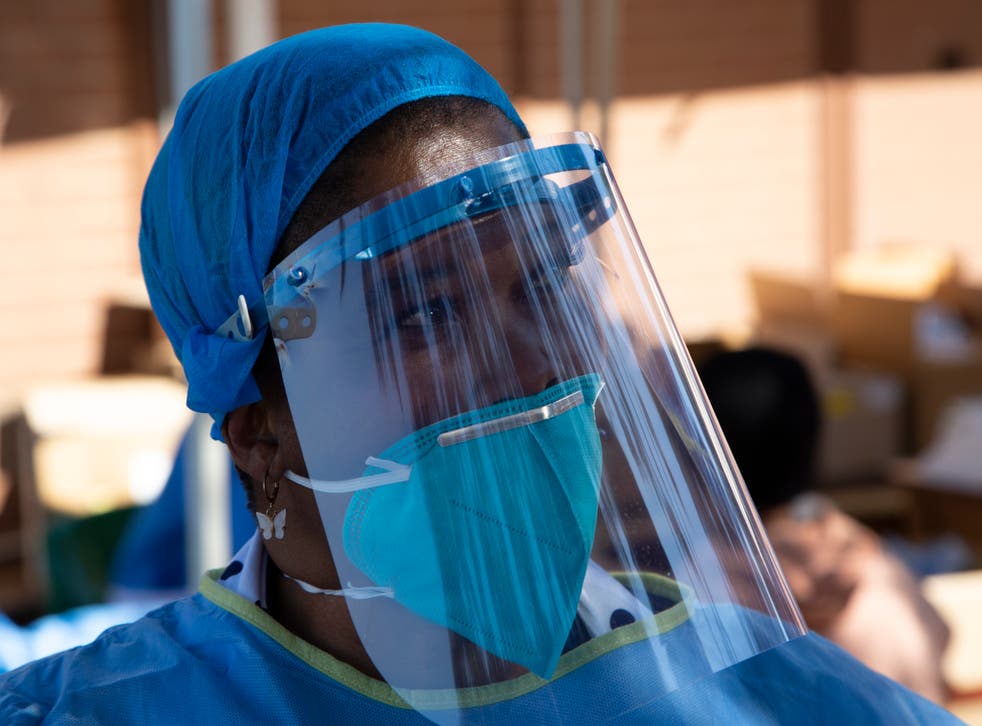 The number of hospital admissions for Covid-19 in England has risen as experts warn the fifth wave of the virus has already started.
Some 7,822 patients in England had Covid-19 on June 27, up 37 per cent on the previous week, NHS figures show.
It is the highest total for nearly two months but is still some way below the peak of 16,600 patients during the Omicron BA.2 wave.
Professor Tim Spector, of the ZOE Covid symptom study app, said: "We're in a wave at the moment," he said, "heading towards a quarter of a million cases a day, that's a wave already."
The latest figures show 1.7 million people are testing positive across the UK, a 23 per cent increase on the week before.
Scientists believe the dramatic rise in cases is due to new Omicron subvariants BA.4 and BA.5 which have mutated further, thus are able to evade immunity more.
1656403508
Good morning and welcome to The Independent's rolling coverage of the Covid pandemic.
We'll have updates throughout the day as cases rise in the UK and experts warn of a fifth wave of infections.
Maryam Zakir-Hussain
28 June 2022 09:05
1656403723
Covid: UK in 'fifth wave already' as experts warn summer events will see infections surge even higher
The UK is fighting a fifth wave of Covid as infections soar and large summer events could see cases rise even higher, experts have warned.
Coronavirus cases have increased sharply in recent weeks, with the latest figures showing 1.7 million people testing positive across the UK, a 23 per cent increase on the week before. The increase is being driven by the recent BA.4 and BA.5 variants, subvariants of Omicron.
There are concerns that the return of mass events for the first time after the pandemic – such as Glastonbury over the weekend, Notting Hill Carnival and the Edinburgh Festival in August – will see Covid continue to spiral upward.
My colleague Thomas Kingsley reports:
Soaring cases in the 'unexpected' summer wave has led to fears Covid will once again heap pressure on an already-struggling NHS
Maryam Zakir-Hussain
28 June 2022 09:08
1656403805
Covid reinfections: How likely are you to catch coronavirus again as cases rise?
More than two years on from the first cases in the UK, millions of Britons have caught the virus and some will have had it on multiple occasions
But just how likely is a reinfection, and how much protection do vaccines and booster shots offer?
Here's everything you need to know:
Do vaccines and booster shots protect against new variants? Here's what you need to know
Maryam Zakir-Hussain
28 June 2022 09:10
1656404662
China slashes COVID quarantine time for international travellers
China has slashed the quarantine time for inbound travellers by half this morning, in a major easing of one of the world's strictest Covid-19 curbs.
Quarantine at centralised facilities has been cut from 14 to seven days, and subsequent at-home health monitoring has been reduced to three days from seven, the National Health Commission said.
The latest guidelines from the health authority also eased quarantine requirements for close contacts of people who have tested positive for the new coronavirus.
China has cautiously eased its COVID curbs on cross-border travellers in recent months, with health officials saying the shorter incubation period of the Omicron variant allows for an adjustment of quarantine periods.
The Chinese capital Beijing in recent months has already reduced the quarantine period at centralised facilities to 10 days from 14.
China, last month, also removed some COVID-19 test requirements for people flying in from countries such as the United States.
"We believe that today's announcement will be welcomed by the American business community," the American Chamber of Commerce in Shanghai said on its official WeChat account.
The quarantine adjustment will make it easier for companies to bring staff to China, and for Chinese companies and their executives to visit the United States, AmCham said.
Maryam Zakir-Hussain
28 June 2022 09:24
1656405180
Beijing and Shanghai report no new local Covid infections
Beijing and Shanghai reported on Tuesday no new local Covid infections, the first time both cities were in the clear simultaneously since late February, after months of fighting their worst-ever outbreaks.
The milestone for the two cities, achieved on Monday, came after their daily caseloads dropped to single digits over the past week, allowing Shanghai to gradually resume eating in at restaurants and Beijing to reopen some leisure venues including the Universal Beijing Resort.
Shanghai Communist Party chief Li Qiang declared on Saturday that authorities had "won the war to defend Shanghai" against the virus.
The Walt Disney Co's Shanghai Disney Resort said on Tuesday that it would reopen the Disneyland theme park on June 30; it had been shut for more than three months.
Authorities, however, were adamant the government's so-called dynamic zero Covid policy, which aims at blocking flare-ups from spreading as they crop up, remains in place.
Beijing would "fight against any new outbreaks at the outset and with speed and resolutely break their transmission channel", Cai Qi, the city's top Communist Party chief, was quoted as saying in a report by the party-backed Beijing Daily.
Maryam Zakir-Hussain
28 June 2022 09:33
1656405613
Deaths involving Covid-19 fall slightly
There were 309 deaths registered in the UK involving coronavirus in the week ending 17 June 2022, which is slightly fewer than the previous week. This accounted for around 1 in every 40 deaths (2.5 per cent).
There were 12,320 total deaths registered in the UK in the latest week, which is 15.3 per cent above the five-year average.
In England and Wales, the number of deaths in the week to 17 June was above the five-year average in private homes, hospitals and care homes, but slightly below in other settings.
Maryam Zakir-Hussain
28 June 2022 09:40
1656407013
Most infectious Covid variants as Omicron fuels rise in UK cases
The UK's leading scientists have warned the country is seeing a new wave of Covid-19 as infections have started to spike thanks to two more Omicron variants, BA.4 and BA.5.
Here we take a look at the most infectious Covid-19 variants since the pandemic first began:
How the most common of the 11 variants compare
Maryam Zakir-Hussain
28 June 2022 10:03
1656408063
Covid: Calls for UK booster jabs by autumn as cases continue to rise
Covid boosters will be needed in September as cases continue to rise, a government vaccines expert has warned.
Professor Adam Finn, a member of the government's Joint Committee on Immunisations and Vaccinations, suggested a fifth jab will need to be rolled out for the most vulnerable as immunity to the virus gained by previous booster campaigns wanes.
Professor Finn suggested September would be a good time to start a new booster campaign when the NHS usually also begins rolling out flu vaccines.
Our health correspondent Rebecca Thomas reports:
UK may face significant flu epidemic alongside Covid, vaccines expert warns
Maryam Zakir-Hussain
28 June 2022 10:21
1656408834
Most school pupils in England had COVID-19 antibodies by March 2022
Almost all primary and secondary school pupils in England had detectable levels of coronavirus SARS-CoV-2 antibodies in March 2022.
Adjusted antibody data from the Schools Infection Survey, for March to April 2022, showed that more than 99 per cent of secondary school pupils had SARS-CoV-2 antibodies, comprised of 64.9 per cent who were vaccinated and 34.4 per cent who were unvaccinated.
For primary school pupils, 82.0% had SARS-CoV-2 antibodies, based on adjusted figures. This is comprised of 0.4 per cent who were vaccinated and 81.6 per cent who were unvaccinated.
Maryam Zakir-Hussain
28 June 2022 10:33
1656409541
Percentage of people testing positive increases across whole of UK
The percentage of people testing positive for coronavirus (COVID-19) increased in all UK countries in the week ending 18 June 2022 (17 June for Scotland).
The increase was likely caused by infections from Omicron variants BA.4 and BA.5.
The estimated percentage of the community population (those not in hospitals, care homes or other institutional settings) that had COVID-19 in the latest week was:
1,360,600 (1 in 40 people) in England
68,500 (1 in 45 people) in Wales
59,900 (1 in 30 people) in Northern Ireland
250,700 (1 in 20 people) in Scotland
Infections increased in the majority of English regions, and in all age groups in England.
Maryam Zakir-Hussain
28 June 2022 10:45
Register for free to continue reading
Registration is a free and easy way to support our truly independent journalism
By registering, you will also enjoy limited access to Premium articles, exclusive newsletters, commenting, and virtual events with our leading journalists
Already have an account? sign in
Register for free to continue reading
Registration is a free and easy way to support our truly independent journalism
By registering, you will also enjoy limited access to Premium articles, exclusive newsletters, commenting, and virtual events with our leading journalists
Already have an account? sign in
Join our new commenting forum
Join thought-provoking conversations, follow other Independent readers and see their replies