Flu infections hit highest levels since 2011 as 120 die after contracting virus so far this winter
Scientists said that 'bad flu outbreak' yet to hit epidemic levels but impact has been greater because of elderly population and 'creaking under-funded NHS'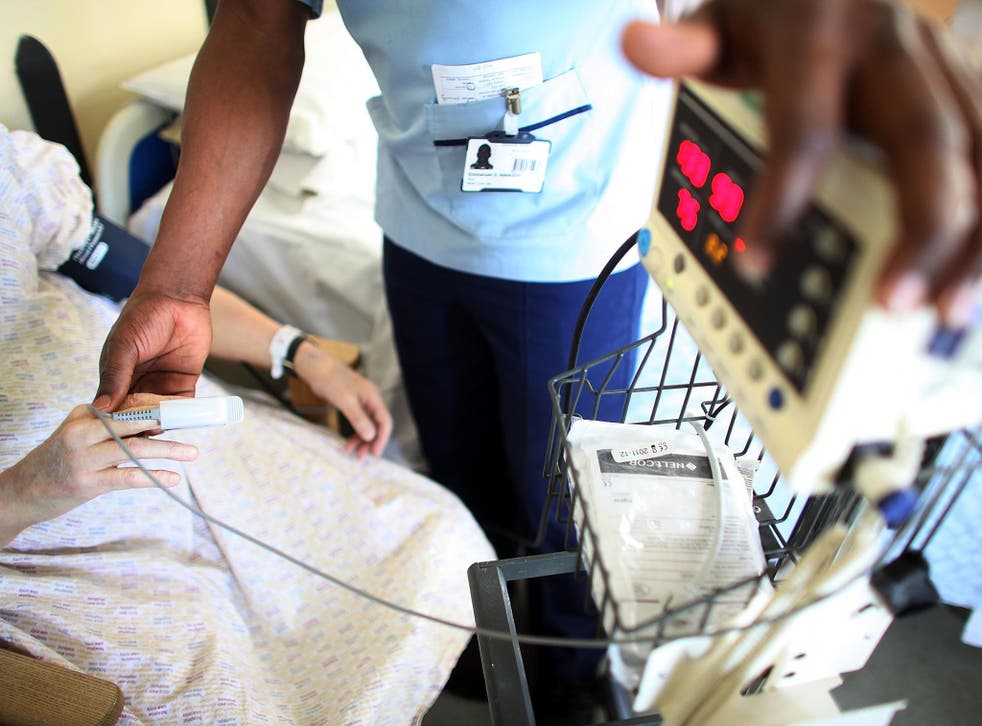 Deaths from flu are already three times higher than they were at this point last year, as the latest figures reveal 120 patients lost their lives in the worst outbreaks since 2011.
There were another 17 cases of patients dying from flu last week and Public Health England (PHE) said 11 per cent more patients had been admitted to hospital with flu.
The number of patients presenting to their GP with flu-like symptoms increased 42 per cent on the previous week and pressures have been made worse by an "underfunded and creaking" NHS, experts said.
Meanwhile, the Royal College of GPs said its Research and Surveillance Centre (RSC) found the number of people visiting their doctor with flu has gone up by more than 150 per cent since the start of the year.
It said an estimated 31,300 patients attended their GP practice with influenza-like-illness in England between 8 and 14 January – a rise of more than 9,000 on the previous week.
The Midlands and East of England had the highest rates, followed by the north and south respectively.
Experts said news reports about a lethal strain of "Aussie flu", which have caused deaths and put southern hemisphere hospitals under severe strain in their winter, have added to pressures but flu cases are going down.
The number of patients admitted to intensive care dropped 8 per cent, after a spike of 65 per cent in the first week of 2018.
UK news in pictures

Show all 50
Jonathan Ball, professor of molecular virology at the University of Nottingham, said "it looks like flu activity in the community is decreasing".
"The fact that more people are seeking GP consultations for respiratory infections – which can be caused by a whole range of different viruses – is not surprising given the media hype surrounding this flu season.
"Yes, this is a bad year and some of the components of the trivalent vaccine might not have given the protection that we would have hoped for, but this is nothing more than a bad flu season, not helped by an ageing population and an under-funded and creaking NHS."
Professor Paul Cosford, PHE medical director, said: "Our data continues to show that more people are visiting GPs with flu symptoms and we are seeing more people admitted to hospital with flu.
"In terms of hospital admission, this is the most significant flu season since the winter of 2010-11 and the preceding pandemic year of 2009, although it is not an epidemic.
"We are currently seeing a mix of flu types, including the H3N2 strain that circulated last winter in the UK and then in Australia. The H3N2 strain particularly affects older, more vulnerable age groups.
"The best form of protection against flu is to get the vaccine if you are eligible and to practise good respiratory and hand hygiene."
Professor Simon de Lusignan, medical director for the RCGP's Research and Surveillance Centre, said: "As ever, flu is unpredictable so it remains impossible to speculate how rates will change in the coming weeks – they may increase further, they may level out or even decline. The RSC will continue to compile data, so that we can inform preparedness plans for next year as comprehensively as possible."
Additional reporting by PA
Join our new commenting forum
Join thought-provoking conversations, follow other Independent readers and see their replies