NHS faces 'ticking time bomb', doctors warn Theresa May
Obesity, smoking and binge drinking are pushing the health service to 'breaking point'
Katie Forster
Health Correspondent
Wednesday 10 May 2017 20:22 Comments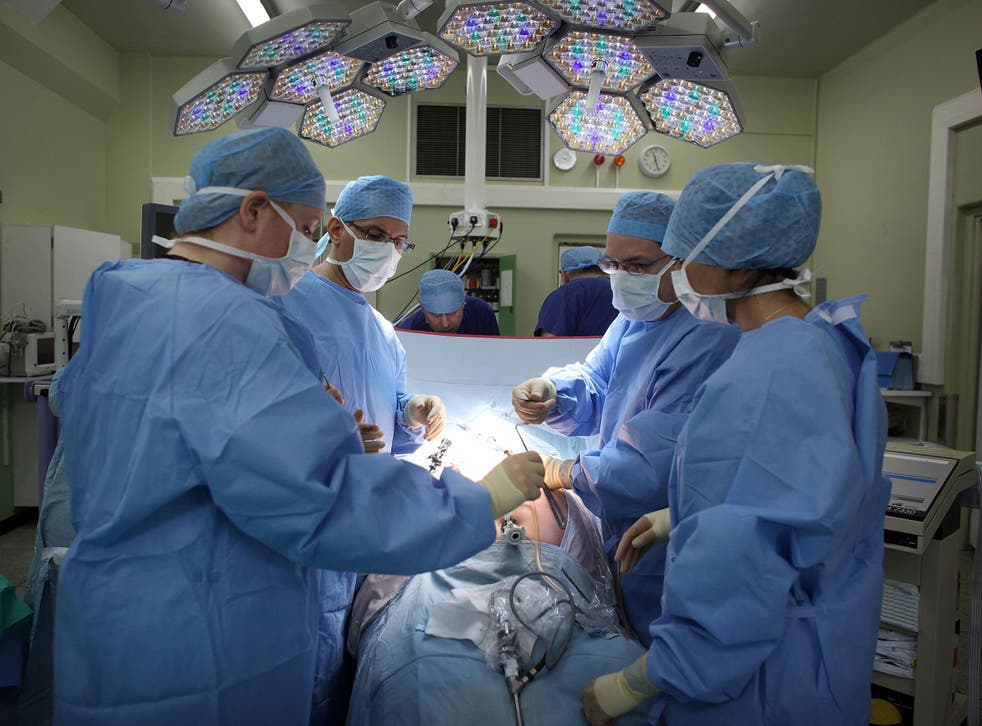 Doctors are warning Theresa May the NHS faces a "ticking time bomb" unless the Government drastically increases funding for public health.
A report from the the British Medical Association (BMA) claims the health service is at "breaking point" due to a combination of unhealthy lifestyles and deep cuts to health budgets.
The doctors' union said swingeing cuts of £400m by 2020-21 and failure to curb persistently high levels of obesity, smoking and binge drinking will plunge the NHS further into the red, while condemning patients to suffer from preventable diseases.
"In England, successive governments have failed to deliver a long-term plan to improve public health, and too often evidence-based public health measures have been kicked into the long grass," said Dr Mark Porter, council chair of the BMA.
Dr Porter said the UK was "going backwards" on matters of public health: "With the NHS at breaking point, and demand on services only set to rise, we are facing a ticking time bomb."
The intervention comes as political parties release pledges about the future of the health service – an issue close to voters' hearts in an election otherwise dominated by Brexit.
Labour has promised to ban TV adverts for junk food and products high in fat, salt or sugar before 9pm to tackle childhood obesity, as well as offering NHS staff a pay rise and putting a halt to planned hospital closures.
The Conservatives have already said they will recruit 10,000 more mental health staff by 2020, and are expected to set out further plans when they publish their manifesto next week
A childhood obesity plan announced by the Government last August set out a programme to reduce children's sugar intake and increase physical activity in the next decade – including a tax hike on sugary soft drinks, which comes into force in April.
But the BMA attacked the strategy as "watered-down", saying politicians had been "too slow and weak" to prevent the threats facing Britain's health.
The doctors called for a reversal of public health cuts and "tighter regulation of the food and soft drinks industry, a minimum unit price on alcohol and support for people to quit smoking".
The BMA proposed a 20 per cent tax on sugary drinks, which they say is more ambitious than the Government's new legislation which will demand a hike of 24p per litre for the most sugary drinks.
Among the other policy recommendations made by the BMA are new targets to reduce fat, salt and overall calorie consumption, a mandatory "traffic light" system to display nutritional information for all pre-packaged food and drink, and an annual levy on tobacco companies.
The Government previously rejected proposals to introduce minimum alcohol pricing in England, but said it would review the policy, being introduced in Scotland, after Public Health England said it would improve the health of millions of drinkers.
The BMA said the minimum price of alcohol should be set at no less than 50p per unit.
Latest statistics show 68 per cent of men and 58 per cent of women in the UK are overweight or obese. One in six adults are smokers and over nine million people in England drink more than the recommended daily limit, according to Alcohol Concern.
Obesity was a factor in more than 525,000 hospital admissions last year, with obesity rates up from 15 per cent in 1993 to 27 per cent in 2015.
The BMA said that despite each £1 invested in public health carrying an estimated saving of £14.30, a cut of £200m in 2015 would be followed by a further £400m in the next five years.
It used the example of type 2 diabetes, saying many cases of the disease were "entirely preventable through public health approaches", yet still cost the UK an estimated £8.8bn in 2010/11 – a figure predicted to almost double to £15bn by 2035-36.
Jeremy Hunt asked why nurses are having to go to food banks
The Liberal Democrats called the Conservatives' approach to public health "nothing short of disastrous", saying: "Without real action to tackle ill-health in children, the Government are inexcusably letting down our young people, and harming their wellbeing and life chances."
"They have slashed councils' public health budgets and published a paltry childhood obesity strategy that lacked any concrete measures to tackle advertising of junk food to children," said the party's health spokesman Norman Lamb.
The party promised to develop an "ambitious, evidence based plan to tackle childhood obesity" which would include restricting the marketing of junk food to children, restricting TV adverts before 9pm, and "closing loopholes in the sugary drinks tax".
Shadow Health Secretary Jonathan Ashworth described Theresa May's approach to local authority service funding an "abject failure" that was "having a severe impact on the obesity crisis, smokers and alcoholics".
Health news in pictures

Show all 40
Mr Ashworth echoed the BMA by calling the Government's strategy "watered-down", saying it "demonstrates her clear disinterest" in the subject.
"By comparison, Labour has already announced our desire to make Britain's children the healthiest in the world. To that end we have already pledged to ring-fence public health budgets to end the sustained underfunding of crucial services under this Tory government."
A Conservative spokesperson said the party was "committed to improving the health of the nation".
"Smoking rates are now the lowest in our history, with cancer survival the highest, and we've put in place a childhood obesity plan Public Health England calls the most ambitious in the world," they said.
"But the truth is that this all depends on a strong economy – we spent £3.4bn on public health programmes last year – which Jeremy Corbyn would risk with his nonsensical economic ideas."
Register for free to continue reading
Registration is a free and easy way to support our truly independent journalism
By registering, you will also enjoy limited access to Premium articles, exclusive newsletters, commenting, and virtual events with our leading journalists
Already have an account? sign in
Join our new commenting forum
Join thought-provoking conversations, follow other Independent readers and see their replies