NHS 'workforce disaster' threatens a million operations and could cost lives, royal college warns
Exclusive: Hundreds of consultant anaesthetist posts are vacant across the country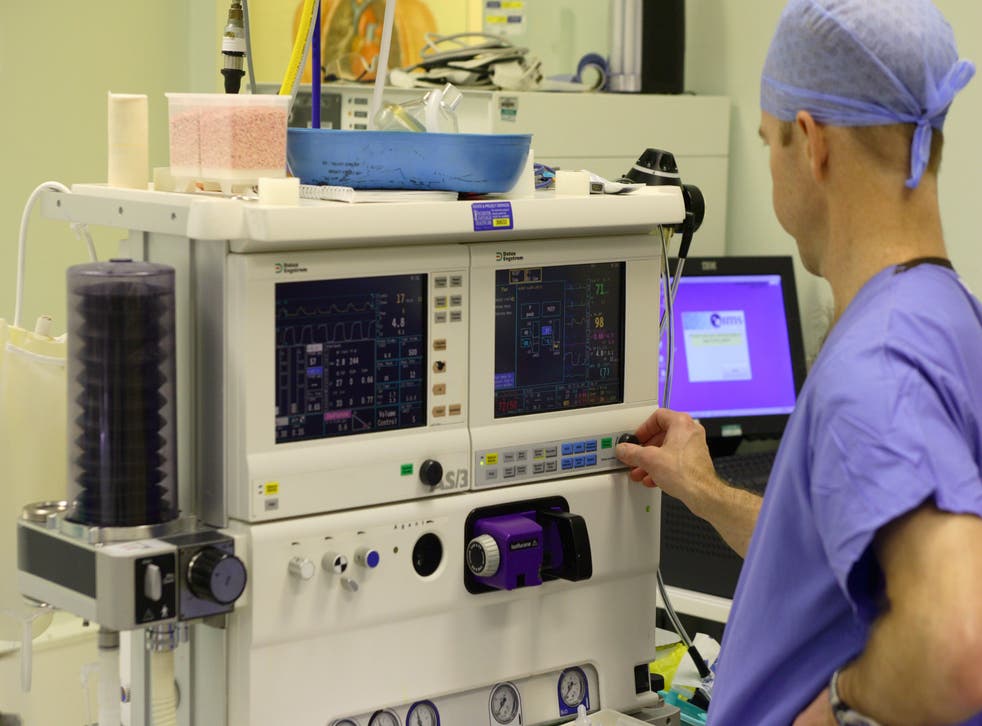 More than a million patient operations could be delayed because of widespread shortages of anaesthetists in the NHS – with nine out of every 10 hospitals reporting at least one vacancy.
As coronavirus paralysed the NHS earlier this year, more than 140,000 NHS patients have already waited over a year for treatment. 
The Health Foundation has warned that 4.7 million fewer patients have been referred for treatment because of the impact of coronavirus on NHS services.
The Royal College of Anaesthetists (RCOA) told The Independent the scale of the vacancies was getting worse and labelled it a "workforce disaster" that could cost patients' lives and have a widespread impact on hospital services.
It said there was a total gap of 1,410 anaesthetists in the NHS and each one on average would treat 750 patients a year, meaning the equivalent of more than a million operations put at risk.
In a major stocktake that gathered results from 97 per cent of NHS units, the royal college found 680 consultant anaesthetist posts were vacant across the UK, with 374 posts needed to cope with rising demand but not yet funded.
On top of that, the number of vacant non-training staff grade doctors who work alongside consultants was 243 with an extra 113 needed to run services but not funded.
The percentage of consultant vacancies in the workforce has doubled since 2015, and in total the RCOA said one in eight of the posts needed to provide patient care was now unfilled.
Anaesthetists care for two-thirds of hospital patients, primarily sedating them and monitoring their breathing and heart rate during operations. They also deliver critical care services for hospital patients as well as emergency medicine and provide pain relief for women in labour or during caesarean sections.
It is the single largest hospital speciality, seeing more than three million patients each year.
UK news in pictures

Show all 50
Hamish McLure, a consultant anaesthetist who led work on the census, told The Independent: "We are standing on the edge of a workforce disaster."
He added: "Many operations and surgical lists will be cancelled at short notice on the day. There will be no slack in the system. That's a massive pain for patients but it's a real problem for their health. It can affect the outcome. It could cost their lives.
"We know two-thirds of consultants work more than 40 hours a week. If people work excessive numbers of hours then that leads to stress, fatigue, burnout and within that patient care can suffer and staff can suffer. Suicide in anaesthesia is a real problem."
He said the coronavirus pandemic had come on top of these existing demands with fears that many doctors would leave after the pandemic crisis has passed.
"Anaesthetists have been front and centre as part of our response to Covid. That's put an extra load of pressure on departments of anaesthesia and if you look at the age groups of our working population, more than 80 per cent of our anaesthetists are more than 40 years old and a lot of them have had to go back to doing resident night-time work as part of the Covid response. That's pretty tough when you're 35, but when you're 55 or 65 it is really stressful.
"Although we haven't seen it yet, I think we will see a lot of our colleagues who are coming towards the end of their careers will just go as a result of all this. The stress that has been building up in the system is tremendous. People are really struggling."
He said there needed to be new investment in expanding the number of trainee anaesthetists as well as expanding the use of anaesthetic associates who are highly trained non-medical staff working under supervision of a consultant anaesthetist.
The RCOA said while there were approximately 4,000 anaesthetists in training who would qualify as consultants in the next five to eight years, demand was continuing to grow at a faster pace.
Ravi Mahajan, president of the Royal College of Anaesthetists, added: "Investment in anaesthetic training capacity is essential to keep this critical hospital service safe.
"While we welcomed the government's £3.7bn of capital funding for hospital development earlier this year, we reiterate our call for investment in the training of qualified staff to work in those places."
Although numbers of clinical staff have increased to record levels this increase has not kept pace with the growth in demand on hospital services.
Despite this a spokesperson for the DHSC said it expected thousands more doctors to join the service in coming years after opening five new medical schools and expanding medical training places from 1,500 to 7,500.
It takes between six and eight years to train as a consultant after qualifying medical school.
A Department of Health and Social Care spokesperson said: "This government is delivering on its commitment to have more people on the frontline of the NHS by doing everything we can to attract and retain our brilliant NHS staff, grow the workforce and make the NHS the best possible place to work."
Join our new commenting forum
Join thought-provoking conversations, follow other Independent readers and see their replies